War das eine Eröffnung oder was?
Da wartet man ein halbes Jahr darauf um zu erfahren, welchem unserer Helden der Schädel mit dem Baseballschläger zertrümmert wird und dann liefert THE WALKING DEAD eine der härtesten Episoden ever ab. Nicht nur aufgrund der gezeigten Gewalt, sondern auch weil (Achtung Spoiler) nicht einer, sondern gleich zwei beliebte Charaktere die Bekanntschaft mit Lucille machen müssen.
Die erste Episode der siebten Staffel war ein Quotenknaller (was zu erwarten war), doch seitdem sehen in den USA immer weniger Zuschauer zu.
Ist TWD in der Krise?
Und warum?
Wir haben fünf Gründe, warum es momentan klemmt.
Das war zu hart
Heilige Scheisse, man sieht über die Jahre ja einiges. Aber dabei zuzusehen, wie zwei Figuren, die man nicht nur über 90 Minuten sondern über einen Zeitraum von mehreren Jahren liebgewonnen hat, der Schädel in aller Deutlichkeit zertrümmert wird, erzeugte auch bei manch hartgesottenen Fan ein Grummeln in der Magengegend. Da kann man sich ausmalen, was diese Szenen bei Menschen auslösten, die weniger auf Horror und vielmehr auf den Dramaanteil der Serie stehen.
Hat es THE WALKING DEAD damit übertrieben und einige Fans so verschreckt, dass sie nicht wieder einschalten?
Es hat den falschen erwischt
Es ist eine Weile her, seit die Serie auch nur eine ihrer wichtigsten Figuren verlor. Als Beth damals starb, war die Trauer groß, aber sie war nicht seit der ersten Staffel dabei und hatte insgesamt relativ wenig Screentime.
Vielleicht kann man ihren Abgang mit dem Tod von Abraham vergleichen, aber Glenn spielte seit Staffel 1 eine tragende Rolle und war ein echter Sympathieträger.
Diesen Verlust muss man als Fan erst mal verarbeiten.
Die Botschaft ist angekommen
Was ist bisher in dieser Staffel passiert?
Folge 1: Negan zeigt (eindrucksvoll) wie böse er ist
Folge 2: Langeweile mit Carol beim Tiger-Kuscheln
Folge 3: Negan zeigt wie böse er ist
Folge 4: Negan zeigt wie böse er ist
Folge 5: Negan zeigt wie böse er ist, ohne selbst anwesend zu sein
Wir haben verstanden, vielleicht könnte nun einer der Drehbuchschreiber mal wieder einen Bleistift in die Hand nehmen und eine Handlung aufs Papier zaubern, statt Negan stundenlang selbstgefällige Grinsedialoge aufsagen zu lassen.
Negan ist als Böser zu gut
Jeffrey Dean Morgan zählt als Schauspieler eher zu den soliden Arbeitern als den großen Mimen. Damit ändert sich auch mit seiner Verkörperung des Negan nichts.
Trotzdem ist diese Figur so unbarmherzig, so kalt, so brutal, dass man nicht nur froh ist, auf der anderen Seite des Fernsehers zu leben, sondern diesen (sicher ist sicher) gar nicht erst wieder einschaltet.
Gegen Negan waren Unsympathen wie der Governor liebenswerte Weicheier, die man gerne mal nach Hause einladen würde.
Negan funktioniert als Bösewicht, aber nicht nur weil er Menschen tötet, sondern immer seine Macht demonstriert.
Schaltet man nach einem anstrengenden Montag, an dem man mal wieder dem Chef in den Arsch kriechen musste, den Fernseher ein, ist das letzte was man sehen will, ein Großkotz, der ebenfalls Chef spielt.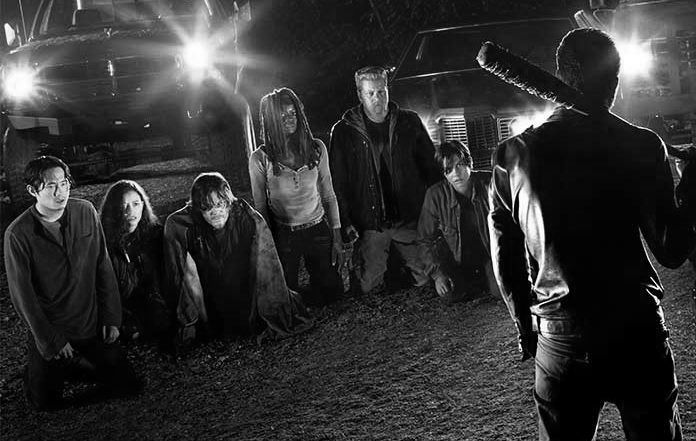 Es ist an der Zeit
Wir sind in Staffel 7. Dazu kommen indirekt 2 Staffeln FEAR THE WALKING DEAD, die zumindest im gleichen Universum spielen. Von all den Zombiefilmen oder Serien wie Z NATION wollen wir gar nicht erst anfangen. Es steht aber außer Frage: Zombies are everywhere und kein Trend hält für immer.
Spätestens seit in Staffel 6 der Mantel aus Zombieteilen erneut verwertet wurde, war klar, dass der Zeitpunkt da ist, wo man sich wiederholen wird.
Vermutlich wird THE WALKING DEAD nicht für immer laufen und entweder sollte man über ein würdevolles Ende nachdenken oder den Arsch hochkriegen und jemanden  ins Boot holen, der Geschichten vorantreibt, statt sie nur zu verwalten.
Facebook Comments