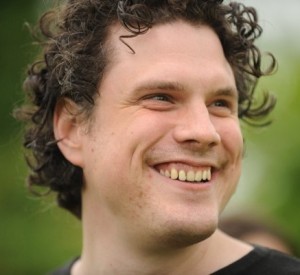 Seit heute steht F – LONDON HIGHSCOOL MASSAKER beim DVD-Händler eures Vertrauens.
Da der Film durchaus einige Fragezeichen aufwirft und sich nicht darum bemüht alle zu beantworten, schnappten wir uns Regisseur Johannes Roberts. Der beantwortete zwar bereitwillig unsere Fragen, alle in F steckenden Geheimnisse konnten wir ihm aber nicht entlocken.
T+K: Anscheinend beruht F auf wahren Begebenheiten. Heutzutage scheinen eine Menge Filme auf wahren Begebenheiten zu beruhen und manchmal sind die realen Ereignisse sehr weit entfernt. Ich kann mir vorstellen, dass sich das was wir in F sehen wirklich zuträgt, aber wie viel ist wirklich wahr und was waren die echten Ereignisse?
Johannes Roberts: Ha, ich glaube es war lediglich, der britische Trailer, der das für sich beanspruchte (der deutsche Trailer ebenfalls – Anm. d. Verfassers). Wir taten das sicher nicht im Film. Ich denke, das war nur ein Marketing Trick. Aber gewisserweise ist es doch wahr. Bevor ich den Film drehte, war ich Lehrer in genau dem Ort wo F entstand. Alle Charaktere basieren auf Leuten, mit denen ich arbeitete. Ich habe nie viel Gewalt gesehen, dafür aber viele Beispiele von sinnloser Bürokratie, was die Grundidee für F war. Es ist lustig, denn einer der Kritikpunkte, die ich über F oft höre ist die fehlende Motivation der Kids. Einige Leute fanden es unrealistisch, dass sich so etwas ohne einen Grund ereignen könne und dann hatten wir vor einigen Monaten die London Riots. Das war wie die echte Version von F.
T+K: F hat mich etwas an John Carpenters ASSAULT – ANSCHLAG BEI NACHT erinnert, obwohl es nicht um Gangster und eine Polizeistation, sondern Teenager und eine Schule geht. Auch an EDEN LAKE fühlte ich mich erinnert, wo Kinder Erachsene töten. Hattest du offensichtliche Vorbilder oder sind das Zufälle?
Johannes Roberts: F ist sehr von ASSAULT beeinflusst, der einer meiner Lieblingsfilme ist. Es behandelt sehr ähnliche Themen, wie ASSAULT könnte F ein Western sein, mit einer Gruppe von Charakteren gefangen in einem Fort/Schule, die sich gegen gesichtslose Indianer/Kids wehren. Was mir an ASSAULT gefiel, ist die Idee eines Charakters, der mit der Welt um ihn herum nicht zurechtkommt. Wie Napoleon Wilson Anderson, der total asynchron mit seiner Umgebung läuft.
EDEN LAKE wird oft erwähnt, wenn über F gesprochen wird, aber F hat damit wirklich wenig am Hut. Ich fand das EDEN LAKE gut gemacht war, aber sehr leer und kaltherzig.
T+K: Ich mochte die Tatsache, dass der Film uns wenig über den Hintergrund der maskierten Killer erzählt, aber andere Leute beschwerten sich darüber. Kannst du ihnen ein paar Hinweise geben?
Johannes Roberts: Der Film ist nicht über die Kids, die die Schule angreifen, sondern einen zerbrochenen Mann, der nicht klarkommt und verzweifelt versuchen muss seine Tochter zurückzubekommen. Ich liebte die Idee eines Lehrers, der schreckliche Angst vor Kindern hat. Wie muss es sein, wenn man sein Leben lang einen Job macht und dann nach einem einzigen Ereignis (dem Schlag) Angst vor ihm hat? Ich habe einige wunderbare Ideen gehört, was die Angreifer angeht. Ich überlasse es dem Publikum. Ich weiß wer sie sind, aber ich hatte kein Interesse daran es zu enthüllen. F geht um das Ende. Um die Entscheidung, die Anderson treffen muss. Der ganze Film läuft darauf hinaus. Ich weiß, dass das viele Leute wahnsinnig machte, aber ich liebte es.
T+K: Die Killer sprechen nicht, wir sehen ihre Gesichter nicht und sie scheinen extreme athletisch zu sein. Hat das eine tiefere Bedeutung?
Johannes Roberts: Ich wurde vom asiatischen Horror beeinflusst. Ich liebe Geisterfilme und übernatürliche Filme. F ist weit mehr von THE GRUDGE oder THE RING beeinflusst als von EDEN LAKE oder THE STRANGERS. In vielen Belangen filmte ich unter den Konventionen einer Geistergeschichte, was viele Leute verwirrte.
T+K: Der Film wurde mit limitiertem Budget gedreht. Gab es etwas, dass du nicht unterbringen konntest, weil es zu teuer war oder ist alles so wie es geplant war?
Johannes Roberts: Oh ja, uns fehlte überall Geld. Der Film wurde so geschrieben wie er auch gemacht wurde, also hatte ich nie das Gefühl Kompromisse eingehen zu müssen. Einige Menschen beschwerten sich über fehlende Qualität des Gezeigten, aber auch hier muss ich sagen, dass es keine Budget-Frage war, sondern der Einfluss der asiatischen Geistergeschichte, wo man das "Danach" zuerst sieht und dir überlegen musst, was zur Hölle das der Person angetan hat. So ist es viel grusliger.
T+K: Du bist Brite, wie auch der Film. Was denkst du unterscheidet britische (Horror-)Filme von amerikanischen (Horror-)Filmen?
Johannes Roberts: Wirklich schwer zu sagen. Ich bin sehr geprägt von amerikanischen Horrorfilmen. Ich denke es ist die Unabhängigkeit von einem Studio und die Möglichkeit Filme mit einem kleinen Budget zu machen, bedeutet, wir können origineller sein. Ich wäre bei einem "Studio-Film" nie mit dem Ende und den fehlenden Antworten durchgekommen.
T+K: In deiner Karriere hast du diverse Horrorfilme gemacht. Bist du ein Genrefan und wenn ja, was ist dein Lieblingshorrorfilm?
Johannes Roberts: Ich liebe Horror. Ich wuchs mit Stephen King und John Carpenter auf. CUJO war der Film, der dafür sorgte, dass ich Regisseur werden wollte. Ich liebe DAS DING AUS EINER ANDEREN WELT und DIE MÄCHTE DES WAHNSINNS. Ich denke Horror steht im Moment nicht so gut da, obwohl ich INSIDIOUS sehr genoss, was das erste Mal war, dass ich seit THE ORPHANAGE Angst hatte.
T+K: Was machst du als nächstes? Mehr Horror?
Johannes Roberts: Ich habe gerade einen Monsterfilm namens ROADKILL für das das amerikanische Fernsehen gemacht mit Stephen Rea und derzeit bin ich im Scheideraum für meinen letzten Film, der für Universal ist. Er heiß STORAGE 24. Es ist ein Science Fiction Horrorfilm, geschrieben und mit Noel Clarke. Er wird wohl irgendwann nächstes Jahr rauskommen. Ich hoffe, dass er groß wird. Es gibt ein großartiges Alien darin, designt von Paul Hyett (THE DESCENT).
T+K: Danke für das Gespräch!
Johannes Roberts: Danke dir.
If you prefer reading this interview in English, just follow this link
Facebook Comments