Was macht einen Klassiker des Horrorgenres aus? Um eine vage Definition zu geben, nennen wir jetzt einmal folgende Punkte: a) der Film oder die Serie sollten dauerhaften Einfluss auf das Genre genommen haben; b) er sollte auch jenen bekannt sein, die keine Fans des Genres sind, im besten Falle kennt ihn der Großteil der Leute, selbst wenn sie ihn nicht gesehen haben; c) der Einfluss des Klassikers sollte über das Genre hinaus spürbar sein, beispielsweise durch seine allgemeine, popkulturelle Relevanz oder wegen Techniken, die anschließend auch in anderen Genres Anwendung finden. Das ist natürlich nur eine subjektive, und in keinem Fall erschöpfend Definition des Klassikers (weitere Anmerkungen unserer Leserschaft werden dazu natürlich gerne gesehen). Aber zumindest kann man sagen, dass ohne diese drei Aspekten eher nicht von einem Klassiker gesprochen werden kann.
Nimmt man diese drei Kriterien zur Hand, gibt es wahrscheinlich niemanden, der die Serie AKTE X – DIE UNHEIMLICHEN FÄLLE DES FBI (oder auf Englisch THE X-Files) nicht als Klassiker bezeichnen würde. Mit ihren ersten neun Staffeln, ausgestrahlt zwischen 1993 und 2002, ist sie mit insgesamt 202 Episoden zu einem zentralen Bestandteil der Fernsehkultur der 90er Jahre geworden.
Dabei ist das Konzept der Serie zunächst denkbar simpel strukturiert. Ein begabter FBI-Agent namens Fox Mulder (David Duchovny) ist überzeugt davon, in seiner Kindheit die Entführung seiner Schwester durch Aliens miterlebt zu haben und setzt nun sein Talent dazu ein, Fällen nachzugehen, die auf die Existenz außerirdischen Lebens hinweisen. Da dem FBI diese Aktivitäten nicht sonderlich gefallen, sie aber nicht auf sein Talent verzichten wollen, wird die FBI-Agentin Dana Scully (Gillian Anderson) ihm zur Seite gestellt, die ihn etwas unter Kontrolle halten soll. Ein großer Teil der Dynamik der Serie ist somit vorgegeben. Der dialektische Ansatz dieses ungleichen Paares, Mulder überzeugt von der Existenz von Aliens und dem Übernatürlichen, und Scully als kühle Pragmatikerin, lässt die Wahrheit in vielen Fällen zwar häufig eher auf Mulders Seite des Spektrums liegen, aber häufig genug ist die Antwort irgendwo in der Mitte angesiedelt. Alleine diese Dynamik zwischen den Hauptprotagonisten stellt seitdem einen immer wieder auftauchenden Aspekt zahlreicher Serien und Filme dar.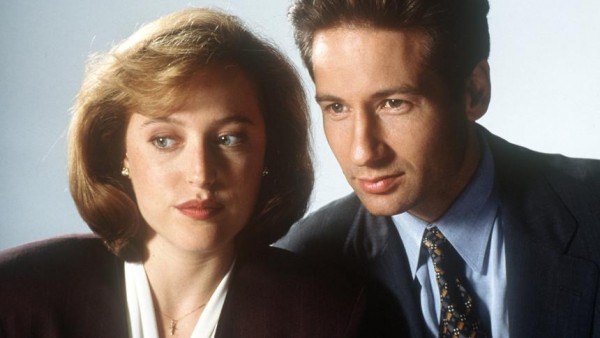 Dasselbe gilt für die Erzählstruktur der Serie selbst. Bilden die meisten Folgen in sich geschlossene Geschichten, zieht sich dennoch ein narrativer roter Faden durch sämtliche Episoden, was zur damaligen Zeit noch recht unüblich war. Dieser rote Faden besteht zunächst aus der Suche nach Aliens, sowie Mulders entführter Schwester, entwickelt sich im Laufe der Zeit aber auch zunehmend zu einer Verschwörungsgeschichte in Regierungskreisen, mit der Figur des mysteriösen Kettenrauchers im Mittelpunkt. Ironischerweise macht Mulder selbst in der zehnten Staffel (dem Versuch einer Wiederbelebung der Serie) deutlich, warum heute das Konzept nicht mehr wirklich funktioniert, beinahe zwanzig Jahre nach Ende der originalen Serie: aufgrund der mittlerweile vollkommen Überhand nehmenden Menge an Verschwörungstheorien, von Echsenmenschen bis zu sogenannten Flat-Earthers, erscheint eine Regierungsverschwörung, um die Existenz von Aliens zu verheimlichen, schon beinahe normal. Vielleicht ist es da nicht einmal zu weit hergeholt, wenn man vermuten möchte, dass Serien wie eben AKTE X, ungewollt einen gewissen Nährboden für diese gesellschaftliche Entwicklung geschaffen haben. Das kann man den Machern der Serie kaum vorwerfen, würde aber zumindest noch einmal den kulturellen Einfluss dieses Klassikers betonen.
Das Herz der Serie ist aber natürlich Fox Mulder, dessen selbstgewähltes Motto im ikonischen Poster in seinem Büro seinen Ausdruck findet, mit den Worten "I want to believe". Schließlich ist der wahre Reiz dieser Serie – und generell zu weiten Teilen im Horrorgenre – der Wunsch, an etwas glauben zu können, was mehr ist als das, was wir mit unseren Augen sehen können. Man will sich das vielleicht nicht eingestehen, wenn dieser Glaube durch eine offensichtlich verrückte oder unsympathische Figur ausgedrückt wird. Im Falle des sympathisch-attraktiven Fox Mulder sieht das allerdings schon etwas anders aus.
Ein weiterer besonderer Aspekt der Serie ist auch, dass sie nicht bei der Suche nach Aliens halt macht, sondern sich über ein nahezu grenzenlos erscheinendes Feld an übernatürlichen Fällen erstreckt. Von Geistern bis Telekinese, von Hexen bis Vampiren, von Killerbienen bis halluzinogenen Riesenpilzkolonien, man muss sich schon sehr anstrengen, will man eine unheimliche Erscheinung finden, die nicht in irgendeiner Episode der X-Akten vorkommt. Doch nicht nur in der Menge verschiedener Themen spielt die Serie ihren Abwechslungsreichtum aus, sondern auch in ihrer vielschichtigen Erzählweise. So nimmt sich die Serie selbst häufig genug nicht ernst und selbst in den düstersten Folgen lassen sich humoristische und dennoch passende Szenen finden. Auch gibt es immer wieder ganze Folgen, die eher einer sanften Komödie ähneln – meistens erscheinen diese im Anschluss an besonders unheimliche oder tragische Folgen, als wollten die Macher der Serie ihren Zuschauern nicht zu viel auf einmal zumuten. Auch durch die Weiterentwicklung zahlreicher Nebenstränge und -charaktere im Laufe der Staffeln gelingt es der Serie (beinahe) bis zum Schluss allzu offensichtliche Wiederholungen zu vermeiden. Das in den letzten Staffeln der Ideenreichtum leider ein Ende findet, zeigt sich unter anderem, in dem etwas gekünstelt wirkenden, temporären Verschwinden der beiden Hauptcharaktere. Dies ist nicht nur in den früheren Staffeln bereits einmal passiert, sondern es verdeutlicht noch einmal, wie sehr die Serie von der Mulder-Scully-Dynamik profitiert. Solche Verschleißerscheinungen erscheinen bei der schieren Anzahl an Episoden jedoch kaum vermeidbar.
Á propos Scully: In ihrer Figur finden wir eine wichtige Umdeutung der Rolle der Frau im Fernsehen. Nicht nur war sie eine der ersten starken Frauenrollen in einer Mainstream-Produktion. Sondern durch ihre Rolle als kühle Pragmatikerin und Skeptikerin nahm sie die zuvor stereotype Rolle des Mannes an, während Mulder als ans Übernatürliche Glaubender, teils paranoid wirkender, gefühlsbetonter Charakter, die stereotype Rolle der Frau übernahm.
Aber auch handwerklich hat die Serie einiges zu bieten. Nicht nur die Qualität der Schockeffekte waren für die damalige Zeit durchaus beeindruckend. Auch die generelle Bildsprache vieler Episoden schafft eine dichte Atmosphäre, die mit ihrer Vielzahl an Schauplätzen als überzeugendes Gesamtporträt der damaligen USA gezählt werden kann. Denn im Gegensatz zu vielen anderen Serien beschränkt sie sich nicht auf New York oder Los Angeles, sondern spielt ebenso in zahlreichen ländlichen Gegenden, von der Ost- bis zur Westküste. Und wenn man schon auf die handwerkliche Ebene eingeht kommt man eigentlich gar nicht umhin den Soundtrack zu erwähnen, der nun wirklich bei jedem, egal ob Fan oder nicht, eine nostalgische Gänsehaut hervorruft.
(Und da wir große Fans von nostalgischer Gänsehaut sind, findet ihr hier auch gleich noch den Soundtrack. Viel Spaß!)
Der vielleicht größte Einfluss der AKTE X dürfte jedoch gewesen sein, dass er nicht nur das Übernatürliche in den Mainstream brachte, sondern vor allem die Möglichkeit an das dieses zu glauben bis zu einem gewissen Grad ermöglichte. Denn häufig genug wurde gar nicht erst versucht irgendeine logische Erklärung für das Geschehene zu finden. Im Gegenteil, oft wird man als Zuschauer am Ende einer Episode gezwungen zu akzeptieren, dass etwas Übernatürliches geschehen ist und man nicht auf eine Lösung des Ganzen warten sollte.
Anstelle eines Fazits lässt sich dieses Review wohl am besten abschließen, mit einem Verweis auf den popkulturellen Ritterschlag der Serie, durch die Simpsons Episode DIE AKTE SPRINGFIELD (S8 E10).
Facebook Comments