Sucht man einen sinnvollen Vergleich zu AGGRESSION SCALE, bietet sich vor allem KEVIN ALLEIN ZU HAUS an. Ja, ganz recht, kein Titel, den man hier bei uns erwarten würde, aber wenn man mal genauer hinschaut, ist KEVIN… ein Home Invasion – Movie, bei dem die Eindringlinge von einem Minderjährigen Schlitzohr allerlei Steine in den Weg geworfen bekommen.
Nun hatte KEVIN… eine FSK 12 Freigabe, AGGRESSION SCALE den roten "ab 18" – Aufkleber und man kann hochrechnen, was das bedeutet.
Die Patchwork-Familie Rutledge zieht aufs Land. Was nach Idylle aussieht, kommt nicht ohne Schatten aus. Neben psychischer Probleme der beiden Kids Lauren und Owen, hat Vater Bill eine halbe Million Dollar von Mafiaboss Belavance gestohlen, die sich dieser durch vier skrupellose Killer wiederbeschaffen lassen will.
Doch die Geldeintreiber haben nicht mit dem brutalen Einfallsreichtum des schwerstens
gestörten Owen gerechnet.
Die Aggressions-Skala existiert tatsächlich und bestimmt in der Psychologie die Gewaltbereitschaft eines Menschen. Dass Owen im Film 99,5 von 100 Punkten erhält, lässt tief blicken.
Bevor wir dort aber ankommen, erleben wir den heranwachsenden als schweigsamen Genossen, der ganz offenbar mit der neuen Wohn- und Familiensituation nicht einverstanden ist und zudem medikamentös behandelt wird.
Auch Stiefschwester Lauren hat ihre Probleme, wie uns die Narben an ihren Handgelenken verraten, hierauf wird aber nicht weiter eingegangen und auch im Laufe des Films ist sie meist nur Beiwerk zum abgebrühten Owen, der anfangs alles andere als sympathisch erscheint, aber sich schnell zum kleineren Übel entwickelt.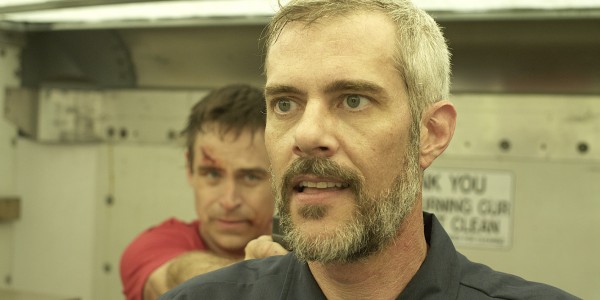 Der Film zeigt nicht nur eine ganze Palette an physischer Gewalt, sondern hinterfragt diese nie. Anders gesagt, hier macht Töten Spaß. Auf Politically Correctness wird geschissen und wir schlagen uns auf die Seite eines jugendlichen Soziopathen, der Bücher übers Fallenstellen und Guerillakriege unterm Bett liegen hat.
Zwar versucht AGGRESSION SCALE anfangs auch den Charakteren mehr Tiefe zu geben und stellt uns die Familie Rutledge etwas genauer vor, am besten kommt der Film aber immer dann, wenn er jeglichen Schnickschnack beiseitelässt und harte Action bietet. Das ist vor allem gegen Ende hin der Fall, wenn die Brutalität schon comichaft wirkt und damit abermals an KEVIN ALLEIN ZU HAUS erinnert.
Es ist also fast unnötig zu erwähnen, dass man hinsichtlich logischer Details das eine oder andere Auge zudrücken sollte. Egal wie verrückt Owen ist, er wirkt etwas zu sehr vorbereitet, gerade so als hätte er sein Leben lang auf die Typen gewartet, die schwer bewaffnet ins Haus marschieren. Manche Fallen erscheinen unnötig kompliziert, manche Ereignisse zu weit im Voraus geplant.
Die Besetzung besteht aus einigen Genreprofis. Ray Wise (DEAD END, ROSEWOOD LANE) spielt den Kopf der Verbrecher, Derek Mears (FREITAG DER 13.) ist einer der Killer und Regie führte Steven C. Miller (SCREAM OF THE BANSHEE).
Auch die restliche Umsetzung geht alles in allem in Ordnung und so ist AGGRESSION SCALE zwar kaum ein Film, der das Genre verändern wird, aber gut zu unterhalten weiß.
Facebook Comments