Bei dem Stichwort Horror aus Australien kommt einem wahrscheinlich als erstes WOLF CREEK in den Sinn. Aber mit THE LOVED ONES, THE BABADOOK und WYMRWOOD hat der Kontinent noch ein paar weitere Filme im Angebot. Und auch CHARLIE'S FARM von Chris Sun kommt aus dem Land der Kängurus und Koalabären. Mit Tara Reid (SHARKNADO, AMERICAN PIE) und zumindest kurzen Auftritten von Kane Hodder (FREITAG DER 13., HATCHET) und Bill Moseley (TEXAS CHAINSAW MASSACRE 2, DAS HAUS DER 1000 LEICHEN) sind ein paar Berühmtheiten des Genres vertreten.
Inhalt von CHARLIE'S FARM
Vier Freund*innen fahren in den australischen Outback, um dort auf einer abgelegen Farm Gruselurlaub zu machen. Auf der Farm sollen laut Erzählungen eine kannibalistische Familie von den Einwohnern des nahegelegenen Städtchens umgebracht worden sein. Seitdem verschwinden immer wieder Backpacker die sich die Farm anschauen wollen. Trotz eindringlicher Warnungen fahren unsere Vier natürlich trotzdem hin und merken schnell, dass die Farm nicht wirklich verlassen ist.
Resümee zu CHARLIE'S FARM
Das Gute zuerst: die Specialeffects in CHARLIE'S FARM sind gut. Es scheint, dass ein beträchtlicher Teil des eher kleinen Budgets in die Effekte geflossen sind. Der Großteil scheint handgemacht und wirkt sehr überzeugend. Auch die Kampfszenen sind gut und spannend. Kane Hodder hat neben seiner eher kleinen Rolle im Film die Aufgabe des Stuntkoordinators übernommen und macht den Job wie gewohnt gut.
Das Schlechte: der Film besteht nicht hauptsächlich aus Spezialeffekt und Kampf.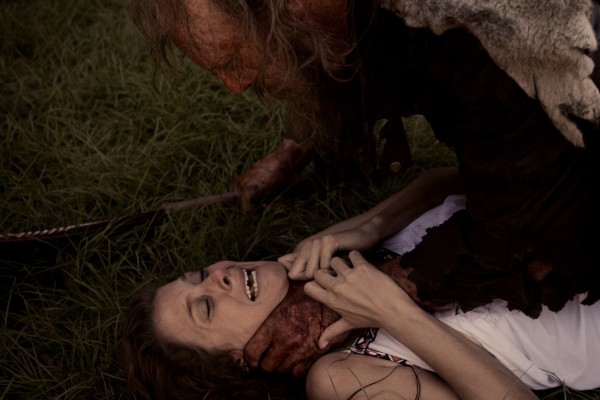 CHARLIE'S FARM ist kein Film, der besonders ernst genommen werden will. Vielmehr geht er in eine ähnliche Richtung wie HATCHET und es gibt einige Anspielungen auf andere Filme. Leider ist der Humor zu oft eher wie in AMERICAN PIE. Es gibt zahllose Witze über Furzen und Kacken und etliche Anspielungen darauf, wie groß der Penis von einem aus der Vierergruppe ist. Das ist das erste Mal vielleicht noch ganz amüsant, nervt irgendwann aber nur noch, zumindest wenn man mit dieser Art von Humor nicht viel anfangen kann.
Bei einer Laufzeit von etwa 93 Minuten wird etwas mehr als die Hälfte für eher sinnloses Vorgeplänkel aufgewendet. Die Zeit bis das erste Mal tatsächlich etwas passiert, was nicht in einer Rückblende ist, dauert zu lange. Die Tatsache, dass die Geschichte der Farm durch einige Rückblenden erzählt wird, führt dazu, dass es zwischendrin immer mal wieder kurzzeitig spannend wird und dann aber abrupt wieder mit Fäkalhumor gestoppt wird. Die immer mal wieder kurz aufgebaute Spannung wird so immer wieder zerschlagen und CHARLIE'S FARM wirkt so länger als er eigentlich ist.
Die Handlung an sich ist nicht neu. Aber das erwartet man bei einem Slasher auch nicht unbedingt. Bei HALLOWEEN oder FREITAG DER 13. variiert die Handlung auch nicht großartig. Allerdings wissen diese Filme besser, wie sie die Spannung aufrechterhalten können und das Publikum sich zwischendrin nicht langweilt. Die Handlung von CHARLIE'S FARM an sich ist okay und das, was man erwartet.
Eine Sache, die an CHARLIE'S FARM wirklich stört, ist die Tatsache, dass einige Szenen derartig dunkel sind, dass kaum zu erkennen ist, was eigentlich passiert. Der Film hat eine große Schwierigkeit mit der Darstellung von Dunkelheit, beziehungsweise übertreibt es dermaßen, dass es ärgerlich ist. Zwei längere Szenen sind dadurch nur zu erraten, was den Unterhaltungswert des Filmes nicht steigert.
Von diesem Mängel abgesehen, ist der Film handwerklich okay.
CHARLIE'S FARM hat sich mit seinen Mängeln leider die Chance genommen ein wirklich unterhaltsamer Slasher zu sein. Die Effekte sind gut, das Mörder riesig und irre-aussehend und wenn etwas passiert, ist das recht unterhaltsam. Aber die Tatsache, dass der Film lange braucht, bis er in Fahrt kommt und einen relativ unreifen Humor zur Schau trägt, macht einiges kaputt.
Facebook Comments