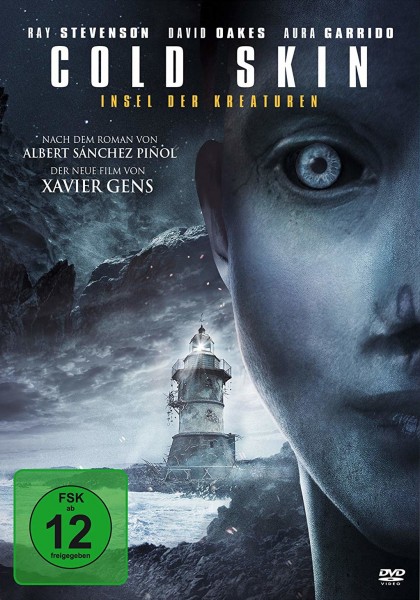 Es gibt Aufträge, die Rechnungen zahlen und es gibt Herzensangelegenheiten.
Wenn man sieht wie oft Regisseur Xavier Gens in den sozialen Medien über seinen letzten Filme THE CRUCIFIXION und nun COLD SKIN schrieb, war er auf THE CRUCIFIXION offenbar nicht sonderlich stolz (verständlich).
Die Unterschiede liegen aber auch auf der Hand. Während CRUCIFIXION eine unoriginelle Jumpscare-Geschichte war, ist COLD SKIN die Verfilmung des in Deutschland unter IM RAUSCH DER STILLE erschienenen Romans von Albert Sánchez Piñol.


Story:
Ein Wetterforscher wird auf einer einsamen Insel im Südpazifik abgesetzt, wo er seiner Arbeit nachgehen soll. Der einzige andere Mensch auf dem Eiland ist der grimmige Leuchtturmwärter Gruner, der den Meteorologen nicht gerade willkommen heißt.
Noch schlimmer wird es aber, als schon in der ersten Nacht amphibienartige Wesen dem Neuankömmling nach dem Leben trachten.
Er schafft es zu entkommen, muss sich aber mit Gruner in den Leuchtturm zurückziehen und erfährt, dass dieser eines der Monster als "Haustier" hält….
Dass Xavier Gens nicht noch einmal eine Schlachtplatte a la FRONTIER(S) anbieten würde, war abzusehen, dass einer seiner Filme mit FSK 12 – Freigabe durchgehen wird, hingegen nicht.
Macht aber Sinn, denn COLD SKIN enthält zwar Gewalt (und auch eine verstörende Sexszene), diese ist aber eher im Stile von Abenteuer-/Fantasyfilmen wie HERR DER RINGE angelegt und man fühlt sich öfters an klassische Geschichten von R.L. Stevenson oder Jules Verne erinnert.


Das ist durchaus spannend, auch wenn kritischere Stimmen nicht ganz zu unrecht anmerken werden, dass sowohl Schauplatz als auch Handlung beschränkt sind.
Die ungleichen Männer müssen fast jede Nacht im Leuchtturm auf Leben und Tod gegen die haarlosen Kreaturen kämpfen, die zahlenmäßig deutlich überlegen sind, was nach einer Weile einer an die verschiedenen Level eines "Tower Defense"-Spiels erinnert.
Das sind hübsche, gut choreographierte Schlachten, es fällt aber auf wie unrealistisch oft, die beiden Verteidiger gerade noch in letzter Sekunde eine Tür zwischen sich und die Angreifer bekommen.
Da abgesehen von den Fisch-Menschen nur drei Schauspieler größere Rollen tragen, ergibt sich auch in diesem Belang wenig Abwechslung. Es ist aber genau dieses Mit- und Gegeneinander der Männer und des gezähmten Monsters, das oft von Gruner misshandelt wird, das im Fokus steht.
Dramaanteile sind also (nicht zu knapp) vorhanden und da die Schauspieler ihren Job erledigen, funktioniert das gut.
Auch technisch bewegt sich COLD SKIN auf hohem Niveau. Immer wieder geschieht visuelle Auflockerung durch ungewöhnliche Kamerafahrten und Luftaufnahmen. Wer sich aber grundsätzlich gegen CGI wehrt, sei vorgewarnt. Die Computeranimationen sehen größtenteils ansprechend aus, manches wäre auch kaum anders zu lösen gewesen, trotzdem sind diese FX als solche zu erkennen.
Fazit: COLD SKIN ist eine Mischung aus Abenteuerfilm, Drama und Horrorstreifen, das einen neuen Xavier Gens zeigt, aber seine womöglich beste Arbeit seit THE DIVIDE ist.
Facebook Comments