Es ist soweit. Heute läuft der zweite Teil vom amerikanischen Godzilla-Reboot aus 2014 in den deutschen Kinos an: GODZILLA 2: KING OF THE MONSTERS. Und diesmal gibt es noch mehr Monster. Neben Godzilla selbst sind Mothra, Rodan und der Erzfeind Godzillas, König Ghidorah mit von der Partie. Gute Voraussetzungen für eine Menge zerstörter Häuser, Horden kreischender Menschen und natürlich gewaltiger Kämpfe zwischen den Kaijūs (der japanische "Fachbegriff" für diese riesigen Kreaturen)
Inhalt von GODZILLA 2: KING OF THE MONSTERS
Die Familie Russell hat während des Monsterkampfes 2014 in San Fransisco das jüngste Mitglied der Familie verloren. Während der Vater Mark sich in den Alkohol flüchtete und später die Familie verließ, haben Mutter Emma und Tochter Madison es sich zur Aufgabe gemacht, dem Tod des kleinen Andrew einen Sinn zu geben. Emma arbeitet bei Monarch, der Firma, die sich um die Erforschung der sogenannten Titanen kümmert. Sie hat ein Gerät entwickelt, mit dessen Hilfe mit den Titanen kommuniziert werden kann.
An diesem Gerät sind auch Personen mit eher zwielichtigen Plänen interessiert und nach dem Diebstahl ist es nur eine Frage der Zeit, bis die Titanen außer Kontrolle geraten und Chaos und Zerstörung auf der Welt anrichten. Wieder einmal ist es nur Godzilla, der die Menschheit retten kann.
Resümee zu GODZILLA 2: KING OF THE MONSTERS
Der Film von Regisseur Michael Dougherty (KRAMPUS 2015) macht einiges besser als der Vorgänger GODZILLA von 2014. Es braucht nicht gefühlt den halben Film bis der Namensgeber das erste Mal zu sehen ist, die Aufeinandertreffen von den Monstern finden nicht in extrem rauchiger Umgebung statt und der Plot wirkt nicht wie eine Entschuldigung die Titanen kämpfen zu lassen. Nach kurzer Vorgeschichte wird das Publikum direkt in die Handlung geworfen und nur nach wenigen Minuten taucht das erste der Monster auf. Denn sind wir ehrlich, die meisten Leute werden sich GODZILLA 2: KING OF THE MONSTERS wegen der Monster ansehen, nicht wegen einer hochkomplexen Storyline.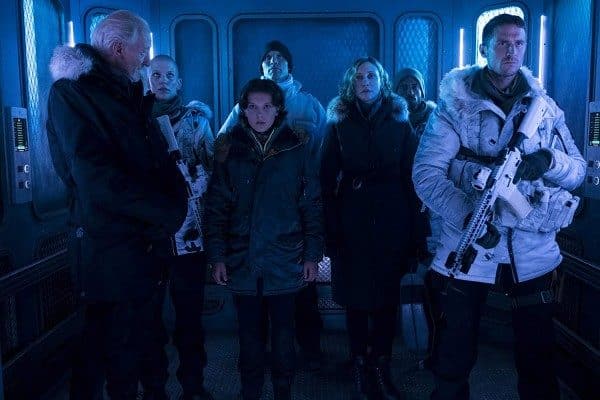 Die Handlung von GODZILLA 2: KING OF THE MONSTERS ist solide. Die Geschichte um die Familie Russell bietet genug Emotionen, um sich in die Charaktere hineinzuversetzen, nimmt aber nicht zu viel Zeit von den eigentlichen Protagonisten des Filmes ein: den Titanen. Die Idee einen Öko-Terroristen einzubauen ist eine nette Abwechslung von den oft sehr kapitalistischen Schurken, die nur auf ihr eigenes Wohlergehen aus sind.
Nun zu den eigentlichen Stars in GODZILLA 2: KING OF THE MONSTERS: den Kaijūs. Die nehmen diesmal einen Großteil der 132 Minuten Laufzeit ein, was zu begrüßen ist. Wer sich einen Godzilla-Film anschaut, möchte auch Godzilla (Gojira im japanischen Original) und Konsorten sehen, nicht viel zwischenmenschliches Drama. Die Titanen sind gigantisch: Godzilla ist knapp 120 Meter groß, während sein Erzrivale König Ghidora knapp 159 Meter misst. Dank einer Mischung aus CGI und Motion Capture sind sie sehr gut und so realistisch es eben geht, zum Leben erweckt worden. Jedem Zusammentreffern dieser Monster fiebert man entgegen, denn die sind gewaltig. Die Kämpfe der Titanen sind gut und spannend umgesetzt, so wie man es auch bereits aus den klassischen Godzilla-Filmen kennt.
Mit Vera Farmiga (THE CONJURING), Kyle Chandler (BLOODLINE), Ken Watanabe (GODZILLA), Charles Dance (GAME OF THRONES) und natürlich Millie Bobby Brown (STRANGER THINGS) ist ein hochwertiges Schauspielensemble zusammengestellt worden. Alle spielen ihre Rollen sehr überzeugend und schaffen es, dass das Publikum mitfiebert. Das war beim Vorgänger leider nicht so gut umgesetzt.
GODZILLA 2: KING OF THE MONSTERS ist ein würdiger Vertreter der Filmreihe um die berühmte Echse. Es gibt viel Action mit den Titanen und einen epischen Endkampf zwischen Godzilla und König Ghidorah. Die Story um die Monster ist sinnvoll und schafft es die Spannung in dem doch recht langem Film aufrecht zu erhalten. In diesem Sinne: Lang lebe der König!
Übrigens: Sitzenbleiben beim Abspann lohnt sich. Zum einen wird der bald folgende dritte Teil geteastert, zum anderen gibt es eine weitere Szene ganz am Ende.
Facebook Comments