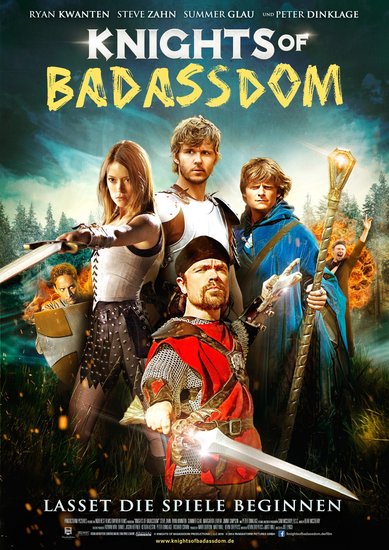 Wir wissen nicht, wie ihr zu Rollenspielen steht, ob ihr Metal hört oder euch auf Mittelaltermärkten rumtreibt, aber wenn ihr dies hier lest, steht ihr vermutlich mindestens auf Horrorfilme und das reicht auch schon aus, um in den Augen vieler "Normalbürger" belächelt zu werden.
KNIGHTS OF BADASSDOM bringt alles zusammen, Nerds sollten also den Gurt am Kinosessel anlegen.
Automechaniker und Hobbymusiker Joe wird von seiner Freundin verlassen. Zum Glück hat er seine Kumpels Hung und Eric, die Joe kurzerhand bekifft/besoffen machen und ihn auf ein LARP-Event mitschleppen. Dem steht der Sinn danach allerdings überhaupt nicht, schon gar nicht, als jemand versehentlich aus einem alten Zauberbuch einen garstigen Dämon beschwört, der aussieht wie Joes Exfreundin.
Regisseur Joe Lynch (CHILLERAMA, WRONG TURN 2) ist ein B-Filmer. Während das für manch einen ein Schimpfwort ist, scheint Joe nie was anderes machen zu wollen als groben Unfug mit Horrorelementen.
Da kann man getrost erwähnen, dass KNIGHTS OF BADASSDOM zwar aus unzähligen liebevollen Details besteht, aber nur von einer dünnen Story zusammengehalten wird. Oder dass der Film zwar brutal ist, die Effekte und Masken aber nicht besonders erschreckend sind, ja manchmal sogar eine Komik offenbaren, von der man in Lynchs Fall nicht weiß, ob sie unfreiwillig oder doch mit voller Absicht eingebaut wurde.
Einiges was wir auf dem Rollenspiel-Veranstaltung zu Gesicht bekommen, wirkt zu skurril um wahr zu sein (und das bevor es übernatürlich wird), könnte aber auf einem solchen oder ähnlichen Event leicht anzutreffen sein. Hier sind Menschen unterwegs, die mit akribischer Mühe ein teures Kostüm basteln, das sie in einen Krieger aus einem Fantasieland verwandelt, die Errungenschaften unserer Zeit aber nicht ganz ablegen können oder wollen. Das beginnt mit dem modernen Kassengestell auf der Nase und endet im Film bei einem Streitwagen, dessen Unterbau ein Elektrorollstuhl ist.
Andere gehen so sehr in ihrer Rolle auf, dass sie sie nie verlassen.
Lynch nimmt all diese Dinge zwar auf die Schippe, geht aber mit dem nötigen Respekt an die Sache heran und zieht damit Fans auf seine Seite. Die werden auch einige Insidergags zu schätzen wissen. Dass einer Könige der Fantasie-Welt King Kerry heißt, ist offenbar eine Anspielung auf Slayer-Gitarrist Kerry King und Hartmetal-Fans werden auch seinen gegenüber King Diamond einordnen können.
Natürlich ist KNIGHTS OF BADASSDOM keine anspruchsvolle Kunst, im Gegenteil. Der Film erinnert etwas an KINGS OF ROCK minus Joe Black und ARMEE DER FINSTERNIS minus Ash. Humorvolles Entertainment also, das aber allzu platte Gags vermeiden kann.
Rollenspiele kann man belächeln oder einfach mögen. Das gleiche gilt für KNIGHTS OF BADASSDOM. Wie eingangs erwähnt, sollte man den Unterschied zwischen Black Metal und Doom Metal kennen, wissen wofür LARP steht und eine Idee haben in welcher Serie Tyrion Lannister auftaucht. Das vorausgesetzt, ist KNIGHTS OF BADASSDOM ein feiner unbeschwerter Spaß, den man auch auf der nächsten Halloween-Party einlegen kann.
Facebook Comments