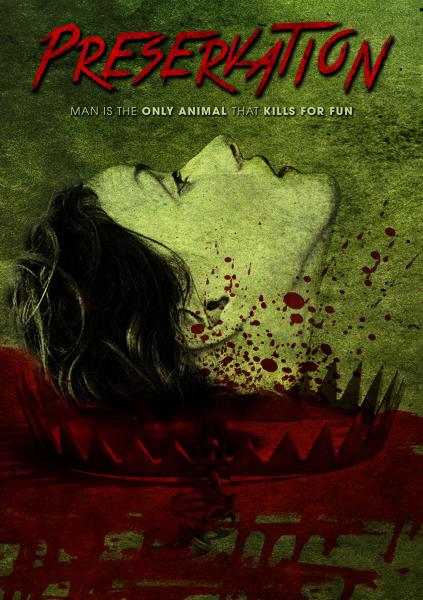 Die Urlaubszeit steht vor der Tür und das veranlasst die Produzenten von Horrorfilmen uns die Vorfreude zu nehmen, indem sie in uns den Zweifel keimen lassen, ob es denn wirklich eine gute Idee ist, mutterseelenallein campen zu gehen. Was da alles passieren kann…
Mike, sein Bruder Sean und dessen Frau Wit wollen Kindheitserinnerungen wachwerden lassen, indem sie einen entlegenen Nationalpark, den sie noch von früher kennen, jagen gehen. Doch die Zeiten haben sich geändert und das Gebiet ist heruntergekommen und geschlossen.
Kein Problem für die Gruppe, die sich von ein paar Schildern nicht aufhalten lässt, doch nach der ersten Nacht in der Wildnis ist plötzlich Mikes Hund und die gesamte Ausrüstung verschwunden und die kleine Gruppe merkt, dass es jemand nicht gut mit ihnen meint.
PRESERVATION macht zunächst vieles richtig, nimmt sich die Zeit die Protagonisten vorzustellen und tut dies recht glaubhaft. Mike ist Kriegsveteran mit allen dazugehörigen Vor- und Nachteilen, Sean ein Bürohengst, der auch im Wald nicht das Handy aus der Hand legt, Wit ist schwanger was aber bisher ihr Geheimnis ist.
Das macht noch kein Charakterdrama (was hier auch nicht gefragt ist), aber immerhin heben sich die Figuren von allzu platten Schablonen ab.
Erste Fragezeichen deuten sich an, wenn Vegetarierin Wit ein Reh erschießen soll oder den dreien förmlich das Zelt über dem Kopf und die Socken von den Füßen gestohlen werden, man den Schlafenden sogar ein Kreuz auf die Stirn malt und der Hund ohne ein Kläffen verschwindet.
Bis zu einem gewissen Grad sind solche unrealistischen Dinge sicher zu verzeihen und PRESERVATION macht durch einzelne gute Ideen verlorenen Boden wieder gut, zu häufig hat man aber den Eindruck, dass Szenen nur da sind, weil sie in ähnlichen Filmen schon mal funktionierten.
Als erstes wäre dort EDEN LAKE zu nennen, der wohl jedem Zuschauer einfällt, der den britischen Outdoor-Schocker gesehen hat. PRESERVATION ist gewissermaßen eine Lightversion davon, durchaus auch mit Gewalt versetzt, aber man merkt, dass Regisseur/Autor Christopher Denham seinem US-Publikum weniger Härte zumuten wollte. Trotzdem finden sich Szenen, die deutlich von EDEN LAKE inspiriert wurden.
Ein zweites -weniger bekanntes- Vorbild ist der Spanier KING OF THE HILL, der ebenfalls die Bedrohung lange im Dunkeln lässt, aber mit allzu ähnlicher Aufklärung daherkommt.
Beide Filme sind stimmig und roh und das ist PRESERVATIONs großes Problem. Sowohl Figuren als auch Handlung mangelt es an Konsequenz.
Während sich zweimal eine interessante Wendung andeutet (erstens, wenn die Gruppe sich gegenseitig die Schuld am Verschwinden der Ausrüstung zuschiebt; zweitens, wenn Mike den Überlebenskünstler in sich entdeckt und zurückschlägt), entscheidet man sich letztlich lieber dazu eine 0815-Backwood-Party zu bieten, bei der die Jäger zu Gejagten werden und (Spoiler) letztlich wieder zu Jägern.
Mehr Spoiler: Vor allem der letzte Akt macht PRESERVATION, trotz insgesamt vernünftiger schauspielerischer Leistung, netten Effekten und guter Optik, zu einer fragwürdigen Angelegenheit, denn wer soll glauben, dass die gehetzte, schwangere, vegetarische Stadtbewohnerin sich plötzlich von Bäumen hangelt um einen Widersacher mit Kabeln zu erdrosseln.
An anderen Stellen wundert man sich einfach über die dummen Entscheidungen, die hier mal wieder den Killern in die Hand spielen. Was macht man, wenn man seinen Gegner niedergeschlagen hat? Klar, abwenden und warten, bis er wieder aufsteht.
Fazit: Dass PRESERVATION nicht allzu innovativ sein würde, war von Anfang an klar und soll nicht mal ein Vorwurf sein, aber hier versucht man britischen Hoodie-Horror mit leichter Sozialkritik nachzubauen, gleichzeitig aber überzogene US-McGyver-Action einzubauen…und scheitert.
Facebook Comments