🙂 🙂 🙂
Smileys gibt es schon seit den 60er Jahren, aber seit dem Internetzeitalter benutzen sie Menschen im Überdruss und ersetzen damit meist nur das, was früher ein unsicherer Lacher am Satzende war.
Was würde aber besser passen, als den Smileys ihren eigenen Horrorfilm zu widmen und sie in diesem Fall durch einen lustig aussehenden, aber dennoch gefährlichen Mörder zu ersetzen.
Dieser soll – so will es die Legende – in einem Videochat erscheinen, wenn man dem Partner drei Mal die Worte "I did it for the lulz", also etwa "Ich tat es, weil ich es kann", schickt.
Zunächst will Neu-Studentin Ashley daran nicht glauben, doch als sie mit Freundin Proxy einem Unbekannten die Worte schreibt und Zeugin wird, wie dieser vor der Webcam von Smiley ermordet wird, gerät sie in den Bann des Killers. Ist Smiley ein Mensch? Eine Art Geist? Und ist sie selbst ebenfalls in Gefahr?
Die Schauermär um Bloody Mary lässt grüßen und ist hier gewissermaßen verschärft dargestellt, denn nicht derjenige der die Worte schreibt bzw. spricht, sondern der Empfänger wird Sekunden später Bekanntschaft mit dem Messer des Mörders machen.
Auch Versatzstücke von THE RING finden sich in SMILEY und da die ohnehin psychisch angeschlagene Ashley mehr als einmal von Alpträumen geplagt wird, drängen sich auch Vergleiche zu einem gewissen Freddy Krueger auf. Das geht so weit, dass sich Ashley wie seinerzeit Nancy in NIGHTMARE bewusst in eine Gefahrensituation begibt und sich dem Verfolger stellt.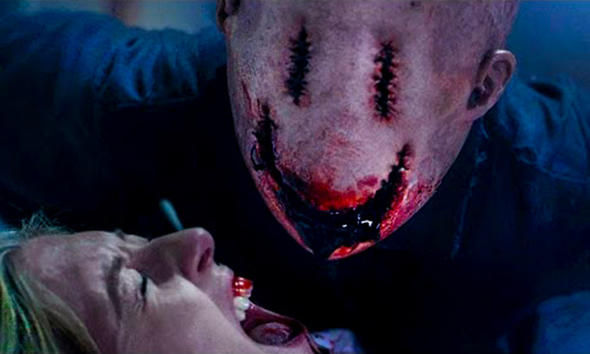 Als Zuschauer bleiben wir aber auch lange Zeit im Ungewissen über Smileys Hintergründe. Eine Theorie liefert Ashleys Professor, der den Mörder als eine Art Manifestation des Bösen im weltweiten Web sieht. Hübscher Ansatz, der auch einem finalen Twist standhält, aber wohl zu wissenschaftlich vorgetragen wird.
Machen wir uns nichts vor, wer sich SMILEY nach Blick aufs Cover kauft, erwartet keine Uni-Vorlesung, sondern rechnet nach leichter, vielleicht blutiger Unterhaltung, der man auch nach dem hmpften Bier noch folgen kann.
Diese Unterhaltung findet sich allerdings auch: ein paar Messermorde (allerdings nicht allzu explizit) und eine Menge Schocks, selbst in Momenten, die sich gar nicht dafür anbieten. Dazu kommen einige Collegekids-Klischees und alles wird in gutem Tempo vorgetragen, was der Generation Youtube doch gefallen müsste.
Der erste Trailer zu SMILEY war im Netz ein großer Erfolg. Klar, das ungewöhnliche lustig-lächerlich-morbide Aussehen des Bösewichts erweckte Neugier. Letztlich schienen aber viele Menschen vom Film enttäuscht, weswegen er sich derzeit auf imdb.com mit einer durchschnittlichen Bewertung von etwa 3,5 herumschlägt. Nun ist SMILEY kein Jahrhundertwerk, die im Film angesprochene Schwarmintelligenz versagt in diesem Fall aber, denn so schwach ist er nicht. Ob die negativen Resonanzen daher rühren, dass der Film in seinen besseren Momenten einer verkommenen Internet-Gesellschaft den Spiegel vorhält?
Facebook Comments