Während die Schauspieler anderer Erfolgsserien wie etwa GAME OF THRONES inzwischen in jedem zweiten Film auftauchen, scheinen sich die Darsteller von THE WALKING DEAD primär auf das Überleben unter Zombies zu konzentrieren. Dass Lauren Cohan, die die Maggie spielt, Zeit für ein Nebenprojekt gefunden hat und dafür einen Horrorfilm gewählt hat, freut uns natürlich.
Inhalt:
Die Amerikanerin Greta Evans verschlägt es nach England, wo sie nicht nur einer gescheiterten Beziehung entkommen will, sondern auch einen Job als Babysitterin bei einer reichen Familie antritt.
Die Verwunderung ist groß, als sich herausstellt, dass der Sohn eine Porzellanpuppe ist. Das sorgt zunächst für ungläubiges Gelächter, aber Greta übernimmt die Aufgabe dennoch und bleibt alleine in dem riesigen Haus mit Brahms, so der Name der Puppe, zurück.
Doch nach einiger Zeit muss sie sich fragen, ob Brahms wirklich so leblos ist, wie er erscheint.

THE BOY ist ein klassischer Gruselfilm, dafür bürgt schon die finstere Location, die auch aus DIE FRAU IN SCHWARZ oder THE OTHERS entliehen sein könnte (auch wenn THE BOY in der Gegenwart spielt). Dazu eine einsame Frau, die nach dem Rechten sieht und Stück für Stück an ihrem Verstand bzw. ihrem Schützling zu zweifeln beginnt.
Gretas Kontakt zur Außenwelt besteht außer Telefonaten mit ihrer Schwester vor allem in Malcolm, der das Haus regelmäßig mit Vorräten beliefert und ihr zudem ein paar Details zu Brahms erzählt.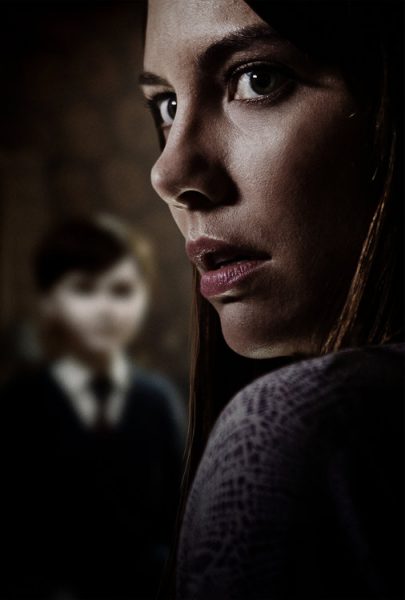 So soll der echte Sohn der Familie, dessen Abbild die Puppe ist, während eines Feuers ums Leben gekommen sein, davor aber abstoßende Charakterzüge aufgewiesen haben. Greta hingegen beginnt zwar zu glauben, dass Leben in der Puppe ist, ist sich aber nicht sicher, ob sie ihn fürchten muss.
Aufgrund der kleinen Anzahl von Figuren, kommt jedem Schauspieler (inkl. der für unsere Augen bewegungslosen Puppe) viel Aufmerksamkeit zu und sowohl Lauren Cohan als auch Malcolm-Darsteller Rupert Evans (THE CANAL) liefern saubere Arbeit ab, auch wenn ihre Charaktere nicht mehr Tiefe als nötig aufweisen.
Brahms muss sich natürlich den Vergleich mit Chucky, Annabelle und Konsorten gefallen lassen.
Mit Chucky hat er allerdings schon deswegen wenig gemeinsam, weil der plappert und für aller Augen umherläuft und im Falle Annabelle war deren Absicht von Anfang an klar. Auch wirkte der Film zu sehr am Reißbrett entworfen und auf Jumpscares ausgerichtet, wohingegen THE BOY nur vereinzelt schocken will und stattdessen die meiste Zeit eine unheimliche Atmosphäre aufbaut, die immer einen Zweifel lässt.
Nun, zumindest bis zu einem gewissen Punkt. ACHTUNG, ES FOLGEN SPOILER:
Zum Ende hin nimmt THE BOY eine Wendung, die zwar Aufklärung liefert, aber dennoch bzw. gerade deswegen enttäuscht. Nicht nur, weil die Auflösung lauwarm wirkt, sondern vor allem, weil dadurch die bis dahin sorgfältig aufgebaute Stimmung auf einmal den Bach runter geht.
An dieser Stelle wird man dann auch daran erinnert, dass der Regisseur des Films, William Brent Bell, nicht nur den rasanten WER, sondern auch den saudummen DEVIL INSIDE gedreht hat und Autor Stacey Menear hier sein Debüt als Autor gibt.
Ich hätte THE BOY liebend gerne besser bewertet als ANNABELLE und danach sah es auch lange aus, immerhin wusste ANNABELLE aber was er wollte und zog sein Ding durch, wohingegen man sich trotz gelungener Momente am Ende fragen muss, was die Motivation von THE BOY ist.
Facebook Comments