Ein Zombiefilm? Braucht die Welt noch einen Zombiefilm?
Diesen womöglich schon, denn zumindest wird das Thema im Falle von THE CURED auf eine Weise angefasst, die sowohl Altmeister Romero gefallen hätte, sich aber auch leicht auf aktuelle Situationen beziehen lässt.
Der Ausbruch der Infektion ist besiegt, die Normalität kehrt in Irland weitestgehend wieder ein.
Allerdings war es nicht nötig alle Infizierten per Kopfschuss zu bremsen, denn ein Medikament sorgte bei 75% für Heilung. Jedoch nicht ganz ohne Folgen, denn die blutrünstigen Taten, die sie verübten, bleiben ihnen im Gedächtnis, was für sie selbst belastend ist. Natürlich sind da aber auch noch die anderen Menschen, die den Geheilten misstrauisch gegenüberstehen und ebenfalls nicht vergessen haben, was sie taten.
Mit dem üblichen Muster Ausbruch der Epidemie-Flucht-Verschanzen hat THE CURED wenig gemein und ist über weite Teile mehr Drama als Horrorfilm, bewahrt sich dessen Elemente aber in Rückblenden. Zudem strahlen die restlichen, bisher nicht heilbaren Infizierten, zumindest eine latente Bedrohung aus. Die sind zwar schnell und -wenn von der Leine gelassen- damit auch besonders unangenehm, Dauerfeuer sollte allerdings niemand erwarten…Kitsch auch nicht.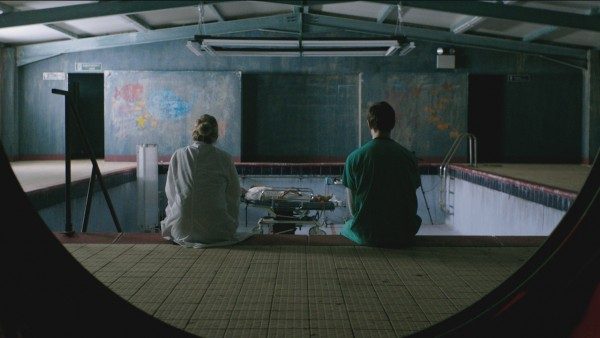 Das ändert aber nichts daran, dass THE CURED stimmig inszeniert ist und sich der Was-wäre-wenn-Frage stellt. Während wir exemplarisch den ehemaligen "Zombie" Senan kennenlernen, der nun bei seiner Schwägerin lebt und sich der ganze Film auf eine Kleinstadt in Irland konzentriert, lässt sich dieses Mikrokosmos nicht nur auf globale Fragen ausdehnen, sondern eben auch auf reale Fragen.
Ein Teil der "Normalen" hassen die Infizierten, während andere die Vergangenheit hinter sich lassen wollen. Die ehemals betroffenen fühlen sich diskriminiert und ja, nicht alle von ihnen sind feine Kerle.
Da mag man Parallelen zur aktuellen Flüchtlingssituation sehen, liegt sicher aber ebenso richtig, wenn man -mit dem Schauplatz Irland im Hinterkopf- an die nicht lange zurückliegenden Konflikte zwischen Protestanten und Katholiken nachdenkt.
Tatsächlich hatte Regisseur und Autor David Freyne beim Schreiben seines Skripts gewisse populistische Politiker im Auge, die von der Angst im Volk leben.
Als Zuschauer muss man sich hingegen nicht ängstigen, dass THE CURED trocken wie eine Parlamentssitzung abläuft, eine Affinität für den Blick über den Tellerrand muss man aber mitbringen. Als vergleichbare Werke bietet sich daher eher THE RETURNED als launige, schnelle, oberflächliche Filme wie z.B. WORLD WAR Z an.
Bekannteste Schauspielerin in THE CURED ist übrigens Ellen Page, die mit HARD CANDY, JUNO und INTO THE FOREST oft genug bewies, das sie für Stoff abseits des Mainstream zu haben ist.
Fazit: Sehenswert.
Facebook Comments