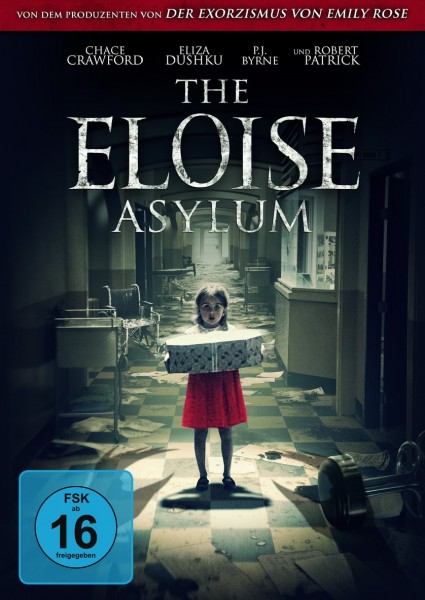 Horror im Irrenhaus erfreut sich ungebrochener Beliebtheit. Und warum auch nicht? Der Gedanke mit Verrückten eingesperrt zu sein, dem eigenen Verstand nicht trauen zu können oder dass perverse Ärzte ihre kranken Experimente an einem durchführen, ist nach wie vor erschreckend und zeigte sich z.B. in THE WARD, HOUSE ON HAUNTED HILL, SHUTTER ISLAND, der zweiten Staffel von AMERICAN HORROR STORY, GOTHICA oder GRAVE ENCOUNTERS.
Was THE ELOISE ASYLUM, der sich in die Schlange der Filme um psychiatrische Kliniken reiht, ein Alleinstellungsmerkmal verpasst, ist dass es diese Anstalt wirklich gab und Teile des Films vor Ort gedreht wurden.
Inhalt: Jacob hat gerade geerbt. Über eine Million Dollar hat ihm sein Vater vermacht, allerdings nur, wenn er die Sterbeurkunde seiner Tante auftreibt und die war zuletzt Insassin des Eloise.
Zusammen mit drei Freunden bricht er in den riesigen Komplex ein und muss herausfinden, dass der Irrsinn dort noch immer ein Zuhause hat.
Mit Eliza Dushku (WRONG TURN, BUFFY) und Robert Patrick (AKTE X, THE FACULTY, TERMINATOR 2) hat THE ELOISE ASYLUM zwei Szeneveteranen auf dem Bildschirm, die in den letzten Jahren nicht mehr die großen Erfolge feierten, aber auch nicht komplett abgeschrieben waren. In gewisser Weise passt das auch zum Film, denn der Streifen ist zwar handwerklich solide, bietet aber wenig neue Ideen und wird keinen Spontanapplaus auslösen.
Wie in den meisten Irrenhaus-Filmen werden auch hier bestialische Menschenexperimente durchgeführt, was unsere Protagonisten bald am eigenen Leib erfahren müssen, denn die Vergangenheit ist hier immer noch sehr aktiv. Besser gesagt: Gegenwart und Vergangenheit.
Da sich düstere Krankenhausflure und ein paar härtere Szenen abwechseln, ist für jeden Geschmack was dabei. Zumindest in der Theorie, denn in der Praxis ist der Film wie ein Allwetterreifen. Überall einsetzbar, nirgends überzeugend. Wer sich hart gruseln will, wird nur selten aus dem Sessel gescheucht und pure Gewaltfans werden sicher nicht weggeblasen.
Da wir in der Psychiatrie sind, gelten folgerichtig keine Gesetze des gesunden Denkens und darum hat Autor Christopher Borrelli, von dem auch THE VATICAN TAPES stammt, einfach Brainstorming betrieben und hinterher ein paar Szenen aneinandergereiht. Um ein seriöses Drehbuch hat sich hier niemand bemüht, was eigentlich schon mit der schwach konstruierten Ausgangssituation klar wird.
Fazit: Wie bei besagtem THE VATICAN TAPES kam ein Film dabei heraus, der die breite Masse bedienen soll und optisch was hermacht.
Cineastisches Fast Food.
Facebook Comments