Ältere Semester werden sich an die Szene aus DÄMONEN erinnern, als einige der Protagonisten im Fahrstuhl stecken bleiben und von zombieartigen Wesen bedroht werden.
THE END? dürfte der erste italienische Horrorfilm sein, der diese Art Szene erneut aufgreift und sogar so stark in den Fokus rückt, dass es um (fast) nichts anderes geht.


Story:
Claudio ist ein erfolgreicher Geschäftsmann und Unsympath. Gerade hat der verheiratete Mann noch seine Ex-Geliebte im Fahrstuhl angemacht, als der Aufzug plötzlich stecken bleibt und es so aussieht, als würde Claudio seinen nächsten Termin nicht halten können. Halb so schlimm, denn im Bürogebäude (und der Welt darum) verwandelt sich gerade jeder in einen Zombie.
So ist Claudio zwar gefangen, aber auch sicher.
Spannende Ausgangslage, zumal es dem Yuppie irgendwann gelingt die Tür einen Spalt breit zu öffnen und mit Mensch und Zombie auf dem Büroflur zu kommnizieren, aber eben nicht hinaus zu gelangen.
Deswegen bleibt THE END? ein Kammerspiel, was aufgrund der wenig abwechslungsreichen Locations schon mal Geschmackssache ist. Klar ist aber auch, dass gerade deswegen ein großer Stapel Ideen her muss, um die Story über Spielfilmlänge spannend zu halten.
Konkret sieht das so aus, dass unsere Hauptfigur versucht per Telefon Hilfe zu holen, die Tür aufzubrechen, sich der Verwandelten zu erwehren, die eindringen wollen, mit den überlebenden Kollegen spricht, die an der Tür vorbei laufen und in einem bewaffneten Wachmann einen Verbündeten zu finden.
Offen gestanden, ist das genau das was zu erwarten war, womit die große Kreativität ausbleibt.
Das heißt aber nicht, dass der Film nicht zu gebrauchen wäre. Die Zombies sind hässlich, die Figur des Claudio wird im Laufe der Geschichte sympathischer und das Blut (auch hier werden sich ältere Zuschauer an das übertriebene Rot alter Italo-Schinken erinnern) wirkt sowohl frisch als auch geronnen ziemlich echt.
Dass das Makeup der Zombies an selige 80er-Zeiten erinnert, nimmt der Sache zwar etwas den Ernst, aber darauf ist THE END? ohnehin nicht angelegt.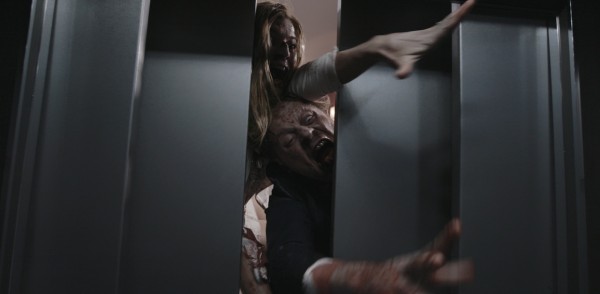 Um sich seine leichtfüßige Herangehensweise zu bewahren, hätte dem Streifen allerdings eine deutlich kürzere Laufzeit gut getan.  100 Minuten sind für diese Art Film zu lange.
Fazit: THE END? wird nicht zum Kultklassiker mutieren, aber gerade weil sich der italienische Horrorfilm in den letzten Jahrzehnten nicht mit Ruhm bekleckert hat, kann man dem Werk etwas Wertschätzung entgegenbringen.
Facebook Comments