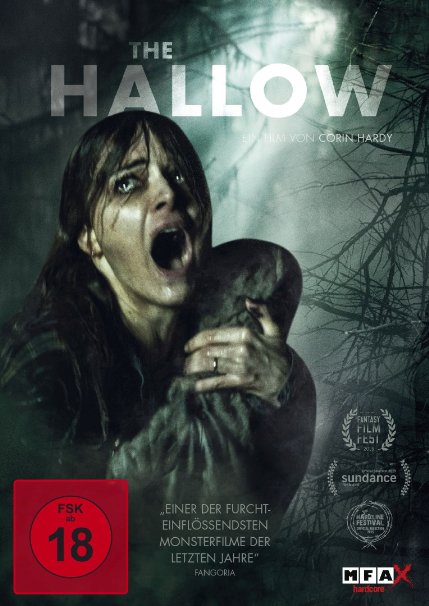 Aus Irland kam in den vergangen Jahren eine kleine, aber äußert feine Auswahl von Horrorfilmen, zu der LET US PREY, THE CANAL oder GRABBERS gehören. THE HALLOW ist ebenfalls irischer Abstammung und wurde nicht nur dort gedreht, sondern vermengt irische Folklore mit besten Zutaten des US-Horrors.
Story:
Adam, Clare und ihr kleiner Sohn Finn wohnen in einem Haus in den Wäldern. In der nahegelegenen Kleinstadt nennt man Adam den Baumdoktor und tatsächlich besteht seine Aufgabe darin, die naturbelassene Umgebung zu untersuchen. Bei den Nachbarn sind die aus London zugezogenen Fremden nicht sehr beliebt und man warnt sie vor den "Hallow", Wesen aus dem Wald. Natürlich schlagen die aufgeklärten Großstädter die Warnungen in den Wind, doch die Hallow wollen Finn.
THE HALLOW mag es traditionell und das gilt nicht nur für die Handlung, die Elemente der irischen Sagenwelt einbaut, sondern auch in Bezug auf seine Vorbilder. Regisseur/Co-Autor Corin Hardy gibt unumwunden zu, dass es Filme wie ALIEN, DAS DING AUS EINER ANDEREN WELT und TANZ DER TEUFEL waren, die ihn dazu bewegten Filme zu drehen und natürlich auch auf THE HALLOW wirkten.
Während sich mir persönlich die Nähe zu ALIEN nicht zeigt, meine ich etwas Stimmung von THE FOG gespürt zu haben, aber das nur nebenbei.
Das Schöne an THE HALLOW ist in jedem Fall, dass diese Meilensteine den Regisseur inspirierten, aber nicht unmittelbar den Film. Wir haben es nicht mit einem Abklatsch von TANZ DER TEUFEL zu tun, auch wenn der Kern der Handlung in einer einzigen Nacht und mitten im Wald stattfindet und ein Buch mit seltsamem Einband eine kleine Rolle spielt. Es gibt auch keine Monster aus dem Eis, wie in DAS DING AUS EINER ANDEREN WELT, wohl aber einen Hauch Paranoia.
Zur Tradition verpflichtet setzte Hardy auch noch auf überwiegend praktische Effekte und nutzte CGI so wie man es nutzen sollte: unterstützend, nicht dominierend. Das macht THE HALLOW aber nicht zu einem Retro-Trip, sondern zu einem zeitlosen Erlebnis.
Der Film ist Body Horror, er ist aber auch ein Creature Feature und wie in jedem Monsterfilm, der seine Monster recht lange verbirgt, wächst mit jeder Minute die Angst am Ende eine miese Plastikhandpuppe vorgesetzt zu bekommen, die weit weniger furchteinflößend ist als alles was bis dahin in unserem Kopfkino gezeigt wurde. Umso schöner, dass man in diesem Fall Entwarnung geben kann. Auch wenn böse Stimmen behaupten, dass die Baummonster aussehen, wie die unehelichen Kinder von Groot aus GUARDIANS OF THE GALAXY, möchte man diesen Dingern doch nicht im Dunkeln begegnen.
Außerdem muss man Corin Hardy an dieser Stelle erneut loben, denn obwohl der Mann aus der Effekte-Ecke kommt, stellt er die FX nicht selbstverliebt zur Schau, sondern zeigt nur so viel wie sein muss. Das erinnert an SPLINTER, einen neueren Film, der seinen Protagonisten ebenfalls Stacheln und Dornen unter die Haut schob, aber nicht mehr als nötig offenbarte.
Auch in Sachen Gore hält sich THE HALLOW vornehm zurück, was nicht bedeutet, dass er Gewalt scheut, er setzt sie in vielen Fällen nur subtiler ein. Wer ein Problem mit spitzen Gegenständen in Augäpfeln hat, wird sich beim Zuschauen trotzdem die Hand vor selbige halten.


Man kann an THE HALLOW den gemächlichen Aufbau kritisieren und dass die Wesen offenbar schon in dieser Zeit in der Nähe sind, aber erst zu einem späteren Punkt angreifen, was den eigenen "Regeln" widerspricht. Man kann sich auch darüber beklagen, dass die Familie nie so recht weiß, ob sie fliehen oder sich verbarrikadieren soll. Man kann auch bejammern, dass die irische Mythologie nicht 100% akkurat widergegeben wird. Man kann aber auch selbst dann das Haar in der Suppe suchen, wenn der Koch Glatze trägt.
All das ändert nichts daran, dass THE HALLOW ein insgesamt stimmiges und atmosphärisch dichtes Erlebnis ist, das die Schönheit der irischen Natur ebenso aufgreift, wie ihre hässlichen Bewohner.
Facebook Comments