Kennt ihr das Gefühl, wenn ihr auf einer Party seid, wo keiner der anderen Gäste zu euch passt? Ihr wollt Cocktails und Bier, dort wird nur stilles Wasser getrunken…ihr wollt über Fußball reden, man unterhält sich über Zierrosen…ihr wollt über gute Filme reden, jemand erwähnt TWILIGHT…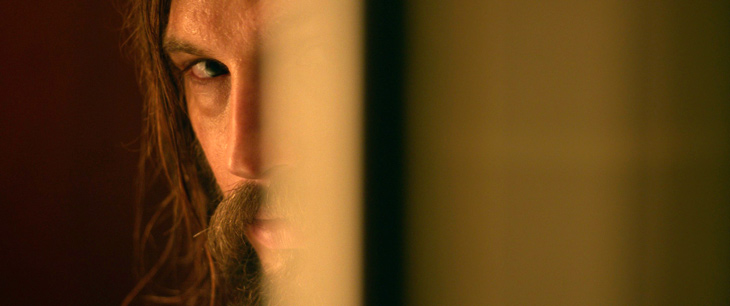 Als Will mit seiner neuen Freundin zur Dinnerparty seiner Ex-Frau Eden eingeladen wird, ist das zwar etwas überraschend, trotzdem freut er sich auf ein Wiedersehen. Im Laufe des Abends wird Will aber nicht nur von den Erinnerungen an das frühere Leben und den Tod des gemeinsamen Sohnes geplagt, sondern muss auch einige verstörende Dinge über seine Ex-Frau und einige der anderen Gäste erfahren.
Ist Eden Mitglied einer gefährlichen Sekte?
Menschen, die schon Anfang Dezember ihre eigenen Weihnachtsgeschenke suchen, werden THE INVITATION hassen, denn der Film ist eine Andeutung, ein Versprechen, eine vage Idee. Als Zuschauer ist uns nie ganz wohl, aber lange wissen wir nicht einmal wieso.
Ja, einer der Gäste erzählt, dass er einst seine Frau umbrachte und dafür im Gefängnis landete, aber er wirkt nicht zwingend bedrohlich. Ein anderer taucht zu spät auf, aber müssen wir uns Sorgen um ihn machen?


THE INVITATION ist die meiste Zeit der Inbegriff eines Psychothrillers. Gut gespielt, gut fotografiert, gut erzählt, aber eben ohne physische Gewalt. Die kommt zwar, aber bis dahin werden sich Fans grafischer Akte schon müde abgewandt haben.
Dran bleiben werden hingegen jene Zuschauer, die sich von der Stimmung einfangen lassen und mit der ständigen Ungewissheit klarkommen.


Über den Film und seine Handlung kann man streiten, aber auch die Macher sind ungewöhnlich. Dass Regisseurin Karyn Kusama auch JENNIFER'S BODY drehte liegt jedenfalls nicht auf der Hand und auch das Autorenteam Phil Hay und Matt Manfredi, sonst gerne mal für Blockbuster wie KAMPF DER TITANEN verantwortlich, würde man nicht automatisch mit diesem kleinen Film in Verbindung bringen, der fast ausschließlich in einem Haus und an einem Abend spielt.
Primär wegen dieser Fakten und des gemeinsamen Abendessens in einem schönen Hollywood-Haus erinnert THE INVITATION an COHERENCE, driftet aber nie ins Fantastische ab, sondern widmet sich Themen, die zwar womöglich so nicht täglich geschehen, aber doch im Bereich des Möglichen liegen.
Eine besondere Bedeutung kommt daher dem Miteinander der Protagonisten zu. Teilweise kennt man sich seit Jahren, teilweise ist man entfremdet, teilweise lernt man sich eben erst kennen.
Hier hakt es dann doch einige Male, weil genau diese Unterschiede kaum erkennbar sind. Vielmehr erweckt vor allem Hauptfigur Will den Eindruck, dass er alle anwesenden Menschen in Frage stellt.
Dies ist wohl ein klarer Fall, von "Mach dir selbst ein Bild"…das was THE INVITATION sein will, verkörpert er aber ziemlich gut.
Facebook Comments