Wenn man 2018 noch Found Footage Filme dreht, hechelt man entweder einem Trend hinterher, der seit wenigstens 5 Jahren keiner mehr ist oder hat so viel neues zu erzählen, dass man dem komatösen Subgenre neue Impulse geben kann.
Wo THE MONSTER PROJECT einzuordnen ist, verraten wir euch hier.
Die beiden YouTuber Jamal und Devon haben einen ungewöhnlichen Plan. Statt ihre Abonnenten nur mit ein paar Halloween-Masken zu erschrecken, wollen sie Leute interviewen, die sich für echte Monster halten. Dazu mieten die beiden, verstärkt durch Devons Ex-Freundin Murielle und Jamals Mitbewohner Justin, ein leerstehendes altes Haus und bitten einen vermeintlichen Gestaltenwandler, eine Vampirin und eine von einem Dämon besessene Frau zum Gespräch. Doch der Abend gestaltet sich anders als erwartet.
Wie zuletzt auch im deutschen HEILSTÄTTEN sind YouTuber die Protagonisten, die Suche nach Monstern erinnert auf den ersten Blick an HOW TO CATCH A MONSTER und darüber hinaus findet sich viel GRAVE ENCOUNTERS im Film wieder.
Bis der aber richtig in Fahrt kommt, wird einiges an Vorgeschichte erzählt. Devon verließ Murielle offenbar ohne ein Wort, Justin ist ein ehemaliger Junkie, der zu Gott gefunden hat und Murielle auch nicht verkehrt findet. Ein gewisses Konfliktpotential ist also vorprogrammiert und das beinhaltet noch keine Monster.
Sensible Leser seien hier durch die übliche Spoilermeldung gewarnt, man ahnt aber schon, dass die interviewten tatsächlich mehr sind als gewöhnliche Menschen (der Trailer verrät dies auch). Daher bricht von einer Minute zur nächsten buchstäblich die Hölle los und unsere Filmcrew muss versuchen aus der alten Villa zu entkommen.
Das geschieht in gewohnter Wackel-Verzerr-Manier in grünlichen Nachtaufnahmen. Wie viele neuere Found Footage Filme setzt auch THE MONSTER PROJECT auf ordentlich Action, die aber aufgrund des immergleichen Settings rasch ermüdet. Dazu gesellen sich Szenen, die teilweise 1:1 aus dem schon erwähnten GRAVE ENCOUNTERS entliehen scheinen (z.B. Person steht mit Gesicht zur Wand einsam im Raum, die Nachtsicht-Kamera nähert sich, Person dreht sich um und wirkt gelinde gesagt verändert).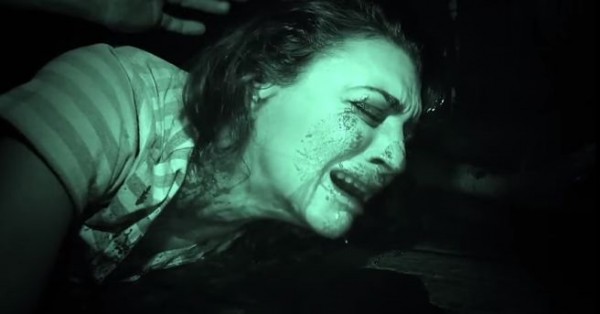 Und so klingt die Idee verschiedene Horrorfiguren im gleichen Szenario unterzubringen besser als die Umsetzung letztlich ist. Weder die zwischenmenschlichen Problemchen, noch der Horroranteil wirken straff oder originell inszeniert. Einerseits wirkt das Drehbuch durch den Einsatz von gleich drei Autoren zerrissen, andererseits macht sich bei Regisseur Victor Matthieu, der seinen ersten Langfilm abliefert, eine gewisse Unerfahrenheit bemerkbar.
Vermutlich hätte es dem Streifen gut gestanden, weniger ernst wirken zu wollen, Humor findet man aber nur mit der Lupe.
Auch ein an den Haaren herbeigezogenener finaler Twist kann den Gesamteindruck nicht retten.
Zu empfehlen ist THE MONSTER PROJECT daher vor allem Horror-Novizen, die sich auch von recycelten Szenen beeindrucken lassen.
Immerhin, neben verschiedener Bösewichter bietet der Film auch eine Reihe von Grusel- und Gewaltszenen und wer auf leichte FF-Unterhaltung schwört, findet damit womöglich sein Glück.
Facebook Comments