Ein neuer Horrorfilm läuft auf Netflix und schon haben die Clickbaitmedien Superlative bereit, die jedem Zuschauer eine Kotztüte nahelegen.
Nun, ihr kennt das Spiel mittlerweile und der alte Satz, dass nichts so heiß gebrochen wird, wie man es kocht, gilt auch hier.
Story:
Einst war Charlotte eine Virtuosin am Cello, doch nach einer schweren Zeit, in der sie sich um ihre Mutter und psychische Probleme kümmern musste, ist ihre Karriere in einem Loch.
Ihren Platz hat inzwischen die 5 Jahre jüngere Lizzie eingenommen. Als sich die beiden auf einer Veranstaltung kennenlernen, sind sie sich direkt sympathisch, mehr noch, sie werden ein Paar und reisen kurze Zeit später durch das chinesische Hinterland. Doch dann wird Lizzie krank….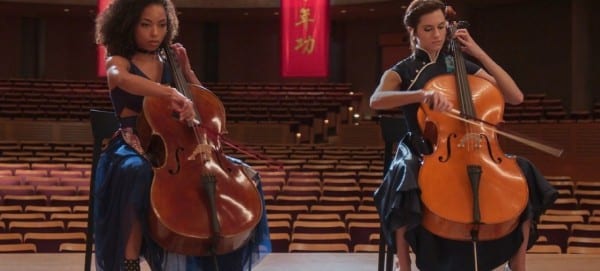 Wir verzichten in unseren Reviews natürlich grundsätzlich darauf, den kompletten Inhalt zu verraten, im Falle von THE PERFECTION können wir aber wirklich nur einen Bruchteil ansprechen, denn der Film enthält so viele grundlegende Twists, dass an dieser Stelle nur verraten werden soll, dass es bei diesem Problem nicht bleibt (mehr dazu hinter der Spoiler-Warnung).
Twists können eine feine Sache sein (man denke an THE SIXTH SENSE, MARTYRS oder SIEBEN), sie können aber auch ein sinnfreies auf-den-Kopf-stellen der bisherigen Handlung sein.
THE PERFECTION hat leider nicht nur drei Drehbuchautoren, die sich hier sichtlich im Wege standen und verschiedene Stile achtlos ineinander warfen, er will auch viele Wendungen, schert sich aber recht wenig darum, ob das mit halbwegs logischem Handeln vereinbar ist.
Das ändert aber nichts daran, dass der Film einige Szenen aufweist, die sich sehen lassen können.
Allen voran Lizzys Probleme, die ausgerechnet in einem chinesischen Überlandbus auftretendie extreme Form eines Magen-Darm-Virus aufzeigen und der Fahrer die beiden Frauen nicht versteht.
Klar, wer den ganzen Tag nur Kotz- und Fäkalgore schaut, wird hier müde lächeln, aber wer mal in einem fahrenden Auto Übelkeit verspürte oder im Ausland krank war, kann ihre Not gut nachvollziehen, zumal sich offenbar einiges in ihrem Körper befindet, was dort nicht hingehört.
Nun stellt die Busfahrt zwar einen Kontrast zur schicken Abendkleid-Szene dar, bei der sich die beiden kennenlernen, ist aber schlüssig. Auch dass darauf eine Rückblende folgt, die erklärt, wie es zu Lizzys Krankheit kam, macht Spaß….danach wird's aber fragwürdig.
Und ab hier folgen SPOILER:
Dass Charlotte Lizzie böses will, lässt sich noch irgendwie zusammenreimen, man sollte aber denken, dass die Welt genug Platz für zwei talentierte Musikerinnen hat, ohne dass die sich Gliedmaßen abtrennen müssen, um den Arbeitsplatz zu wahren (was sich eigentlich sogar in einer Szene wiederspiegelt, in der beide gemeinsam auf der Bühne stehen).
Dass Charlotte aber genau weiß, welche Halluzinationen Lizzie haben wird und -oh Wunder- im richtigen Moment ein großes Fleischerbeil unterm Shirt hervorzaubert, damit sich ihre Freundin den Arm abhackt, klingt schon ziemlich wüst.
Dass Lizzie überlebt und sich rächen möchte, ist wieder leichter nachvollziehbar, immerhin lässt sich mit einer Hand schwer Cello spielen. Dass dies damit endet, dass beide am Ende gemeinsame Sache gegen den Cello-Coach und seine finsteren Verbündeten machen, ist aber an den Haaren herbeigezogener Bullshit.
Die Absicht ist klar, man will, dass leichtgläubige Tölpel sagen: "Die Wendungen habe ich nicht kommen sehen."
Ist logisch, wie auch, wenn einem solch abstruse Twists untergejubelt werden?
SPOILERENDE


Vergisst man diese billigen Taschenspielertricks ist THE PERFECTION zwar immer noch weit von perfekt, bietet aber solide Schauspieler, ansprechende Locations und nette Effekte mit ein paar Gewaltspitzen.
Sieht man aber am Ende des Films die letzte Szene vor dem Abspann, wird man den Eindruck nicht los, dass die gesamte Handlung umständlich so gebogen und verdreht wurde, dass sich eben jener makabre Shot daraus ergibt.
Facebook Comments