8
Offiziell wird der zweite Teil von THE STRANGERS (2008) erst im Juni veröffentlicht. Allerdings durfte THE STRANGERS: OPFERNACHT bereits Preview bei den Fantasy Filmfest-Nights feiern, was ein vorzeitiges Review erlaubt.
Der Nachfolger wurde von dem Briten Johannes Roberts gedreht, der auch bei 47 METERS DOWN (2017) und STORAGE 24 (2012) Regie geführt hat. Das Drehbuch hat Ben Ketai geschrieben, nachdem Bryan Bertino ausgestiegen ist, der Drehbuch und Regie bei THE STRANGERS übernommen hat. Die ursprüngliche Idee zur Fortsetzung ist Bertino bereits direkt nach dem ersten Teil gekommen, zehn Jahre wollte er dann aber anscheinend nicht warten und trat seine Rechte ab.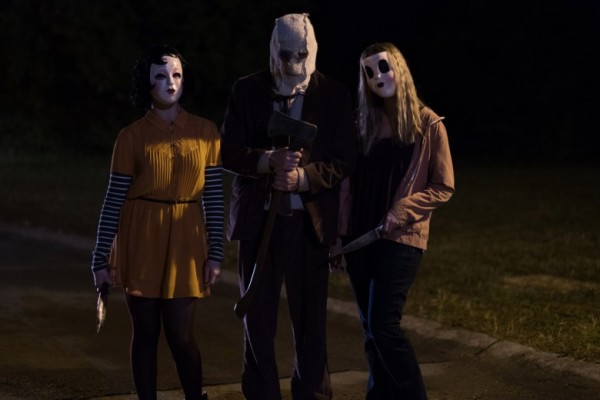 Inhalt von THE STRANGERS: OPFERNACHT
Nachdem Teeniemädchen Kinsey sich im letzten Jahr katastrophal verhalten hat, haben die Eltern beschlossen die Rebellin in ein Internat zu bringen. Um sie standesgemäß zu verabschieden planen sie die Tochter gemeinsam mit dem Sohn Lewis per Auto hinzubringen. Die Fahrt dauert lange und glücklicherweise befindet sich der Campingplatz von Verwandten auf dem Weg, wo ein Zwischenstopp eingelegt wird.
Wenig Zeit vergeht, bis die Geschwister auf die entstellten Leichen der Verwandtschaft stoßen und ein Katz-und-Maus-Spiel mit den Strangers beginnt.
Resümee von THE STRANGERS: OPFERNACHT
Fortsetzungen sind immer eine heikle Sache, entweder sie können das Niveau halten oder sind eine Beleidigung für den Vorgänger. Wenn man hört, dass es zehn Jahre gedauert hat, bis das Sequel von THE STRANGERS produziert wurde, mag man erstmal an der Qualität zweifeln. Immerhin muss es ja einen Grund gehabt haben, weshalb das Ganze sich so gezogen hat. Eins sei vorab gesagt: eine Katastrophe ist THE STRANGERS: OPFERNACHT auf keinen Fall.
Mit Christina Hendricks (MAD MEN) und Martin Henderson (GREY'S ANATOMY) sind die Eltern mit guten und bereits bekannten Darstellern besetzt. Und auch die junge Bailee Madison hat schon eine beachtliche Menge an Rollen gespielt. Die Rebellin nimmt man ihr nicht unbedingt immer ab, aber als Scream-Queen kommt sie sehr gut rüber.
Die technischen Aspekte des Films sind alle gut und nicht zu bemängeln. Die Spezialeffekte sind sparsam eingesetzt, sehen dafür aber handgemacht und schön blutig aus.
THE STRANGERS: OPFERNACHT strahlt die Atmosphäre eines 80er-Jahre Slashers aus. Der Soundtrack unterstützt diesen Eindruck noch mehr, wenn Bonnie Tyler oder Kim Wilde zu hören sind. Die Handlung findet in der Nähe eines Sees statt und es würde nicht sehr überraschen, wenn plötzlich Jason Voorhees hinter einem Baum hervorkommen würde. Zumal das Vorgehen der Charaktere (in einen Trailer rein, nach Waffen suchen und/oder sich verstecken) sehr an das Spielverhalten in dem FREITAG 13.-Spiel erinnert.
Ähnlich wie bei THE STRANGERS beginnt auch die Fortsetzung mit einer etwas längeren Einführung, in der die Charaktere vorgestellt werden. Das gelingt gut, so dass das man mitfiebert und hofft, dass die Strangers nicht die gesamte doch recht sympathische Familie auslöschen. Was gerade bei der längeren Einführung verwundert ist, dass trotzdem nicht gesagt wird, was genau die abtrünnige Tochter nun eigentlich verbrochen hat, um die ganze Reise überhaupt auszulösen.
Ähnlich ist auch, dass das Motiv der Maskenträger erneut schleierhaft bleibt und sie ohne nähere Erklärung die Opfer entweder schnell umbringen oder erst noch ein wenig mit ihnen Spielen, um sie dann zu töten.
Zusammenfassend lässt sich sagen, dass THE STRANGERS: OPFERNACHT ein sehr unterhaltsamer und solider Film ist. Durch die 80er-Atmosphäre wirkt er wie eine Hommage an die klassischen Slasher. Ab und an ist ein Augenzwinkern an die Zuschauer zu erkennen, beispielsweise wenn eindeutig übertrieben wird. Dadurch wirkt THE STRANGERS: OPFERNACHT nicht todernst und schafft es aber trotzdem den Schrecken effektvoll auf die Leinwand zu bringen.
Wer Spaß an THE STRANGERS hatte wird sehr wahrscheinlich auch den Nachfolger einiges abgewinnen können. Aber auch jenen, die den ersten Teil nicht gesehen haben, sollten sich den Film anschauen; er macht einfach Spaß.
Facebook Comments