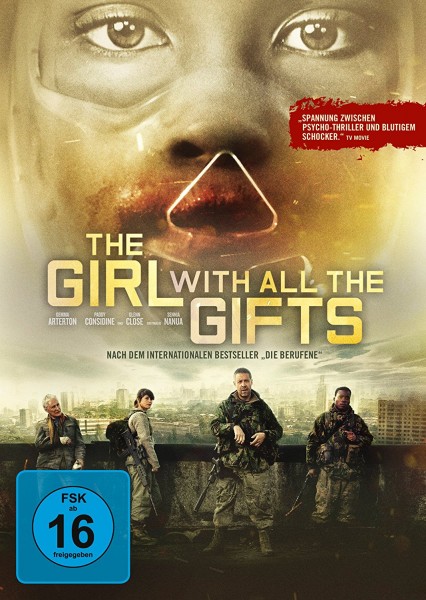 Immer wenn man denkt, dass im Zombie-Business alles gesagt ist, kommt ein Film wie THE GIRL WITH ALL THE GIFTS daher, der Neuerungen einbaut, die frischen Wind versprechen.
In diesem Fall sieht das so aus, dass die Welt von einem Pilz befallen ist, der die Menschen zu kannibalischen "Hungries" werden lässt. Das gilt auch für eine Gruppe von Kindern, die auf einer Militärbasis gefangen gehalten werden. Doch diese Kinder haben sich im Gegensatz zu den Erwachsenen ihre kognitiven Fähigkeiten bewahrt und können mit den nicht Befallenen kommunizieren.
Während eine Ärztin die Heranwachsenden für Forschungszwecke nutzt, entdeckt eine Lehrerin die Besonderheiten der jungen Melanie.
Als die Basis überrrannt wird, müssen die drei zusammen mit einigen Soldaten in eine zerstörte Welt fliehen.


Hungries = Zombies
Erbsenzähler mögen hier Unterschiede machen, aber egal ob sie nun untot oder "nur" infiziert sind, diese Leute willst du nicht zu dir nach Hause einladen.
Grundsätzlich handelt es sich hier um die schnelle Zombievariante, der Film enthält aber auch Szenen in denen die Hungries in eine Art Tagschlaf verfallen und man sich (mit Glück) an ihnen vorbeistehlen kann.
THE GIRL WITH ALL THE GIFTS wäre so oder so kein übler Film, aber was ihn einzigartig macht, ist Melanie.
Nicht nur weil die von Film-Debütantin Sennia Nanua stark gespielt wird, sondern vor allem weil durch ihren Charakter Situationen entstehen, die es in Filmen dieser Art sonst nicht geben kann.
Sie ist auf der Seite der Gesunden, ist aber auch eine Gefahr für sie. Die Hungries greifen sie nicht an, trotzdem gehört sie nicht zu ihnen.


THE GIRL WITH ALL THE GIFTS wurde mit vernünftigem Budget produziert, was sich nicht nur an herrlich verfallenen Kulissen oder der rasanten Massenszene, in der die Basis fällt,  widerspiegelt. Auch der Cast enthält große Namen.
Gemma Arterton ist als dralles Bond-Girl (EIN QUANTUM TROST), als dralles Entführungsopfer (SPURLOS – DIE ENTFÜHRUNG DER ALICE CREED), als dralle Vampirin (BYZANTIUM) oder als dralle Hexenjägerin (HÄNSEL & GRETEL: HEXENJÄGER) bekannt. Diesmal zeigt sie, dass sie auch im ausgeleierten Wollpulli funktioniert.
Quasi-Gegenspielerin, aber auch Verbündete ist Glenn Close, die sechsmal für einen Oscar nominiert war und nicht nur deswegen über alle Zweifel erhaben ist, sondern auch diesmal die Rolle der kühlen Ärztin voll ausfüllt.


Die Darsteller bzw. Figuren mögen unterschiedliche Interessen verfolgen, das heißt in diesem Fall aber nicht, dass man oberflächliche Quertreiber in der Mannschaft hätte, der gänzlich dumme Dinge tut.
THE GIRL WITH ALL THE GIFTS stellt seine Charaktere differenziert vor und auch die Handlung ist vielseitiger als die meisten Untoten-/Infizierten-Streifen.
In manchen Augenblicken erinntert THE GIRL WITH ALL THE GIFTS an 28 DAYS LATER, nicht zuletzt, weil er auch im zerstörten Großbritannien spielt und sich der schnellen Infizierten bedient, ist aber weniger direkt.
Womöglich wird sich manch einer auch daran stören, dass der Film mehr ist als 110 Minuten Dauerfeuer, aber irgendwas ist ja immer.
Facebook Comments