Eiskratzen, Winterreifen, Schneeflocken….
Ja, der Sommer ist vorbei, der Winter klopft mit der Axt an die Tür und falls ihr zu den Menschen gehört, die lieber drinnen sitzen und sich einen kalten Film anschauen, statt draußen zu bibbern, haben wir ein paar Perlen für euch.
Die Horrorfilme in dieser Liste haben alle gemeinsam, dass Frost, Kälte und Schnee auf die eine oder andere Art eine Rolle spielen. Das Thema Weihnachten haben wir übrigens bewusst ausgeklammert (wobei nicht auszuschließen ist, dass in einem der Streifen ein bunter Baum in der Ecke steht)
Es gibt wohl niemanden, der gerne mehrere Monate lang mit Jack Nicholson in einem Spuk-Hotel eingesperrt sein will und wenn der Regisseur dann noch Stanley Kubrick heißt, dessen unterkühlter Stil alleine jedes Kaminfeuer löscht, hat man den perfekten Winter – Horrorfilm.
DAS DING AUS EINER ANDEREN WELT
Kälter geht's nicht, denn wir befinden uns in einer Forschungsstation in der Antarktis. Das Leben dort ist trist, einsam und vor allem kalt. Für Abwechslung sorgt ein außerirdisches Wesen, dass jede Gestalt annehmen kann, für Wärme sorgen Flammenwerfer…
30 DAYS OF NIGHT
Nach 30 Tagen Dunkelheit und Temperaturen weit, weit unter dem Gefrierpunkt stehen wohl ohnehin die meisten Einwohner der Kleinstadt vor dem Suizid. Mit der Vampirgang, die in Alaska einfällt hätte aber wohl niemand gerechnet. Diese Blutsauger glitzern garantiert nicht in der Sonne.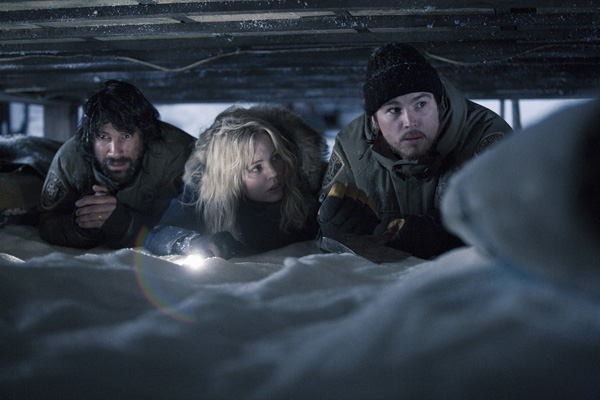 Klassischer Slasher-Stoff im Tiefschnee. Eine Gruppe Snowboarder sucht Unterschlupf in einem verlassenen Hotel, nachdem sich einer von ihnen das Bein bricht. Doch dort lebt eine Person, die auf Gesellschaft keine Lust hat und es werden noch viele gebrochene Knochen und Erfrierungen folgen.

DEAD SNOW
Nazi-Zombies im Tiefschnee. Weil einfach nichts so gut aussieht wie die Kombi aus Gedärm und Pulverschnee und von beidem gibt es reichlich.

MISERY
Es ist eine vereiste Fahrbahn, die einen Schriftsteller (James Caan) in die Hände seines treuesten Fans bringt, der psychopathischen Krankenschwester Annie (Kathy Bates). An Flucht ist nicht zu denken, was allerdings weniger mit den winterlichen Verhältnissen als mit zwei gebrochenen Knöcheln zu tun hat.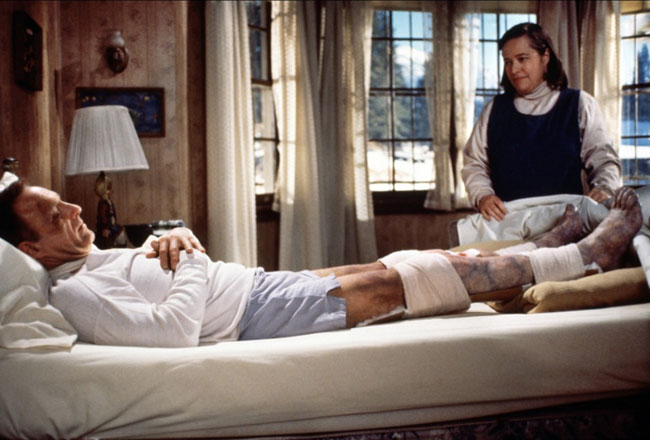 LET THE RIGHT ONE IN
In diesem Fall ist es mehr die eisige Stimmung, als der schwedische Winter, der eine tragende Rolle zukommt. Die Freundschaft zwischen Außenseiter Oskar und Vampir-Mädchen Eli ist erfrischend anders und die frostige Atmosphäre passt perfekt zu den trostlosen Blocks und der Brutalität des Films.

FROZEN
Drei Menschen, gefangen in einem Skilift, keine Hilfe in Sicht, Temperaturen weit unter Null…und am Boden ein hungriges Wolfsrudel. Die Handlung ist simpel, reicht aber aus, um den Skiurlaub zu stornieren und stattdessen einen Trip auf die Malediven zu buchen.

DER EISIGE TOD
Einer der weniger bekannten Filme dieser Liste. 2 Studenten fahren über die Weihnachtsfeiertage nach Hause. Auf einer eisigen und einsamen Straße, die eine Abkürzung hätte sein sollen, kommen sie von der Straße ab und müssen nicht nur gegen die Kälte, sondern auch die Geister der Vergangenheit bestehen.

TANZ DER VAMPIRE
Der Klassiker unter dieser Auswahl und ein Film, der einfach dazu einlädt sich mit einem heißen Tee unter der Decke zu verkriechen, um Prof. Ambronsius und seinen jungen Gehilfen dabei zu begleiten, wie sie ins eisige Transsylvanien reisen, um auf einem verschneiten Schloss Vampire zu jagen.

Facebook Comments