Nur noch wenige Stunden dann begrüßen wir das neue Jahr. Es wird also Zeit für unsere alljährlichen Redaktionscharts. Trotz hunderter Filme, die durch die Köpfe der Autoren geflimmert sind, konnte jeder 5 Tops und 3 Flops nennen, die wir euch hier vorstellen. Dieses Jahr gab es eine Handvoll Filme, die uns überrascht haben. Horror 2019 hat nicht durch literweise Blut oder brechende Knochen geglänzt, dafür aber durch den Einsatz von psychischer Gewalt und lange nachhallenden Szenen.
Zum Teil fühlte man sich wahrlich schmutzig, was für die Intensität von DER GOLDENE HANDSCHUH spricht. Wir fühlten wechselnde Emotionen, wenn die Geschichte um Tina von BORDER zu Ende ging. Was also dieses Filmjahr ausmacht, ist die Vielfältigkeit die wir genossen haben.
Welche Filme sind euch dieses Jahr im Kopf geblieben?
---
Mick
TOPS
SCARY STORIES TO TELL IN THE DARK
André Øvredal und Guillermo des Toro machen das, was man von ihnen erwarten darf, einen gemütlichen Gruselfilm mit sympathischen Figuren.

MIDSOMMAR
MIDSOMMAR ist WICKER MAN reloaded, aber clever und atmosphärisch inszeniert. Der Prolog ist einer der besten des Jahrhunderts.
DER GOLDENE HANDSCHUH
Ein Film wie ein Tritt in Hundescheiße. Klebrig, eklig, stinkig.
Allerdings baut Fatih Akin hier auch einen makabren Humor ein, bei dem einem das Lachen des Öfteren im Halse stecken bleibt.
CLIMAX
Gaspar Noe lädt zu Tanz und Drogenrausch. Ein Film, wie nur er ihn derzeit erschaffen kann und dabei mal wieder ganz anders als seine anderen Werke.
HOTEL MUMBAI
Dass hier ein Debütant Regie führte, merkt man nie. HOTEL MUMBAI ist eine Aufarbeitung realer Ereignisse und dabei doch so spannend wie ein guter Thriller.
FLOPS
SLASHED
Das meinen die doch nicht ernst, oder? Ein Film von Idioten für Idioten.
STURMGEWEHR
Es mag unfair klingen, wenn Amateurfilme in dieser Aufstellung auftauchen, aber gerade dieses Jahr zeigte sich, dass in dem Segment tolle Streifen möglich sind. STURMGEWEHR hat sich hingegen Hohn und Spott verdient.
EXTREMITY
Anthony DiBlasi hatte mit DREAD oder LAST SHIFT seine Momente. Wie es zu diesem Unfall kam, weiß nur er alleine.
---
Madda
TOPS
UNDER THE SILVER LAKE
Wahrscheinlich selbst nach dem x-ten Mal erkennt man nicht alle Anspielungen die der Film macht. Verrückt, verwirrend, genau mein Ding und am Ende ist man auch nicht schlauer als zuvor.
STRANGER THINGS – STAFFEL 3
Auch wenn es für mich die schwächste Staffel ist verdient sie immer noch einen Platz in meiner Top 5.
MINDHUNTER – STAFFEL 2
Serienmörder, dem realen "Horror" unserer Zeit, aber absolut stimmig, mit teilweise wahren Elementen und Figuren, erzählt.
YOU – DU WIRST MICH LIEBEN 
Ein gut aussehender und oft sympathischer Stalker der die gut aussehende Beck stalkt, die auch so ihre dunkle Seiten hat. Ich freu mich schon auf die nächste Staffel.
BLACK MIRROR: BANDERSNATCH
Den 80er Jahre Look kann er schonmal… und ich darf interaktiv ein Teil davon sein indem ich in die Handlung eingreifen darf!
Unbedingt mehr davon!
FLOPS
AMERICAN HORROR STORY – APOCALYPSE (Staffel 8)
Ich finde es cool wenn die gleichen Schauspieler in jeder Staffel neue Rollen bekommen. Aber innerhalb einer Staffel die verschiedenen Rollen mit den gleichen Schauspielern und die alten Staffeln in der neuen zu verwursteln… macht einen verrückt!
THE WALKING DEAD
Carl ist weg, das ist schon mal gut! Rick ist auch weg… irgendwie aber doch nicht… schade! Ich finde die ganze Serie gehört mittlerweile nur noch in die Tonne!
ELI
Ich muss zugeben das der Film genau nach meinem Geschmack anfängt, leider aber mit dem Einzug ins Haus auch wieder endet. So viele Unstimmigkeiten und ein Ende das so wirkt als ob man nicht gewusst hätte wie man das Dilemma jetzt zu Ende bringt.
---
Nadine
TOPS
ANNABELLE COMES HOME
Ein Film mit einer schönen Gruselatmosphäre, in dem man einige interessante Dinge zu sehen bekommt.
HAPPY DEATH DAY 2U
Sehr unterhaltsam und mich hat die Idee des Paralleluniversums fasziniert.
ESCAPE ROOM
Spiel gegen die Zeit, bei dem es um Leben und Tod geht, mit kreativen einzelnen Raumfallen.
FRACTURED
Gute Unterhaltung mit einigen interessanten twists.
GLASS
Mitreißender Film und super Schauspielkunst, insbesondere von James McAvoys in seiner vielfältigen Rolle.
FLOPS
CHILD´S PLAY
Misslungene Jumpscares, und da ich persönlich ein Fan des alten "einfachen" Chucky's bin, mit seinem zerschnittenen Gesicht, gefiel mir dieser "neue" Chucky nicht wirklich.
BRIGHTBURN
Ein Slasher, der selten wirklich spannend ist. Das Ende fand ich zu übertrieben.
THE PRODIGY
Recht uninspirierte Neuauflage von Kinder-Horror-Filmen ohne große Spannung
---
Lisa
TOPS
THE TERROR: INFAMY
Die Serie beleuchtet eine düstere Seite der US-amerikanischen Geschichte und baut dabei geschickt japanische Folklore ein. Die Geschichte um Chester und seine Familie gruselt und begeistert zugleich.
GODZILLA – KING OF MONSTERS
Godzilla macht das was Godzilla am besten kann: in Städten wüten und andere Kaiju bekämpfen. Und endlich ist King Ghidorah in einem der neuen Filme zu sehen!
THE HANDMAID'S TALE (STAFFEL3)
Die Geschichte um den "Gottesstaat" Gildead wird spannend weitergeführt. Es gibt gute Charakterentwicklungen und ein emotionales Finale, dass auf das Ende des Staates hoffen lässt.
WHY DON'T YOU JUST DIE!
Russischer Slapstick trifft auf rabenschwarzen Humor, verfeinert mit einer ordentlichen Prise Gewalt.
THE WITCH: PART ONE – THE SUBVERSION
Ein Film wie eine Achterbahnfahrt; mal ruhig, mal extrem actionreich, aber immer unterhaltsam und sehr ästhetisch.
FLOPS
MA – SIE SIEHT ALLES
Mit der grandiosen Octavia Spencer einen Film zu versauen muss schwer sein. Es liegt auch nicht an ihr, sondern der Story die spannend anfängt und sich dann in abstruse Gefilde abdriftet. Schade.
THE NIGHTSHIFTER
Sprechende Leichen klingen zunächst vielversprechend. Leider verirren die Protagonisten sich in sinnlose Handlungen und das Ende lässt mehr Fragen offen als es beantworten kann. Und was hat es mit diesem Abspann auf sich?
THE AXIOM: DAS TOR ZUR HÖLLE
Monster mit Pappmachee an den Fingern, die an eine noch blassere Version von Voldemort erinnern und eine Gruppe Leute, die sich nicht undurchdachter verhalten könnte. Dazu eine grottige Synchronisation. Wo kann ich die vergeudete Zeit wiederbekommen?
---
Mela
TOPS
IT Kapitel 2
Eine absolute detailverliebte und würdige Fortsetzung des ersten Chapters mit toll gewähltem und überzeugenden Cast.
BORDER
Was für eine cineastische Perle. Nie war unästhetisch so ästhetisch und berührend.
JOKER
Dunkel, depressiv, unangenehm, tief und beklemmend. Der Entstehung des Jokers zuzusehen, macht keinen Spaß. Ein Meisterwerk.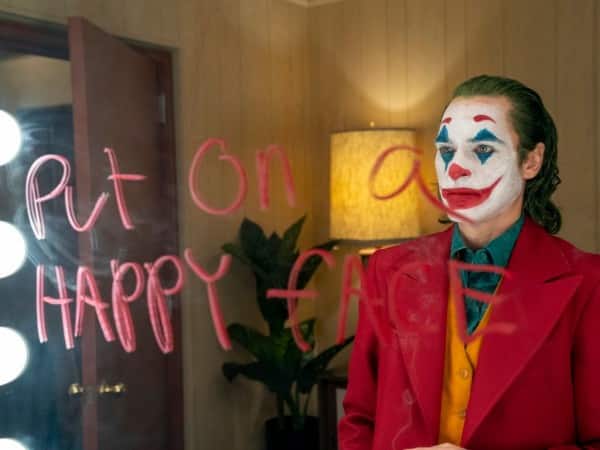 DER GOLDENE HANDSCHUH
Eine extrem gelungene Buchverfilmung. Akin hat hier dem deutschen Film einen Bärendienst erwiesen. Die Darstellungen der Gewalt, stumpf und abartig. Der Cast perfekt und authentisch. Nach diesem Film möchte man sich nur noch waschen, man kann ihn fast riechen.
THE DEAD DON´T DIE
Ein Cast, der einem vor Freude die Tränen in die Augen treibt, eine Story, herrlich abgedreht und in der Umsetzung so speziell, wie man es von Jarmusch erwartet.
FLOPS
WIR
Die Charaktere unsympathisch und nicht greifbar und eine gute Story, aus der leider viel zu wenig rausgeholt wurde, sodass sie nicht wirklich wirken konnte
STORIES OF THE DEAD – DIE FARM
Amateurfilm/Indyfilm hin oder her aber wenigstens das Verhalten der Akteure sollte nachvollziehbar und die Dialoge sinnig und halbwegs gehaltvoll sein. Zu viel deplatziertes overacting, welches im endgültig die Ernsthaftigkeit nahm und dann passt der Zusatztitel des Films nicht mal zum Gesehenen.
FRIEDHOF DER KUSCHELTIERE
Gute Ansätze, vor allem visuell aber am Ende einfach sehr schwach umgesetzt. Vor allem das Finale hat hier vieles ruiniert.
---
Linda
TOPS
BORDER
Erfrischend anders, bezaubernd und durchaus auch bedrohlich düster. Ein Genremix der bei mir keine Emotion ausgelassen hat. Mein absoluter Lieblingsfilm in diesem Jahr.
DER GOLEM-WIEDERGEBURT
Dieser war für mich eine kleine Überraschung. Überzeugende Schauspieler und ein gutes Timing für Drama, Horror und Gewalt.
FRACTURED
Aufpassen, Rätseln, vermuten… als Zuschauer war ich lange so ahnungslos wie der Protagonist. Das gefällt mir.
FEEDBACK
Wenn man gebannt an der Mattscheibe klebt, um einem Monolog zu folgen, der sich über Minuten zieht, macht der Film etwas richtig.
TRAUMA-DAS BÖSE VERLANGT LOYALITÄT
Unangenehm und schmerzhaft.
Die Mischung zwischen Geschichte und bestialischer Gewalt ist gelungen.
FLOPS
THE PERFECTION
Unlogisch und überzogen hoch zehn. Das Ende schlägt dem Fass den Boden aus. Schade, in den richtigen Händen, hätte was draus werden können
STURMGEWEHR
Wer so etwas Film nennt, gehört bestraft. Da stimmt einfach gar nichts, vom Ton bis hin zur Kamera, von den Darstellern fange ich erst gar nicht an. Ein Beispiel dafür, dass man nicht alles kann, nur weil man es gern möchte.
SLASHED-AUFGESCHLITZT
Eine hanebüchene Story und
Figuren, die einem das Gefühl geben, etwas dümmlich zu sein. Wer sich diesen Irrsinn bis zum Schluss angesehen hat, ist A: Innerlich leer B: Hat die Fernbedienung nicht gefunden oder C: Wurde bedroht.
Facebook Comments