Die Namen Benson und Moorhead werden den Wenigsten auf Anhieb etwas sagen. Ihr neuster Film SPRING wahrscheinlich schon eher. Die Creature-Horror-Romanze lief weltweit auf zahlreichen Filmfesten, wie hier zu Lande auf den Fantasy Filmfest Nights. Vielleicht hat auch der eine oder andere schon RESOLUTION gesehen, zu V/H/S VIRAL haben die beiden Filmfreunde auch einen Teil beigetragen.
Wir haben die beiden Regisseure zum Interview geladen und wollten mehr über ihre vergangene und ihre zukünftige Arbeit erfahren!
Thrill&Kill: SPRING ist nicht der erste Film an dem ihr zusammen gearbeitet habt. Ihr arbeitet seit Jahren zusammen, aber wie ist es dazu gekommen?
Benson & Moorhead: Wir trafen uns als Attentäter, die direkt für Obama gearbeitet haben. Ich, Aaron, war der Neuling, Justin der angegraute Veteran, der immer die Grenzen überschritt. Während dem Verlauf von Operationen in Somalia, Russland und Florida, haben wir unaufhörlich über Filme gestritten, uns verband aber eine Sache: Unsere Liebe zu Filmen. Als Justin unehrenhaft entlassen wurde, weil er "ausversehen" eine Statur eines ungenannten Kommunistenführers umgeworfen hat, bin ich aus Solidarität auch gegangen und seit dem machen wir Filme.
Vielleicht habt ihr einige unwahre Gerüchte gehört, dass wir uns als Praktikanten bei einer Werbeproduktionsfirma kennenlernten, merkten, dass wir viel gemeinsam haben, und dann anfingen ein bisschen zusammen zu arbeiten. Dann mehr und mehr Co-Filmemacher geworden sind, weil wir sehr kompatible Fähigkeiten haben und dann unseren ersten Feature-Film RESOLUTION mit dem Geld von Justins Konto gemacht haben, aber diese Gerüchte sind offensichtlich unwahr und die vorherige Geschichte die einzig wahre.
Thrill&Kill: Ja, diese absurde Firmengeschichte haben wir nie geglaubt! Also, nennt uns einige eurer Lieblingsfilme! Gibt es welche, die euch dazu inspiriert haben Filmemacher zu werden?
Benson & Moorhead: Schwer zu sagen, ob uns irgendein Film oder Filme zu Filmemachern gemacht haben. Eigenartigerweise entwickelten wir beide das Interesse am Filmemachen bevor wir ein Fandom fürs Angucken entwickelten.
Aber nennen wir Almost Famous, Jurassic Park, die Before Trilogie von Linklater, Chasing Amy, Herr der Ringe, Matrix, There Will Be Blood usw.
Thrill&Kill: Es gibt so viele Arten von Genres, warum habt ihr euch dazu entschieden Horrorfilme zu machen? Kümmern euch Kategorien überhaupt?
Benson & Moorhead: Das war keine Entscheidung, es war nur so, dass die Geschichten die wir uns ausgesucht haben zu erzählen am Ende als Horrorfilme kategorisiert wurden. Wir halten nie eine Diskussion darüber in welchem Genre wir arbeiten und diese Art von Diskussion ist in der Tat gefährlich und ungesund nach unserer Meinung, da Genre ein Werbebegriff ist und kein Regelwerk um einen guten Film zu machen.
Thrill&Kill: Uns ist das schon in euren vorherigen Filmen, insbesondere bei RESOLUTION aufgefallen. Können wir das auch von SPRING erwarten?
Benson & Moorhead: RESOLUTION und SPRING haben tatsächlich eine sehr ähnliche Struktur, welche etwas anti-cineastisch, aber (im Idealfall) mehr emotional fesselnd ist. Es ist keine außerordentlich bewusste Wahl, sondern vielmehr etwas, was wir tun, da es einfach für uns beide Sinn macht.
In vielen Horrorfilmen ist es wie folgt: entdeckt das Monster > flieht vor dem Monster > bekämpft das Monster. In unserem Fall ist alles eine emotionale Metapher für die selbe Sache, aber einfach das, was für uns als Menschen Sinn macht und nicht was Sinn macht um in die Horrorkategorie zu passen. Manche Menschen bekommen bei RESOLUTION Gänsehaut, andere finden es faszinierend, aber nicht unbedingt erschreckend – das Selbe gilt für SPRING. Wenn jeder auf einen Film auf die gleiche Weise reagiert, und es für alle dasselbe bedeutet, ist es nicht ganz so interessant, oder?
Thrill&Kill: Das ist wahr! Ihr habt auch ein Segment für V/H/S VIRAL beigetragen, gab es eine Anfrage von eurer Seite oder wie wurdet ihr ein Teil der Anthologie?
Benson & Moorhead: Wir bettelten darum! Wir sind immer wieder und wieder Ideen durchgegangen, bis wir bei BONESTORM ankamen. Eine so unglaubliche Anthologie mit aufkommenden und etablierten Regisseuren, die kreative Freiheit, die Verrücktheit, die Zuschauer die bereits existierten… da wollten wir mitmachen!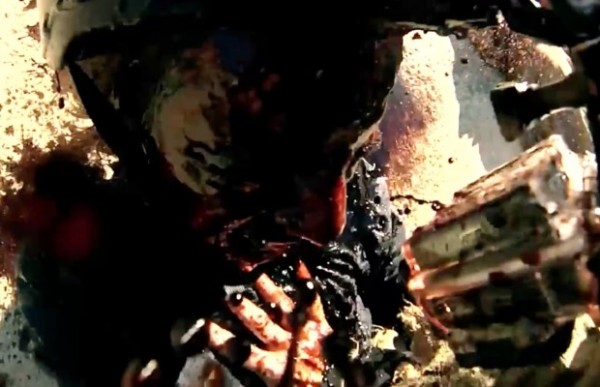 Thrill&Kill: BONESTORM sieht nach viel Spaß in der Mache aus. Oder war es tatsächlich schwieriger als es aussieht?
Benson & Moorhead: BONESTORM war der schwierigste Film, den wir je gemacht haben. Eine Vorproduktion war fast unmöglich (Skater casten ,die keine Schauspieler, aber wirklich talentiert sind, ist nicht einfach, den Drehort kostenlos zu finden war schwer), bei der Produktion war es heiß (38°+) langsam (VIEL Action und praktische Effekte haben das Drehen enorm verlangsamt) und anstrengend (als Kameramänner haben wir viele der Stunts selbst gemacht) und einer unserer Darsteller ist verschwunden, sodass wir ihn aus dem Film streichen mussten. Die Postproduktion war quälend lange und es gab eine Menge Notizen von den Produzenten, die Anzahl an visuellen Effekten ging in die Hunderte und unser Sound-Mix dauerte Wochen und das Budget war winzig. Klingt, als würden wir jammern, aber wir würden es wieder machen. Filmemachen ist nicht dazu gedacht einfach zu sein, es ist dazu gedacht zufriedenstellend zu sein und wir lieben BONESTORM.
Thrill&Kill: Ich bin sicher, dass auch viele Zuschauer BONESTORM lieben werden! Lasst uns über euren kommenden Film sprechen! Was wird es sein?
Benson & Moorhead: Unser nächster Film nach SPRING ist über den berüchtigten viktorianischen Okkultisten-Rockstar Aleister Crowley. Es ist eine Filmbiografie, die sich in einer sehr kurzen Zeitspanne abspielt, uns aber erlaubt viele Dinge zu entdecken, die in seinem Leben passierten und gleichzeitig den Spirit des Mannes zu ehren. Es geht um ein Ritual, das er zur Wende des 20sten Jahrhunderts in einem Haus entlang Loch Ness durchführte und die Dinge die er tat und die ihm und seiner seltsamen kleinen Familie/Kult passierten. Was ihn von einem jungen Mann mit unglaublichen fortschrittlichen Ideen, die wir heute bewundern würden, in das was die Presse später als "Der böseste Mann der Welt" bezeichnet.
Thrill&Kill: Nun, vorher freuen wir uns in Europa und Deutschland SPRING zu sehen. Ihr seid beide aus den Vereinigten Staaten, warum wolltet ihr einen Film in Italien machen?
Benson & Moorhead: Hast du Italien gesehen? Es ist erstaunlich, warum nicht da drehen? Wir haben beide eine große Reiselust und haben nie wirklich darüber nachgedacht, ob es schwieriger ist woanders als in den USA zu drehen. Wir wurden gewarnt, dass es eine große Aufgabe wird (besonders in Italien), aber es stellte sich raus, dass die warnungen falsch waren – es waren unbeschreiblich flüssige Dreharbeiten.
Thrill&Kill: Also seid ihr vorher schon selbst in Italien gewesen?
Benson & Moorhead: Ja, wir beide, und es ist so romantisch und schön wie das Klischee.
Thrill&Kill: Ich kann mir gut vorstellen, dass es ein wunderschöner Ort zum Drehen ist. Aaron, du machst auch die Kamerarbeit. Was macht dir persönlich mehr Spaß?
Benson & Moorhead: Nun, ein Director of Photographie zu sein ist wenig Stress im Vergleich zur Regie und das Aufnehmen von schönen Bildern, die die Intention des Films widerspiegeln fühlt sich toll an, aber die Verantwortung zu übernehmen, von etwas, von dem du denkst es ist gut, verstärkt das Gefühl, wenn es das ganze Produkt (der Film) ist und nicht nur das Bild. Ich würde sagen die Regie macht mehr Spaß, aber ist auch viel mehr Stress.
Thrill&Kill: Das klingt nachvollziehbar. Zuletzt noch eine letzte Frage: Warum sollte sich jeder SPRING ansehen?
SPRING ist keine Auftragsarbeit, der Film erzählt eine Geschichte, die uns sehr am Herzen liegt und die wir mit einem neuen Mythos, einem neuen Monster erzählen wollten. Die aber hoffentlich auch etwas Altes, Bekanntes von Liebe, Verlust und Wiedergeburt beinhaltet.
If you prefer to read this interview in english >>> click here <<<
Facebook Comments