Remakes von wirklich guten Filmen haben es nicht immer leicht – aber leichter, wenn man das Original nicht kennt. Gerade im asiatischen Raum wurden viele gute Horrorfilme produziert, deren Bekanntheit aber kaum einmal die eigenen Landesgrenzen verlässt. Kein Wunder also, dass gerade amerikanische Regisseure sich gerne an den Machwerken asiatischer Regisseure orientieren, um diese dann für das westliche Publikum aufzubereiten. In der folgenden Liste sind einige der bekanntesten Remakes aufgeführt, mit einem kleinen subjektiven Eindruck, welcher der Filme sehenswerter sein könnte.
OLDBOY
Ein aktuelles Beispiel ist mit Sicherheit OLDBOY, von Regisseur Park Chan-wook, der 2003 in Korea erschien. In der Horrorfangemeinde hat sich dieser Film – wenn nicht gar die ganze Rache-Trilogie – längst als Geheimtipp bewährt. US-Regisseur Spike Lee hat sich jetzt ein paar Stars wie Josh Brolin und Samuel L. Jackson ins Boot geholt und eine amerikanisierte Version auf die Leinwand gebracht, die letzte Woche in den deutschen Kinos gestartet ist. Kritiker waren sich schon vorher einig, dass dieser Versuch wohl nach hinten losgehen wird. Die Geschichte um den Familienvater Oh Dae-su, der nach jahrelanger Gefangenschaft in einem Zimmer, entführt von Unbekannten, in die Freiheit entlassen wird und sich auf die Suche nach einer Erklärung macht, wurde von Park Chan-wook so gekonnt präsentiert, dass das Remake es schwer haben wird.
JU-ON/THE GRUDGE
Auch JU-ON/THE GRUDGE wurde in Hollywood-Manier umgestaltet. Hier muss man dem Remake jedoch lassen, dass es ebenso wie das Original aus Japan weiß, wie man dem Zuschauer zusetzt. Hier ist es reine Geschmackssache, welche Version man bevorzugt, beide haben es in sich.
RINGU/THE RING
In den USA wird oft auf das Abstoßende gesetzt. In Ringu ist Sadako – das kleine Mädchen, das unerwünschte Anrufe tätigt- nicht so enstellt, wie im amerikansichen Pendant. Genauer gesagt: Man sieht nie ihr ganzes Gesicht. Auch hier muss man sich entscheiden, ob man eine Aneinanderreihung von Überraschungsmomenten  – die es teilweise wirklich in sich haben – oder die verstörenden Soundeffekte und die bedrückenden Landschaftsaufnahmen des Originals bevorzugt.
JANGHWA, HONGRYEON/THE UNINVITED
Eines Vorweg: Das Original, das 2003 in Südkorea entstand, gehört nicht zu den unbekannten Filmen, die es nicht über Asiens Grenzen hinaus geschafft haben. Er gilt nicht nur als einer der besten koreanischen Filme sondern lief auch in den US-Kinos. Trotzdem wurde 2009 das Remake THE UNINVITED produziert und das kann mit dem Original leider in keiner Weise mithalten.
INTO THE MIRROR/MIRRORS
Der koreanische Schocker INTO THE MIRROR erzählt, ebenso wie das Remake MIRRORS, von einem Polizisten, der nach einem unschönen Vorfall den Dienst quittiert und in einem Kaufhaus die Nachtwache übernimmt. Kurz darauf beginnen übernatürliche Ereignisse dem Mann das Leben schwer zu machen. Und hier setzt Kiefer Sutherland ein. Denn man muss einfach sagen, dass er seinen Ruf als Hollywoodgröße nicht umsonst genießt. Obwohl die Story an einigen Stellen schwächelt, rettet Sutherland mit seiner glaubwürdigen Darstellung das Kind aus dem Brunnen. Hier hat das amerikanische Remake dem Original etwas voraus.
DARK WATER
DARK WATER, 2002 von Nideo Hakata (RING, RING 2) und 2005 von Walter Sallas verfilmt, basiert auf einem japanischen Manga. Beide Umsetzungen sind gelungen, wobei die Atmosphäre des Originals manchmal noch etwas packender ist. Im US-Remake, überzeugt vor allem Hauptdarstellerin Jennifer Connelly. Im Zweifelsfall sollte man sich einfach beide Produktionen ansehen.
SEEING GHOSTS/THE EYE
Mit SEEING GHOSTS schufen die Pang-Brüder einen asiatischen Horrorfilm-Hit. Er begeisterte Publikum und Kritiker – nach Amerika schaffte er es jedoch nicht. Die Geschichte um ein junges Mädchen, dass nach einer Augentransplantation Geister sehen kann, wurde mit Jessica Alba 2008, sechs Jahre nach dem Original, auf die Leinwand gebracht. Trotz einer wirklich hübschen Hauptdarstellerin, sind sich die Rezipienten des Films einig, dass das Original das Remake um Längen schlägt.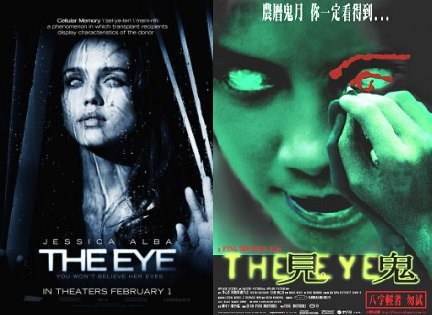 SIGAW/THE ECHO
SIGAW ist ein Film des phillipinischen Regisseurs Yam Laranas, der 2004 an die Horrorhits wie THE RING und THE GRUDGE anschließen sollte. 2008 folgte das amerikanische Remake THE ECHO, an dem Laranas ebenfalls mitwirkte. Das Ergebnis ist eher enttäuschend. denn sowohl das Original als auch das Remake sind nichts neues. Die Geschichte zieht sich und die Schockmomente sind vorhersehbar. Ein mittelmäßiges Original, dem ein schlechtes Remake folgte.
Im Endeffekt bleibt es Geschmackssache, welche Machart einem besser gefällt – die asiatische oder die amerikanische. Mit Sicherheit gibt es auch gute Remakes, die uns mehr überzeugen werden, als das Original. Und klar, es ist schon manchmal recht schwere Kost, die da im Osten produziert wird. Aber hier soll doch noch einmal an die asiatischen Vorbilder erinnert werden, die hinter den amerikanischen High-Budget Produktionen nicht zurückstehen sollten.
Facebook Comments