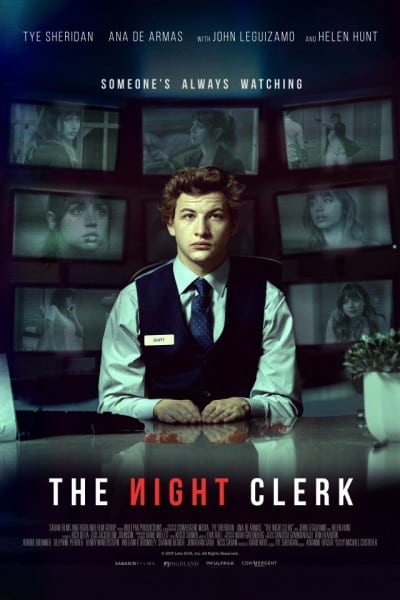 Habt ihr euch schon einmal dabei ertappt wie ihr andere Menschen in eurem Umfeld beobachtet? Natürlich habt ihr das, denn wir beobachten immer, wenn auch selten mit einer finsteren Absicht.
In dem neuen Thriller von Michael Cristover (ORIGINAL SIN) geht dieses Thema noch ein ganzes Stück weiter und befasst sich mit dem klugen, aber leicht autistischen Jungen Bart.
In seiner Anstellung als Nachtportier in einem gut besuchten Hotel, lernt Bart (Tye Sheridan – READY PLAYER ONE) viel über das Verhalten von Menschen. Ihm selbst fällt es, aufgrund seiner autistischen Züge schwer, mit Menschen in Kontakt zu treten. Bisweilen ist es ihm möglich eine normale Konversation zu führen, die er durch Beobachten von Hotelgästen einstudiert. Dabei helfen ihm versteckte Kameras in den Zimmern der Gäste.
Die Geschichte nimmt eine tragische Wendung, als Bart einen Mord beobachtet und selbst zum Verdächtigen wird. Nun setzt er alles ihm Mögliche daran, seine Angebetete Andrea (Ana de Armas-BLADE RUNNER 2049), die ebenfalls auf der Gästeliste des Hotels steht, zu schützen.
Ebenfalls im Cast vertreten sind unter anderem noch Helen Hunt (I SEE YOU), John Leguizamo (JOHN WICK) und Jonathon Schaech (DAY OF THE DEAD: BLOODLINE)
DVD/Blu-ray US- Veröffentlichung beginnt am 21. Februar 2020.
Hier ist der Trailer für euch
Facebook Comments