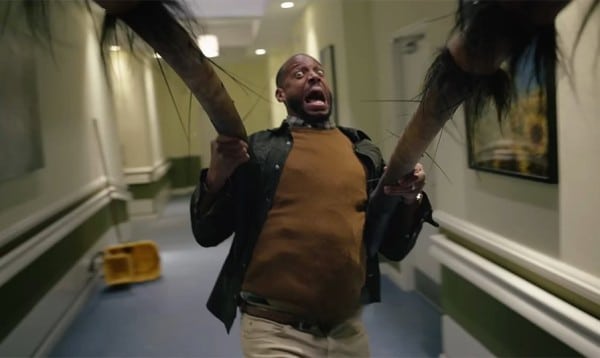 Gruselige Halloween-Deko erwacht nicht nur in SPIRIT HALLOWEEN: THE MOVIE zum Leben, sondern auch in dem neuen Netflix-Grusler THE CURSE OF BRIDGE HOLLOW. Wir haben die ersten Bilder.
Regisseur des Films ist Jeff Wadlow, der mit TRUTH OR DARE kein Unbekannter im Horror-Genre ist. THE CURSE OF BRIDGE HOLLOW erscheint am 14. Oktober auf Netflix. Momentan hat sich der Streaming-Riese zu einer zeitgleichen Veröffentlichung in Deutschland nicht geäußert.
---
Was passiert in THE CURSE OF BRIDGE HOLLOW?
In dem Film spielt Marlon Wayans (GHOST MOVIE, SCARY MOVIE) und Pariah Ferguson (STRANGER THINGS) ein Vater-Tochter-Gespann, welches die Stadt vor einem bösen Geist beschützen will. Dieser kann nämlich Halloween-Deko zum Leben erwecken und sorgt dadurch für eine ganze Menge Ärger.
Mit an Bord sind Kelly Rowland (FREDDY VS. JASON), Rob Riggle, John Michael Higgins, Nia Vardalos, Lauren Lapkus, Holly J. Barrett, Myles Vincent Perez, Abi Monterey und Helen Slayton-Hughes.
Die Story stammt von Todd Berger (THE HAPPYTIME MURDERS) und Robert Rugan.