"Dämonen für manche, Engel für andere."
Frank (Sean Chapman) gelangt in Marokko in den Besitz der Lemarchand's Box, eines mysteriösen Würfels. Zurück in London versucht er, dem Geheimnis der Box auf den Grund zu gehen und öffnet damit das Tor zu der grauenvollen Dimension der Zenobiten. Die gerufenen schwarzgekleideten Bodmod-Figuren, die sich selbst als Forschungsreisende bezeichnen und zum "Orden der klaffenden Wunde" gehören, sind gekommen, um Frank neue Freuden zu bringen – die Freuden des unaussprechlichen Leids. Plötzlich schießen Ketten, deren Enden mit Haken versehen sind, aus dem Nichts, bohren sich in seinen Körper und zerreißen ihn in tausend Stücke.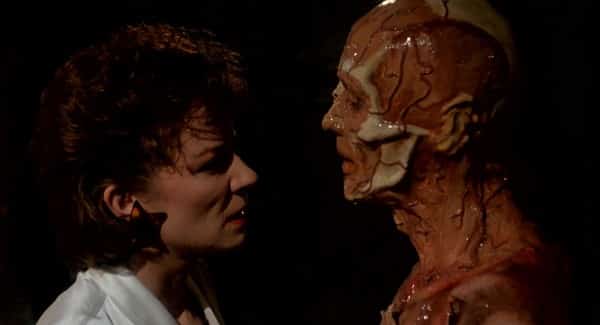 Einige Zeit später ziehen Franks Bruder Larry (Andrew Robinson), mit seiner Tochter Kristy (Ashley Laurence) und seiner zweiten Frau Julia (Clare Higgins), die kurz nach ihrer Hochzeit eine Affäre mit Frank hatte, in dieses Haus. Als sich Larry während des Umzugs eine klaffende Wunde an seiner Hand zuzieht und sein Blut in den Dielen des Dachbodens versickert, nimmt das Grauen seinen Lauf: Frank, von dem nur noch ein kleiner vergessener Fleischfetzen übrig ist, kann sich aufgrund der wenigen Tropfen regenerieren. Um wieder vollends seine menschliche Gestalt zu erlangen, braucht er noch viel mehr von dem roten Lebenselixier und findet in Julia eine willige Helferin.
Liebe und Schmerz – zwei Begriffe, die fast immer zwingend zusammengehören. Denn auf das Erste folgt meistens irgendwann das Zweite. Schmerz bedeutet Leidenschaft, bedeutet Erfüllung, bedeutet Liebe? HELLRAISER – DAS TOR ZUR HÖLLE kommt als einer der ungewöhnlichsten und atmosphärisch dichtesten Horrorfilme der 80er Jahre daher, denn als zentrales Thema steht nicht die Angst als solches, sondern der absolute Schmerz im Mittelpunkt. Der Film geizt neben den teils brutalen Szenen auch nicht mit diversen christlichen moralischen Symbolen, wie dem Bruderkonflikt, die betrügende und abtrünnige Ehefrau und die Keusche, die schlussendlich das Ganze überlebt. Make-Up- und Splatter-Effekte toppen sogar die heutigen eher lieblosen und immergleichen CGI-Effekte. Erwähnenswert sind vor allem die Masken und Kostüme der Zenobiten und auch das Creature-Design von Frank, welches zu Beginn seiner Regeneration ein wenig an DIE FLIEGE von Cronenberg erinnert. Das erfolgreichste Element des Films ist aber die Erschaffung einer neuen Art von Filmmonster – den Zenobiten.
Kultautor Clive Barker, die englische Antwort auf Stephen King, der bereits in jungen Jahren seine Kurzfilmen SALOME, 1973, und THE FORBIDDEN, 1978, regierte, setzte sich nach knapp 10jähriger Pause wieder auf den Stuhl der Mitte und verfilmte HELLRAISER – DAS TOR ZUR HÖLLE, welcher auf seiner Novelle "The Hellbound Heart" basiert. Von ihm stammen auch die ebenfalls verfilmten Stoffe CABAL – DIE BRUT DER NACHT, CANDYMAN`S FLUCH, LORD OF ILLUSIONS, THE MIDNIGHT MEAT TRAIN und DREAD.
Für den markigen und melodischen Sound zeichnet sich Christopher Young verantwortlich, der auch den zweiten Teil und viele weitere Hollywood-Filmproduktion, wie z.B. STEPHEN KINGS – STARK, DÜSTERE LEGENDEN, DER EXORZISMUS VON EMILY ROSE, DRAG ME TO HELL, ERLÖSE UNS VON DEM BÖSEN und auch das Remake von FRIEDHOF DER KUSCHELTIERE, musikalisch untermalte.
Sean Chapman verleiht Frank Cotten, einem Lebemann und Kriminellen, dessen Geschichte der Dreh- und Angelpunkt des Films ist, einen authentischen und glaubwürdigen Anstrich. Frank wird in HELLRAISER von drei unterschiedlichen Schauspielern verkörpert: 1. Sean Chapman (Mensch-Frank), 2. Oliver Smith (Monster-Frank) und schließlich von Andrew Robinson (als gehäuteter Larry), dessen Darbietung eindeutig zu den Höhepunkten im Film zählt.
Clare Higgins, (HELLBOUND: HELLRAISER II, VATERLAND) als sexuell abgestumpfte Julia und Franks Sklavin, spielt ihre Rolle der Femme Fatale mit einer fast durchgehend emotionslosen LMAA-Miene. Ihren naiven und spießigen Ehemann gibt Andrew Robinson, der schon als Killer Scorpio in DIRTY HARRY mit seinem Gekreische Ohrensausen verursachte, als streitsüchtiger Detective in DIE CITY COBRA zu sehen war und später eine gnädigere Rolle als Cardassianer Clark in STAR TREK – DEEP SPACE NINE erhielt.
Erfrischend anders agiert Ashley Laurence (HELLBOUND: HELLRAISER II, HELLRAISER III, HELLRAISER: HELLSEEKER) als Kristy, die hier eben nicht den typischen kreischenden und kopflosen Teenie mimt. Doug Bradley, HELLBOUND- HELLRAISER II, CABAL – DIE BRUT DER NACHT, CLIVE BARKERS BOOK OF BLOOD; WRONG TURN 5: BLOODLINES  als Lead Cenobite, den Namen Pinhead erhielt er übrigens erst im zweiten Teil, legte schon 1973 als folternder Holländer in dem Stück "Hunters in the Snow" den Grundstein für seine spätere Rolle.
Im April 2013 wurde HELLRAISER vom Index gestrichen. Zu dem Film sind bis heute acht mehr oder weniger erfolgreiche Fortsetzungen erschienen. Ab HELLRAISER V – INFERNO wurde nur noch Direct-to-Video produziert. Im Sommer 2019 wurde bekannt, dass eine Serienadaption über die Zenobiten-Mythologie in Planung ist.
Facebook Comments