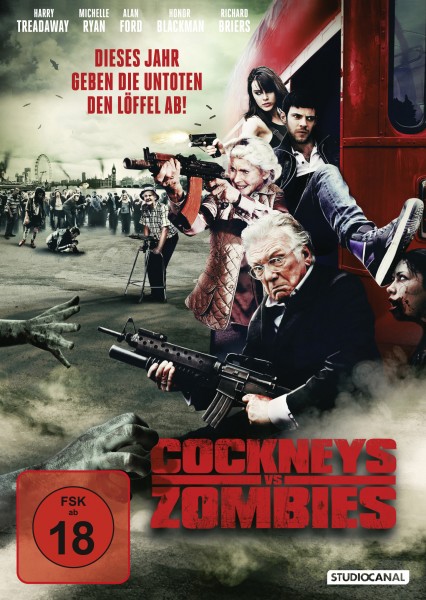 "Cockneys" sind die Bewohner East Londons, ein besonderer Menschenschlag in einer rauen Gegend.
Dort wohnen auch die Brüder Terry und Andy und ihr im Altersheim untergebrachter Großvater.
Während der Opa aufgrund eines Bauprojekts kurz vor einem Zwangsumzug steht, wollen die Enkel die nötige Kohle zur Rettung der Renterresidenz per Banküberfall beschaffen. Dumm nur, dass etwa zur gleichen Zeit Bauarbeiter eine Gruft öffnen, in der nicht alle Leichen tot sind und bald streifen Horden Zombies durch die Straßen Londons. Während die Bankräuber ihren Kampf mit Geiseln, Polizei und Untoten haben, müssen sich die Senioren verschanzen und auf Hilfe hoffen.
Natürlich spielt der Film nicht nur in England, sondern bringt auch alle Trademarks mit, die man erwarten darf. Hochglanzposter-Teens sucht man vergeblich und wären in solch einer Gegend auch kaum angebracht. Stattdessen strahlen unsere Helden den Charme von ein paar englischen Fussballfans aus, die man nach einer langen Nacht vor die Kamera gestellt hat. Die Schauplätze wirken nicht wie Sets, sondern authentisch schmuddelig.
Hier und da versteckt der Film ein paar lokale Eigenheiten zwischen den Zeilen. So wurde die Zombiegruft offenbar 1666 verschlossen, was das Jahr des großen Londoner Feuers in neuem Licht erscheinen lässt. An anderer Stelle treffen rivalisierende Zombie-Hooligans aufeinander.

Damit ist auch klar, dass COCKNEYS VS. ZOMBIES den berühmten britischen Humor, der so viele Filme von der Insel ausmacht, nicht vermissen lässt. Im Gegenteil, gelungene schwarze Gags dominieren das Geschehen und vermischen sich prächtig mit gelungenen Splatterelementen.
Die Zombies sind übrigens langsam, für das Tempo des Films gilt das jedoch nicht. Selbst ein Schneckenrennen zwischen Zombie und Rentner mit Rollator (siehe Trailer) sorgt für beste Laune.
Wenn man über englische Zombiekomödien spricht, darf der Vergleich mit SHAUN OF THE DEAD nicht fehlen und während COCKNEYS VS. ZOMBIES vielleicht nicht besser ist als der Kultfilm von 2004, ist er auch nicht weit dahinter. Das ist vor allem den grandiosen Charakteren geschuldet (die beide Filme ausmachen). Während in SHAUN… das Gespann Pegg/Frost den Großteil der Arbeit übernehmen, wird in COCKNEYS… die Last auf viele Schultern verteilt. Egal ob das ein rüstiger Rentner ist, der seine Pillen an die lokalen Junkies verkauft oder der harte Kriegsveteran mit Stahlplatte im Schädel, selbst die Nebenfiguren glänzen durch Einfallsreichtum und so mögen die beiden Filme grundsätzlich ähnlich gelagert sein, man hat jedoch nie den Eindruck einen Abklatsch von SHAUN OF THE DEAD zu sehen.
Sucht man wirklich das Haar in der Suppe, ist es vielleicht in Massenszenen zu finden, in denen der ein oder andere Zombiestatist mehr nach Studentenkopp mit Blutkapsel aussieht, als ein angefressener Toter, das ist aber wirklich jammern auf hohem Niveau, denn ansonsten haut COCKNEYS… mächtig auf die Kacke und sollte in Zukunft so manche müde Filmparty zum Kochen bringen.
Facebook Comments