Es gibt seltsame Zufälle. Einer dieser Zufälle wollte es, dass ich vor einigen Jahren am gleichen Tag die Vampirfilme TWILIGHT – BIS(S) ZUM MORGEN und 30 DAYS OF NIGHT zum ersten Mal sah.
Einer dieser Filme präsentierte die vielleicht lächerlichsten Vampire der Filmgeschichte, der andere die womöglich humorlosesten.
Entspannt euch, logischerweise sprechen wir heute nicht über TWILIGHT, sondern über 30 DAYS OF NIGHT.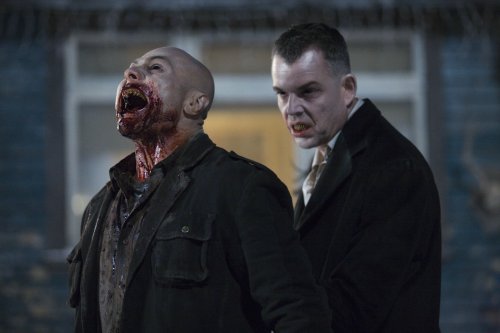 Story:
In Barlow, Alaska dauern manche Nächte besonders lange. Wenn hier im Winter die Sonne untergeht, geht sie erst einen Monat später wieder auf.
Da das Städtchen zudem besonders abgeschieden liegt, gleicht Barlow einem Buffet für Vampire, die dort einfallen und die wenigen Bewohner weiter dezimieren. Doch die Blutsauger rechnen nicht damit, dass sich die Überlebenden erbittert zur Wehr setzen.
30 DAYS OF NIGHT beruht auf dem gleichnamigen Comic Steve Niles und Ben Templesmith und wer sich sagt, dass ein Comic vielleicht keine ausgefeilte Story aufweist, hat in diesem Fall völlig recht. Das macht aber nichts, es reicht eine kurze Einführung, in der sich die Stadt auf die Dunkelheit vorbereitet; wir erfahren, dass Stella die Frau des Sheriffs Eben, ihren Mann verlassen will und seltsame Sabotageakte die Infrastruktur Barlows beschädigen.
Der Verantwortliche dafür scheint schnell gefunden, entpuppt sich aber nur als eine Art Renfield, wie man ihn aus DRACULA kennt, eine Vorhut der Vampirhorde, die aufs brutalste über den Ort herfällt.


Alles was danach kommt, ist ein Kampf auf Leben und (Un)Tod. Die einfallenden Blutsauger wirken zwar zunächst adrett gekleidet, gaukeln anders als die meisten Filmvampire aber kein kultiviertes Auftreten vor, sondern erweisen sich sofort als durstige Sadisten, die nicht weniger als alle Bewohner töten wollen und darin sichtlich Freude haben.
Zwar sind die Landbewohner unbequeme Opfer und wissen wie man sich verteidigt, sie müssen aber nicht nur 30 Tage gegen die Vampire überleben, sondern auch gegen Schnee und Eis.
Die Hauptfiguren werden von Melissa George und Josh Hartnett gespielt, um die es beide in den letzten Jahren ruhiger wurde, die aber in einer ganzen Reihe Genrefilme mitspielten.
Hartnett startete seine Karriere mit HALLOWEEN H20 und THE FACULTY, tauchte später in SIN CITY und der Serie PENNY DREADFUL auf, Melissa George kennt man aus TURISTAS, DARK CITY, MULHOLLAND DRIVE oder A LONELY PLACE TO DIE.
Dann ist da noch Produzent Sam Raimi (TANZ DER TEUFEL), der natürlich weiß wie guter Horror geht.
Auch Regisseur David Slade ist vom Fach und erschuf nicht nur HARD CANDY, sondern zuletzt auch BANDERSNATCH….dazwischen aber auch einen der TWILIGHT-Filme.

OK, jeder baut mal Mist, aber 30 DAYS OF NIGHT zählt nicht dazu und Blut sieht auf Schnee ohnehin sexy aus. Gedreht wurde zwar in Neuseeland und sämtlich Schnee bestand aus Kunststoff, das tut aber nichts weiter zur Sache, denn der Film bietet trotz dünner Story genügend Action um die fast zwei Stunden Laufzeit zu füllen.
Das ist nichts für Feingeister und wir erfahren nichts über die Vorgeschichte der Blutsauger, die zudem in einer fremden Sprache miteinander reden. Allerdings ist der Film astrein inszeniert und im Rahmen der vielen Vampirfilme, die über die Jahrzehnte erschienen, ist dieser erfrischend direkt.
Facebook Comments