Horrorfilme greifen bekanntermaßen gerne die unglücklichen Eingriffe des Menschen in die Natur auf. Die Spannbreite reicht dabei von Klassikern wie Mary Shelleys FRANKENSTEIN bis zu moderner Gentechnologie à la SPLICE. Die meisten Filme bewegen sich im Bereich des Übernatürlichen, der Fantasy oder der Science Fiction.
AMERICAN MARY tut dies nicht, auch wenn es hier um eine erfundene Geschichte handelt, wähnt man sich stets allzu nahe an der Realität.
Mary ist eine angehende Chirurgin mit viel Talent, aber auch finanziellen Nöten. Aus dem Versuch sich während des Studiums etwas als Stripperin dazuzuverdienen, wird aber nichts, denn bevor sie zur Sache kommt, muss sie in dem Nachtclub einen ungewöhnlichen medizinischen Notfall behandeln. Schon bald macht sie sich – zunächst durchaus unwillig – einen Namen, vor allem im Bereich der Body Modification. Ihr Versuchskaninchen wird ein Mann, der ihr einst schreckliches antat.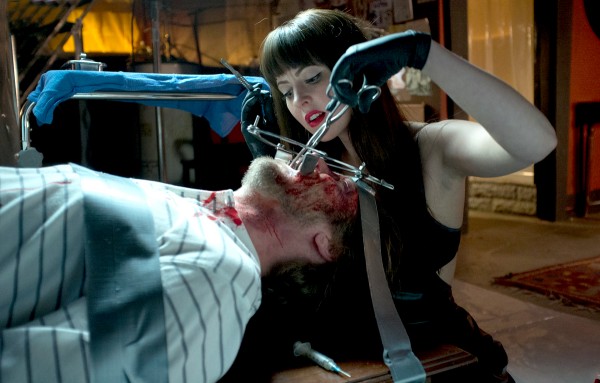 Man muss über AMERICAN MARY wissen, dass der Film fast wie eine Biografie wirkt. Er zieht seine Spannung nicht aus einer einzigen Situation, sondern begleitet Mary über einen längeren Zeitraum, lässt uns an ihren Höhen und Tiefen teilhaben und einen ungewöhnlichen, aber glaubwürdigen Charakter entstehen.
Einerseits ist Mary die beste Femme Fatale seit THE WOMAN, andererseits erahnt man ihre Schwächen und erlebt sie auch in dunklen Momenten.
Die einwandfreie Charakterzeichnung setzt sich auch in den Nebenfiguren fort.
Darüber hinaus ist das Werk eine einzige Freakshow: Schönheitswahn steht im Vordergrund, allerdings selten im klassischen Sinne, sondern so, wie uns jene Menschen lehren, die wir meist nur aus den Boulevardmagazinen kennen.
Wir reden dabei nicht über lahme Tattoos oder Piercings (was Mary von Piercings hält, wird eindrucksvoll gezeigt), sondern Zungen- und Penisspaltung, Implantate Amputationen etc.
Dass das nicht ohne Schmerzen abgeht, versteht sich von selbst und dazu kommt noch eine ordentliche Schippe Gewalt, die anderen zugefügt wird, ohne dass diese darum gebeten hätten. Tatsächlich ist der Film stellenweise so hart, dass es wundert, dass man sich noch zu einer FSK18-Freigabe durchringen konnte.
Andererseits dient die Brutalität selten dem Selbstzweck, sondern der Handlung und wer genau hinschaut wird bemerken, dass bei Weitem nicht alles gezeigt wird, sondern manches im Bereich der eigenen Fantasie bleibt.
Obwohl AMERICAN MARY hier an AUDITION erinnert, dort an THE HUMAN CENTIPEDE; etwas Rape&Revenge und etwas Torture Porn im Gepäck hat, ist das Werk doch völlig eigenständig, was heutzutage nicht viele sagen können, und zudem frei von Klischees.
Hauptdarstellerin Katharine Isabelle glänzte vor Jahren schon in GINGER SNAPS (auch dort in der Titelrolle). Inzwischen ist sie erwachsen geworden und auch der Film wirkt wohl durchdacht und erwachsen, nutzt dabei aber einen pechschwarzen Humor, der immer wieder blitzschnell zusticht und dann wieder für eine Weile verschwindet.
Wenn Mary in Strapsen einen halbtoten Mann zusammenflickt, ist das nur eine der Szenen, die so absurd sind, dass sie sich mit sofortiger Wirkung zum Kult anbieten.
Etwas störend mag man die unangekündigten Zeitsprünge empfinden, die nicht sofort verraten, ob Stunden oder Monate seit der letzten Szene vergangen sind.
Ansonsten ist AMERICAN MARY aber ein einwandfreier Kandidat für die Jahres-Top 5.
Facebook Comments