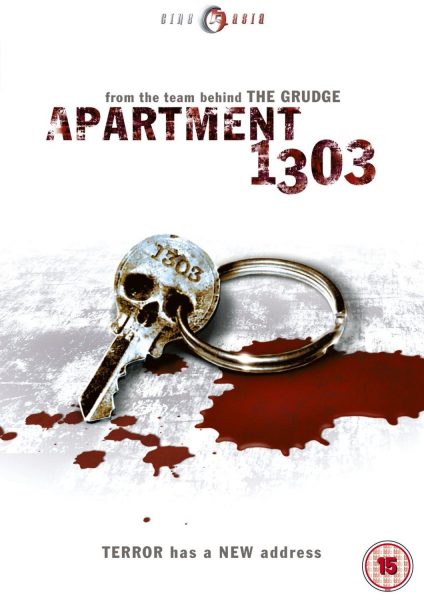 APARTMENT 1303 wurde zwar schon 2007 veröffentlicht, doch jetzt wurde der japanische Horrorfilm von Regisseur Ataru Oikawa auch für das deutsche Publikum auf DVDs gepresst. Wie so viele Filme aus dem asiatischen Raum, gibt es auch von APARTMENT 1303 ein amerikanisches Remake APARTMENT 1303 3D.
Sayaka, eine junge Frau, springt während der Einweihungsfeier in ihrer neuen Wohnung aus dem 13. Stock. Doch glaubt ihre Schwester Mariko nicht, dass ihre Schwester sich absichtlich in den Tod gestürzt hat. Sie versucht der Sache auf den Grund zu gehen und kommt dem Geheimnis der Vormieter des Apartments Schritt für Schritt näher. Bis dahin müssen aber noch weitere jungen Frauen ihr Leben lassen, denn immer wieder stürzen sie aus dem Apartment im 13. Stock.
Leider fehlt der Story ab und zu der rote Faden. Zudem fragt sich der Zuschauer, warum es keinen  größeren Trubel um ein Apartment gibt, in welchem in gefühlten drei Tagen fünf Frauen die gleiche Abkürzung nach unten wählen. Der Kern der Geschichte – auf den hier natürlich nicht im Detail eingegangen wird –  hat sehr gute Ansätze, doch fehlen ein paar Rückblenden und ein tieferer Einblick in das Geschehen. Der Ansatz ist grandios, die Umsetzung schafft aber nicht immer, was Regisseur Oikawa wollte.
Asiatische Horrorfilme überzeugen den Zuschauer meistens mit ihrer düsteren Stimmung, blassen Farben und Zurückhaltung bei dem Einsatz von Schockmomenten. Diese werden zumeist gezielt eingesetzt, begleitet von gekonnten Soundeffekten. Bei APARTMENT 1303 hat das leider nicht so gut geklappt. Die Effekte wirken nicht präzise, außerhalb des Takts und so sitzen viele der gut gemeinten Versuche, die Zuschauer zu schocken, einfach nicht.
Doch vorab sollte man nicht den Fehler machen, den Film mit deutscher Synchronisation zu sehen. Man hat zum einen das Gefühl, dass drei Synchronsprecher den gesamten Film übernommen haben und außerdem erinnert der Ton zum Teil an Filme aus einem anderen Metier. Also japanischer Originalton  und englische Untertitel ein; das rettet viel von der Atmosphäre des Films.
Die Szenen, die Oikawa kreiert, wirken düster, erinnern ein bisschen an THE GRUDGE, UNHOLY WOMEN oder THE RING. Trotzdem fehlt es dem Ganzen noch an dem gewissen Etwas. Vielleicht kann das amerikanische Remake APARTMENT 1303 3D eben das finden. Für Fans des asiatischen Horrors dürfte dieser Film sehenswert sein, wer um asiatische Horrorfilme aber eher einen Bogen macht, sollte es wohl auch in diesem Fall tun.
Facebook Comments