Da sag noch mal einer Horrorfilme würden nicht bilden. Ich wäre jedenfalls bis vor Kurzem kläglich gescheitert, wenn mir Günther Jauch bei einer Million die Frage stellt, was ein Aswang ist.
Inzwischen ist klar, dass diese Wesen zur philippinischen Mythologie gehören und die ungeborenen Kinder aus dem Bauch ihrer Mutter stehlen.
Wie nicht anders zu vermuten, stehen diese vampir-/werwolf-ähnlichen Kreaturen in THE ASWANG CHRONICLES im Vordergrund.
Hier reist Makoy aufs Land, um seine schwangere Freundin Sonia davon zu überzeugen, zu ihm zurückzukehren. Doch unser Held hat die Rechnung ohne ein Rudel Aswangs gemacht, die er durch einen Fehler selbst anlockt und die es nun auf das Kind abgesehen haben.
Wer sich damit brüstet, der erste philippinische Film zu sein, der komplett vor Greenscreen gedreht wurde, muss schon reichlich Selbstbewußtsein mitbringen. Interessanterweise sehen die…hust…Außenaufnahmen zwar aus wie vor einer Fototapete entstanden, da man die Linie konsequent durchzieht, entsteht dadurch aber eine eigenwillige Atmosphäre in märchen- und comichafter Optik.
Künstlich sehen auch die Aswangs aus und hier gibt es leider nicht viel schön zu reden. Zwar können Bewegung und schnelle Schnitte das schlimmste kschieren, überzeugen können die PC-Effekte aber mal wieder nicht.
Andererseits hat der Zuschauer nicht den Eindruck, als käme es THE ASWANG CHRONICLES darauf an perfekt zu sein. Stattdessen scheint sich der Film mit viel Spaß in den Backen bei seinen Vorbildern zu bedienen. Wenn auf der Hülle von 300, Tarantino & Rodriguez die Rede ist, sollte man nicht damit rechnen etwas gleichwertiges zu erleben, weiß aber, was sich Regisseur und Autor Erik Matti (THE ABCS OF DEATH 2) angesehen hat, bevor er THE ASWANG CHRONICLES anging.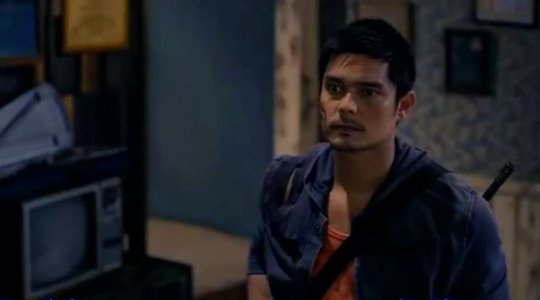 Dementsprechend wird auch hier ordentlich Gas gegeben und viel Action paaren sich mit etwas Humor und reichlich Blut.
Fazit: THE ASWANG CHRONICLES ist ein sympathischer, aber auch trashiger Film, der so wirkt, als wäre er mit der nötigen Hingabe entstanden. Wer das honoriert, wird womöglich sogar noch eine höhere Punktzahl ziehen. Wer hingegen nur auf die Fakten schaut, mag eher noch 1-2 Punkte abziehen.
Facebook Comments