BEN & MICKEY VS. THE DEAD ist ein Titel, der den Film wohl in die Nähe von TUCKER & DALE VS. EVIL schießen soll, Ähnlichkeiten sucht man aber vergebens. Im Original nennt sich das Werk schlicht THE BATTERY, was so viel wie "Körperverletzung" bedeuten kann und für 90% aller Horrorfilme passend gewählt wäre, in diesem speziellen Falle aber das aus Pitcher und Catcher bestehende Gespann beim Baseball meint.
Genau das sind Ben und Mickey, allerdings sind ihnen die Mitspieler nach dem zombiebedingten Weltuntergang abhanden gekommen. So ziehen die beiden alleine durch Neuengland, rauchen, trinken, hören Musik, angeln, werfen Baseballs und müssen sich ab und an auch gegen Untote verteidigen.
Die beiden sind eine Zweckgemeinschaft, die einander brauchen (wie eben Pitcher und Catcher) und die sich im Film öfters wie ein altes Ehepaar verhalten, das jede Gewohnheit des anderen kennt, die aber keine enge Freundschaft verbindet.
Während Ben mit der neuen Situation einigermaßen zurechtkommt, alle Zombies mit seinem Baseballschläger erledigt und darauf aus ist, immer unterwegs zu sein, strebt Mickey nach Beständigkeit. Er hat offenbar noch nie einen Untoten erledigt und sucht andere Menschen, auch weil er Ben nicht immer ertragen kann. Zwischen den unterschiedlichen Charakteren kommt es immer wieder zu Zankereien, aber auch versöhnlichen Szenen.
ZITAT:"Du bist der einzige Mensch den ich kenne, der durch Neuengland wandert und dabei noch zunimmt."
"Ich bin der einzige Mensch, den du kennst."
Oft sieht man Mickey unter den zu einem alten Discman gehörenden Kopfhörern Musik hören, laut genug, um die Realität auszublenden. Die Indie-Klänge, die auch wir zu hören bekommen, sind so Indie wie der ganze Film, manchmal etwas schräg, aber in jedem Fall die Stimmung untermalend.
Die ist gemächlich. BEN & MICKEY VS. THE DEAD lässt sich Zeit und in einer Welt, in der nahezu jeder tot ist, herrscht wohl auch keine wirkliche Eile. Da gönnt man sich auch mal 2 Minuten in denen wir den beiden beim Outdoor-Zähneputzen zusehen.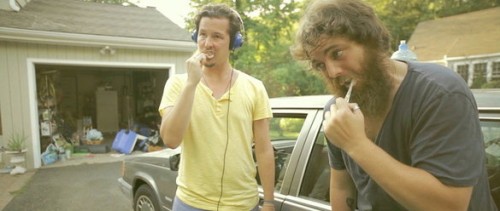 BEN & MICKEY VS. THE DEAD hat gerade einmal 6000$ gekostet und ist für Ben-Darsteller Jeremy Gardner, der auch als Produzent, Autor und Regisseur fungierte eine wahre Do-it-yourself-Goldgrube.
Gemessen an dem sehr kleinen Budget, macht der Film nahezu alles richtig: den langsamen Rhythmus muss man nicht mögen, aber die Schauspieler arbeiten prächtig miteinander, es finden sich unverwechselbare Szenen (darunter das komplett in einem von Zombies belagerten Auto spielenden Finale), es entsteht eine stimmige Atmosphäre und da für große Effekte natürlich nicht mehr viel Geld übrig war, verpackt man die Kills eben geschickter.
Für manch andere Indie-Filmemacher, die sich beispielsweise mit mangelnden Fördergeldern rausreden möchten, aber trotzdem noch mehr Geld ausgeben, dabei die immer gleichen untalentierten Möchtegern-Stars besetzen und mit 4 Stunden Dauergore ein grausiges Drehbuch übertünchen wollen, ist BEN & MICKEY VS. THE DEAD jedenfalls ein Tritt in die Eier.
Das soll nicht heißen, dass BEN & MICKEY VS. THE DEAD perfekt wäre, aber er ist frisch, schafft es ohne Anstrengung Drama, Horror und Humor zu vereinen und insbesondere von Jeremy Gardner hört man hoffentlich noch öfters.
Facebook Comments