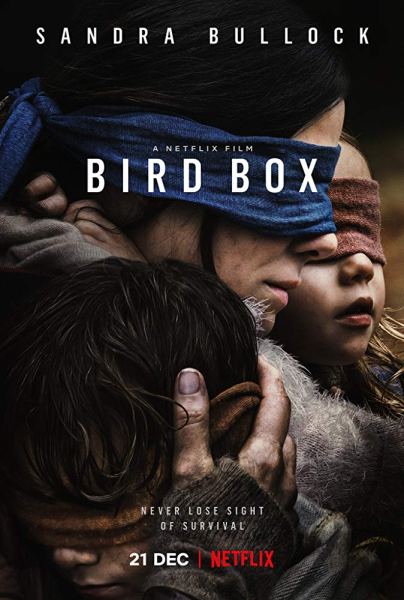 Einer der großen Hits des Jahres 2018 war A QUIET PLACE, in dem eine Familie zur absoluten Geräuschlosigkeit verdammt war. Mit BIRD BOX wirft Streamingriese Netflix eine neue Eigenproduktion auf den Markt, die in gewisser Weise an A QUIET PLACE erinnert und zudem mit großen Namen besetzt ist.
Diesmal geht es allerdings nicht um akustische Signale, in BIRD BOX treibt eine ominöse Macht all jene die sie erblicken in Mord und Selbstmord. Der einzige Ausweg ist folgerichtig sich die Sicht zu nehmen.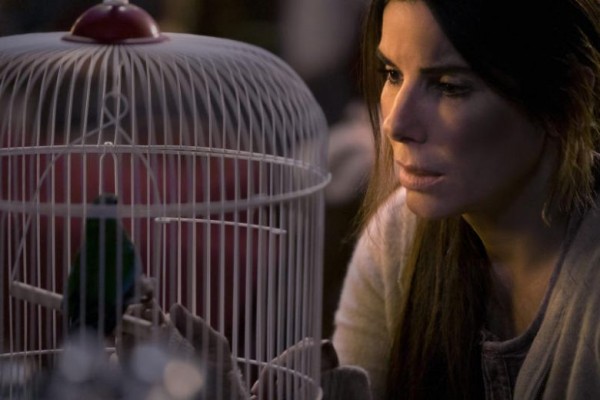 Während sich die "Krankheit" anfangs rasend schnell ausbreitet und innerhalb von Minuten für Chaos sorgt, wie man das aus zahlreichen Zombiefilmen kennt, konzentriert sich der Film in der Folge auf einen kleinen Kreis Überlebender, die sich anfangs mit rasch weniger werdenden Lebensmittelvorräten in einem Haus verschanzen.
Auch das kennt man aus Zombie- und Endzeitfilmen, BIRD BOX ist aber eine frische Variante und auch wer aufgrund der A QUIET PLACE – Parallele von Ideendiebstahl spricht (auch Shyamalans THE HAPPENING bietet sich als Vergleich), sollte verstehen, dass BIRD BOX auf einem seit 2014 Jahren existierenden Roman beruht, hier also lediglich Gevatter Zufall im Spiel war.
Hauptfigur des Films ist Malorie, die zu Beginn der Geschichte schwanger ist und von Sandra Bullock gespielt wird. In kleineren Rollen sind John Malkovich (SHADOW OF THE VAMPIRE), Sarah Paulson (AMERICAN HORROR STORY) und Pruitt Taylor Vince (IDENTITÄT) zu sehen. Eine prominente Besetzung also, offen gestanden überzeugt aber nur Malkovich als undurchschaubare Figur auf ganzer Linie während Vince und Paulson wenig zur Story beitragen dürfen. Sandra Bullock spielt solide und verwehrt sich jedem Alterungsprozess, ihre beiden Oscarnomminierungen bleiben aber ein Rätsel und auch BIRD BOX kann sie nicht ihren Stempel aufdrücken.
Allerdings lebt ein solcher Film ohnehin von der Idee und wer mal versucht hat, komplett blind durch den Wald zu laufen, wird die Unsicherheit der Protagonisten gut nachvollziehen können, die nicht nur blind umhertapsen, sondern selbst im Auto und Boot unterwegs sind.
Nun erlaubt ein moderner PKW zwar Annehmlichkeiten wie GPS und Abstandswarner, die auch eine Spritztour mit abgeklebten Scheiben ermöglichen, aber sagen wir's mal so: verlasst euch lieber nicht auf das, was euch Hollywood erzählen will.
Auch zu Fuß wirken unsere Helden erstaunlich sicher auf unbekanntem Terrain, was dem Film einen Teil seiner Bedrohung raubt.
Andererseits bleibt davon immer noch genügend übrig, wenn etwa ein "Infizierter" in die Gruppe eindringt und diese dezimiert. BIRD BOX bricht zwar keine Härterekorde, zeigt nicht einmal das "Ding", das die Menschen in den Wahnsinn treibt, bietet aber einige dramatische und oft ansprechend fotografierte Momente und gerade zu Beginn ist ihm in den Actionszenen anzusehen, dass Geld in die Hand genommen wurde.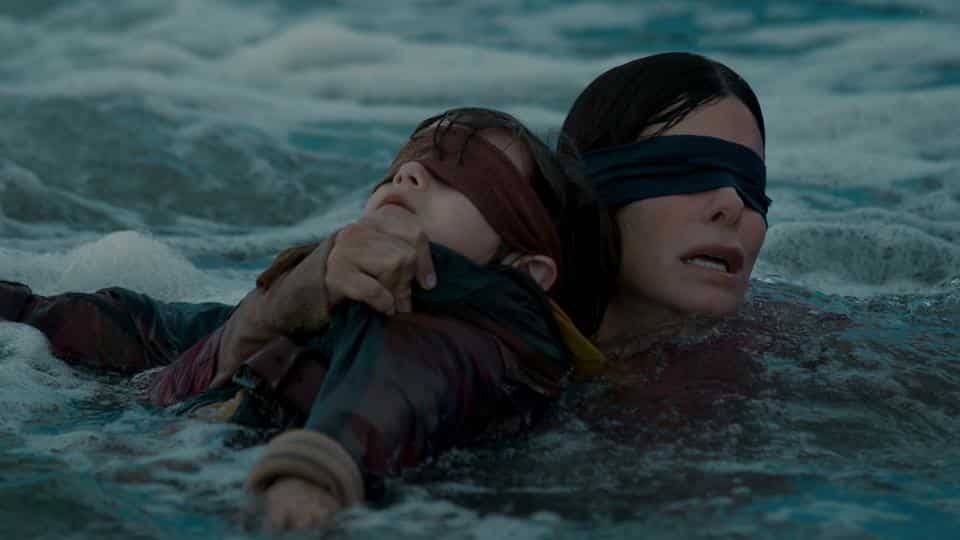 Erzählt wird übrigens in zwei Zeitsträngen. Zum einen im Jetzt, das sich 5 Jahre nach dem Ausbruch abspielt. Hier versucht Malorie mit zwei Kindern per Boot einen Zufluchtsort zu finden…was schon den Verdacht nahelegt, dass nicht jeder der Gruppe bis hierhin überlebt.
Zum anderen werden die Jahre davor vom Ausbruch bis zu diesem Zeitpunkt aufgearbeitet.
Fazit:
BIRD BOX ist ein professionelles Werk, dem es an wenig mangelt, außer dem sprichwörtlichen Funken, den es braucht, um aus einem anständigen einen tollen Film zu machen.
Facebook Comments