Es mag klingen wie eine kaputte Schallplatte, aber wieder einmal ist es an der Zeit Lobgesänge auf einen spanischen Film abzufeuern.
Gerne hätten wir etwas um den heißen Brei herumgeredet, um dieses Resümee spannender zu gestalten, aber für Spannung ist THE BODY zuständig.
Als der Nachtwächter eines Leichenschauhauses abseits seines Arbeitsplatzes durch den Wald flüchtet und von einem Auto erfasst wird, ruft das natürlich die Polizei auf den Plan. Die stellen schnell fest, dass dies nicht die einzige Unregelmäßigkeit der Nacht ist. Die Leiche der reichen Unternehmerin Mayka Villaverde ist spurlos aus der Autopsie verschwunden.
Als ihr trauernder Mann herbeigerufen wird, wird er schnell zum Spielball der sich überschlagenden Ereignisse. Während er sich gegenüber der Polizei in Widersprüche verstrickt, scheint jemand ein teuflisches Spiel mit ihm zu spielen. Kann es sein, dass Mayka noch am Leben ist?
THE BODY macht kein großes Geheimnis daraus, dass Ehemann Alex etwas mit dem Tod seiner Frau zu tun hat, die große Frage, die ihn und uns aber die gesamte Zeit beschäftigt, ist die, ob Mayka wirklich tot ist und was es mit ihrem Verschwinden auf sich hat.
Solange wir das nicht wissen, ist es fast nicht möglich THE BODY als Zuschauer eindeutig zu klassifizieren. Während er das Setups eines guten TATORTS hat, mischen sich in die Polizeiarbeit Elemente von Thriller, Drama und auch Horrorfilm, was schon aufgrund seines Schauplatzes vereinzelt an NIGHTWATCH erinnert.
Massive Schocks finden sich allerdings ebenso wenig wie Badewannen voller Blut, stattdessen zieht Regisseur Oriol Paulo (kaum zu glauben, dass der Mann erst ein TV-Movie als Langfilm vorweisen kann)die Daumenschrauben auf ganz altmodische Art an und muss sich nicht einmal vor Altmeister Hitchcock verstecken.
Die Situation von Hauptfigur Alex wird dabei immer auswegloser und während er versucht den aufbrausenden Cop Jaime Peña von seiner Unschuld zu überzeugen und seiner Komplizin per Telefon Instruktionen zu geben, findet er in dem Gebäude immer wieder Hinweise darauf, dass seine (vermeintlich) tote Frau, die schon zu Lebzeiten ein Faible für makabre Scherze hatte, Fallen für ihn ausgelegt hat.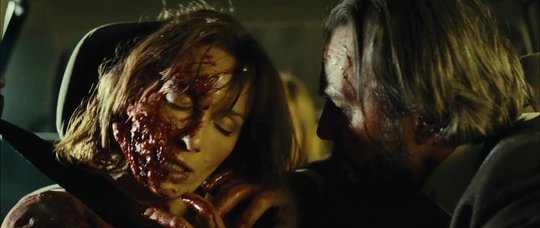 Alex' Verzweiflung ist zu spüren und lässt uns als Beobachter Sympathien für ihn aufkommen, obwohl wir wissen, dass er das nicht verdient hat.
Aber das ist natürlich was ein gutes Drehbuch und entsprechende Akteure erschaffen können.
THE BODY ist sicher keine intensive Charakterstudie, aber flache Figuren tauchen hier nicht auf. Egal ob es Mayka als liebende aber auch herrische Ehefrau ist, die wir in Rückblenden kennenlernen oder Alex' unsicher wirkende junge Geliebte, alle agieren letztlich nachvollziehbar und menschlich.
Schauspielerisch ist wie fast immer in spanischen Filmen alles in trockenen Tüchern.
Mayka wird gespielt von Belén Rueda, die wir aus JULIA'S EYES kennen, Alex-Darsteller Hugo Silva spielte erst vor kurzem im ebenfalls großartigen WITCHING & BITCHING auf.
Nicht weniger beachtlich ist die technische Abteilung, wobei vor allem die Kameraarbeit hervorzuheben ist. Fast immer ist das Bild in Bewegung, was aber nicht auf unprofessionelles Gewackel hinausläuft, sondern auch dem einen oder anderen längeren Dialog eine gesunde Dynamik verleiht.
Die Nacht, in der fast die komplette Handlung spielt, ist verregnet und wird in schattenreichen Bildern gezeigt. Nur die Rückblenden bekommen mehr Farbtupfer (und sogar Sonnenschein) ab und wirken damit schon automatisch wie Erinnerungen an bessere Tage.
Dass THE BODY die vollen 10 Punkte nicht einstreicht, liegt einzig und alleine daran, dass man bei der finalen Aufklärung aller Ereignisse feststellt, dass das von einigen Figuren angestrebte Ziel in der Realität wohl auch leichter zu erreichen gewesen wäre.
Das ist aber so, als jammere man über das Gewicht der Goldbarren in den eigenen Taschen, denn hier passt nahezu alles zueinander und THE BODY ist ein ganz heißer Anwärter auf den Film des Jahres.
Facebook Comments