Nur selten kommt einem Drehbuchautor eine größere Aufmerksamkeit zu als dem Regisseur und den Darstellern. Wenn dieser Schreiber aber die Vorlagen für DER UNSICHTBARE GAST, THE BODY (bei denen er auch Regie führte) und JULIA'S EYES lieferte, darf man auch auf seinen neuesten Einsatz gespannt sein.
Die Rede ist von Oriol Paulo, der Film ist BOY MISSING.
Als Victor, der Sohn der knallharten Anwältin Patricia entführt wird, scheint es ein Glücksfall, dass er sich schon kurz darauf selbst aus der Gewalt der Kidnapper befreien und die Polizei schon bald auf die Spur eines Verdächtigen führen kann. Dieser ist vorbestraft, verstrickt sich in Widersprüche, gelangt aber dennoch wieder auf freien Fuss.
Als Victor noch einmal bedroht wird, beschließt seine Mutter, die Dinge auf eigene Faust zu klären.
Halt, auch wenn man vermuten könnte, dass nun eine 7 DAYS / DADDY'S LITTLE GIRL – artige Rachegeschichte folgt, muss man sich klar machen, dass Oriol Paulo nicht mit dem Stemmhammer, sondern dem Zahnarztbohrer operiert. Die Gewalt in BOY MISSING ist überschaubar und nur angemessener Teil einer Story, die mal wieder viele Schichten und eine Entwicklung aufweist, mit der zu Beginn niemand rechnen kann.
Auch wenn wir wie immer versuchen allzu klare Spoiler zu vermeiden, funktioniert BOY MISSING am besten, wenn man wenig über ihn weiß, seid also gewarnt.
Der Film arbeitet immer wieder mit Rückblenden, die das was wir längst glauben verstanden und sauber zugeordnet zu haben, in Frage stellen und in neuem Licht erscheinen lassen. Eine oder mehrere serpentinenartige Wendungen erwartet man inzwischen schon in den Drehbüchern Paulos, die Kunst ist aber nicht, einen Twist einzubauen, sondern ihn so einzubauen, dass das vorher Gezeigte nicht plötzlich falsch ist. Genau dieses Kunstwerk gelingt hier.
Selbst die Elemente, die sich als nebensächlich erweisen, tragen dazu bei, dass man als Beobachter auf eine falsche Fährte gelockt wird.
BOY MISSING ist dem Thriller-Genre zuzuordnen, ist aber trotz Entführung, Hundekämpfen, abgeschnittenen Fingern und nächtlichen Überfällen weniger düster als z.B. THE BODY und dürfte auch denen gefallen, die statt einem lahmen TATORT mal wieder etwas spannendes sehen wollen.
Was aber nicht bedeutet, dass der Film ganz ohne Schwächen wäre und zumindest über eine viertel Stunde lässt Regisseurin Mar Targarona im Mittelteil etwas die Zügel schleifen, bevor sie gegen Ende noch mal Fahrt aufnimmt.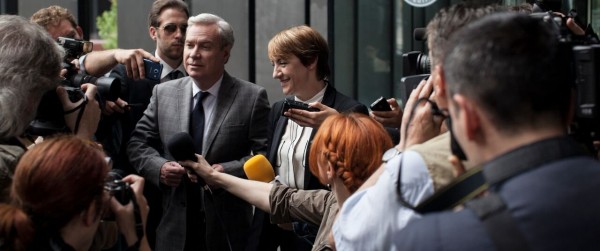 Das ist allerdings Jammern auf hohem Niveau, zumal Schauspieler, Kameraarbeit, Locations etc. so professionell sind, wie man das inzwischen von spanischen Produktionen gewohnt ist. Da kann man auch größtenteils darüber hinwegblicken, dass das Publikum bei den illegalen Hundekämpfen dann doch nach jedem Klischee schreit, dass man sich ausmalen könnte, der Sidekick des Ermittlers Lollys lutscht als wäre er Kojak oder der Polizei in einer Verfolgungsjagd der Sprit ausgeht.
Alles in allem ist BOY MISSING clever in Szene gesetzt und man nimmt den Figuren ihre Ängste und Probleme ab. Das alte Alfred Hitchcock – Zitat "Always make the audience suffer as much as possible" ist eindeutig auch Oriol Paulos Credo. Dass wir mit Hauptfigur Patricia, die so kühl und abgebrüht wirkt, mitleiden, ist dabei gar keine Selbstverständlichkeit, denn die Dame ist auf Anhieb nicht besonders sympathisch, trifft zum Wohle ihres Kindes aber auch unangenehme Entscheidungen und verliert sich immer mehr in den Fallstricken, die die Handlung für sie bereithält.
Fazit: Vielleicht nicht perfekt, aber noch immer weit über dem Durchschnitt.
Facebook Comments