Elijah Wood ist wieder an der Schule. Nachdem er vor rund 20 Jahren in THE FACULTY einen gemobbten Schüler spielte, der seine High School gegen Außerirdische beschützte, ist er inzwischen zum Aushilfslehrer gereift, aber wieder muss er als unerwarteter Held eingreifen.
Story:
Clint ist Schriftsteller, doch so richtig rund läuft die Karriere noch nicht und so zieht er wieder bei Mama ein und nimmt einen Lehrerjob an seiner alten Schule an. Schon der erste Arbeitstag wird zur Katastrophe. Das Lehrerzimmer ist voller neurotischer Pädagogen, die Klassensäle voller gestörter Minderjähriger und als ein offenbar krankes Mädchen dem Schulrabauken das Gesicht wegbeisst, weiß Clint, dass der Tag im Eimer ist…
Wie wichtig ein Regisseur für einen Film ist, ist unumstritten, Drehbuchautoren bleiben hingegen meist im Hintergrund. Kaum jemand weiß wer das Buch zu seinen Lieblingsfilmen schrieb und schon gar nicht, wie der Schreiberling aussieht.
Dabei sind in einer Zeit, da massenhaft ideenlose Filme aller Genres den Markt überfluten, mehr denn je Ideen und gute Bücher gefragt.
Und das ist der Punkt, an dem Leigh Whannell die Bühne betritt. Der schrieb nicht nur die Topfilme SAW und INSIDIOUS, sondern steht auch immer wieder vor der Kamera und trägt zusammen mit Partner Ian Brennan in großem Maße dazu bei, dass COOTIES ein Erfolg geworden ist.
Wie leicht es gewesen wäre, den Film in der Mittelmäßigkeit verschwinden zu lassen, zeigte letztes Jahr SCHOOL OF THE LIVING DEAD, doch COOTIES wartet mit sauber ausgearbeiteten Charakteren auf, bringt ganz beiläufig diverse Referenzen zu anderen Horrorfilmen und Woods Hobbit-Vergangenheit unter und vollzieht das Kunststück in gleichem Maße Komödie UND Horror zu sein.
Dazu kommt eine dicke Schippe political uncorrectness, denn das alte Klischee, dass Kinder (fast) immer überleben, gilt hier nicht. Die lieben Kleinen sind die fiesesten Grundschulmonster seit THE CHILDREN und werden nicht von Gewalteinwirkung verschont.
Gewalt gibt es sogar reichlich, allerdings stets mit einem Augenzwinkern versehen.
Da wir im Laufe der Geschichte lernen, dass der Virus ausschließlich Menschen vor der Pubertät befällt, ist auch stets klar, wer hier die Bösen sind.
Zwar ist es wohl kein Fehler den Überbegriff "Zombie" für die befallenen Kinder anzuwenden, die allerdings kein umherstolpernder, gehirnloser Haufen sind, sondern über Restintelligenz verfügen.
Auf der anderen Seite kann man sicher nicht behaupten, dass die Lehrersippe eine Ansammlung von Siegern wäre. Die sind ein sozial inkompetenter Haufen, der aus dem Macho-Sportlehrer, einem verkappten Schwulen, einem paranoiden Mauerblümchen und einem auf Smalltalk versessenen Loser besteht, die der eigenen Jugend hinterhertrauern.
Übrigens ist Leigh Whannell hier auch als Schauspieler am Start.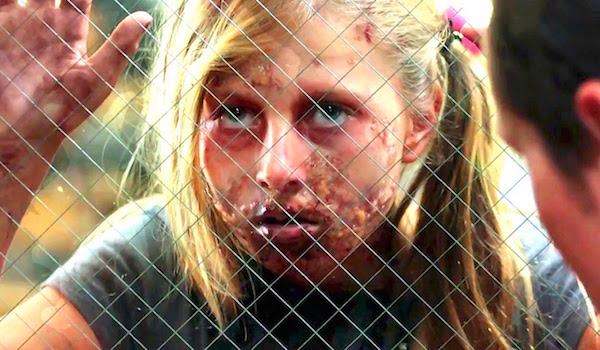 Hauptdarsteller Elijah Wood, dessen Firma COOTIES auch produzierte, beweist indes einmal mehr, dass er ein echter Horrorfan ist, der sich nicht nur einen Gehaltscheck verdient, sondern nach dunklen Rollen wie in SIN CITY, MANIAC, GRAND PIANO und OPEN WINDOWS noch immer Spaß an Genrefilmen hat.
Den hohen Irrsinnfaktor der ersten halben Stunde kann COOTIES zwar nicht permanent halten, kommt aber nochmals mit einem gelungenen Finale zurück, das offen genug bleibt einen zweiten Teil dranzuhängen…ja bitte!
Facebook Comments