Chucky ist wieder da.
Seit den Ereignissen aus CURSE OF CHUCKY sitzt die Überlebende Nica in einer psychiatrischen Klinik, denn man macht sie für die begangenen Morde verantwortlich. Doch nicht mal dort hat sie Ruhe vor dem kleinen rothaarigen Monster. Durch einen Zufall finden sich gleich mehrere Puppen in der Anstalt ein und -ihr ahnt es – schon beginnt das Morden erneut.
Die CHUCKY – Reihe ist eine der konstantesten Horror-Franchises überhaupt.
Nicht nur ist CULT OF CHUCKY der inzwischen siebte Teil (was in 30 Jahren keine Besonderheit ist), auch das Personal ist oft das Gleiche.


Mit Jennifer Tilly, Alex Vincent und Fiona Dourif sehen wir einige der bekanntesten menschlichen Figuren der Reihe im gleichen Film.
Klar, Killerpuppe Chucky ist auch wieder dabei, aber nicht mal das ist eine Selbstverständlichkeit, wenn man bedenkt, dass es einen HALLOWEEN-Film ohne Michael Myers und einen FREITAG, DER 13. (fast) ohne Jason gibt.
Enorm wichtig ist auch Don Mancini, der bisher alle Drehbücher verfasste und seit CHUCKYS BABY Regie führt. Da der Mann vergleichsweise wenig anderes macht, ist es sicher keine Übertreibung, wenn man behauptet, dass seine Karriere unweigerlich mit Chuckys Karriere verbunden ist und er weiß, wie ein CHUCKY-Streifen auszusehen hat.
Zwar kann auch er nicht verhindern, dass einem einiges bekannt vorkommt, aber das wäre wohl auch ein Wunder. Trotzdem wirkt auch dieses Sequel wie eine fortgeführte Geschichte und nicht wie ein Abklatsch aus der Feder eines x-beliebigen angeheuerten Autors.


In CULT OF CHUCKY tauchen Figuren auf, die man zwar aus anderen "Irrenanstalt"-Filmen kennt, die in Kombination mit dem zynischen Bösewicht aber Spaß machen.
Optisch wahrt man Abstand zum Vorgänger. Spielte CURSE… in einer alten dunklen Villa, findet CULT…größtenteils in dem überaus hellen, sterilen Krankenhaus statt.
Für mein Empfinden hätte Mancini das Licht gerne etwas dimmen dürfen, teilweise fühlt man sich beinahe geblendet, das ist aber sicher eine Frage des Geschmacks.
Wer auf hübsche Kills hofft, wird nicht enttäuscht, muss aber relativ lange warten, bis der Zug Fahrt aufnimmt. Gemeuchelt wird vor allem in der zweiten Hälfte, dann wird's aber durchaus saftig und weil Kinderspielzeuge von der FSK inzwischen härter bewertet werden als viele andere menschliche Killer, gabs eine 18er-Freigabe.
Echte Fans wird CULT OF CHUCKY auch deswegen nicht enttäuschen, weil eine ganze Vielzahl von Chuckys mitspielen (und keine ist gut gelaunt). Außerdem sind eine Reihe von Zitaten und Referenzen versteckt, die sich auf andere Filme beziehen.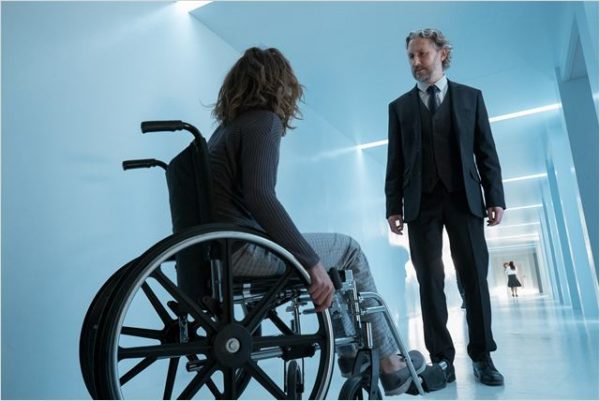 Der Film wirkt für sich genommen aber etwas unrund. Andys Figur ist etwa die meiste Zeit außerhalb der Klinik und es gibt kaum gemeinsame Szenen mit den anderen Protagonisten. Doch selbst dann wirkt es so, als hätte man die Personen durch geschickte Schnitte zusammengeführt, statt sie real miteinander spielen zu lassen.
Daher entsteht der Eindruck, dass man unbedingt möglichst viele der "klassischen" Charaktere einbringen wollte, ohne dass die überhaupt genug Zeit/Lust darauf hatten.
Gleichzeitig werden in Form der Klinikpatienten etliche neue Figuren eingeführt, was für einen kleinen Slasherfilm wie diesen überambitioniert ist.
Für einen siebten Teil geht CULT OF CHUCKY in Ordnung, Wunder erwartet man aber besser nicht.
Facebook Comments