Bevor der CONJURING – Ableger THE NUN im Heimkino erscheint, schiebt sich der ebenfalls 2018 entstandene CURSE OF THE NUN in die Regale und wird vermutlich den einen oder anderen zum leichtfertigen Kauf animieren.
Wir haben uns den Horror-Mockbuster angesehen und stellen fest, dass er vieles ist, was THE NUN nicht ist….aber natürlich nicht auf eine böse Nonne verzichtet.
Story:
Anna hat in ihrem Leben schon einiges erlebt….und viel zwar Schlechtes.
Die junge Frau freut sich, dass sie bald in ein neues Zuhause umziehen wird, doch der Geist einer Nonne will sie einfach nicht aus ihrem alten Haus entlassen.
CURSE OF THE NUN ist eindeutig kein Big Budget – Film, sondern ein Do-it-yourself-Streifen. Das wird schon deutlich, wenn man sieht, dass Filmemacher Aaron Mirtes (DER KILLERCLOWN) für Regie, Buch, Schnitt und Produktion verantwortlich war und zudem eine Rolle im Film übernahm.
Und wie das immer so ist: wer viel kann, kann nicht viel.


Zwar gibt es zum Multitasking im Low Budget – Bereich manchmal keine Alternative, das ändert aber nichts daran, dass es dem Werk in handwerklicher Sicht an vielem mangelt. Oft hätte es schon gereicht, das Licht etwas zu dimmen, um den Hauch einer Gruselstimmung entstehen zu lassen (was  erst zum Ende hin ab und zu getan wird) oder das mäßige Makeup nur kurz im Bild zu zeigen, statt voll draufzuhalten.
Man kann CURSE OF THE NUN zugutehalten, dass er nicht auf die bewährte Jumpscare-Masche aus der James Wan – Fabrik setzt und vielleicht war das so gewünscht. Da dem Film aber jede Atmosphäre abgeht, funktionieren die Schocks womöglich einfach nicht.
Mitunter versprüht der Filme den Charme einer Komödie. Wie in den SCARY MOVIE – Schinken scheint sich eine parodistische Szene aufzubauen, die dann aber gar in einem Kalauer endet.
Auch der junge Handwerker, der das eine oder andere Abenteuer mit Anna bestreitet, wirkt in seinem Acting einer Pointe näher als einer Panikattacke.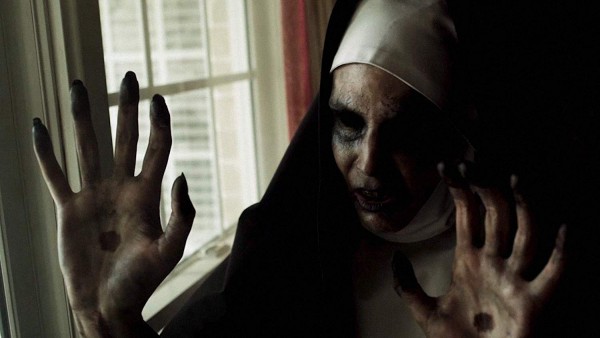 Aber CURSE OF THE NUN versucht es. Eine Szene zu Beginn, in der eben jener Handwerker immer wieder versucht aus einer Tür zu entkommen, aber immer wieder im Haus landet, ist spaßig anzusehen und wenn später noch das Element einer Zeitschleife dazukommt, ist klar, dass das Haus Annas eigene Psyche widerspiegeln soll, die sie überwinden muss.
Und doch scheitert der Streifen an fehlendem Geld und Talent auf vielen Ebenen und ist für diejenigen, die sich eine ähnliche Machart wie THE NUN erhoffen, nicht als Alternative zu sehen.
Fazit:
Vor dieser Nonne muss sich CONJURING-/THE NUN-Dämon Valak nicht fürchten.
Der Zuschauer auch nicht.
Facebook Comments