INTO THE DARK heißt im Original I WILL FOLLOW YOU INTO THE DARK. Während der "deutsche" Titel knackiger klingt, nimmt er auch etwas von der düsteren Romantik, die im kompletten Namen mitschwingt. Die spielt eine nicht zu vernachlässigende Rolle und macht (I WILL FOLLOW YOU) INTO THE DARK zu etwas besonderem, ob man es mag oder nicht.
Als Sophias Vater, ein gläubiger Mann, seiner Tochter auf dem Sterbebett mitteilt, dass er zu wissen glaube, dass es nach dem Leben nichts mehr gibt, ist die junge Frau aufgebracht und beschwört auf der Trauerfeier alle Mächte sie vom Gegenteil zu überzeugen.
In der Zeit danach tut sie sich schwer eine Beziehung aufzubauen. Zu groß ist die Angst vor einem erneuten Verlust. Doch dann lernt sie Adam kennen und alles scheint perfekt, bis dieser eines nachts einfach aus seiner Wohnung verschwindet. Die Spuren führen in eine Etage des Apartmenthauses, in dem angeblich Geister umgehen.
Keine alltägliche Geschichte, und das sei an dieser Stelle als Plus vermerkt, aber auch keine alltägliche Herangehensweise, denn nach einem düsteren Einstieg zeigt INTO THE DARK lange Zeit seine romantische – wenn auch nicht kitschige – Seite und entwickelt sich erst im letzten Akt zum Horrorfilm.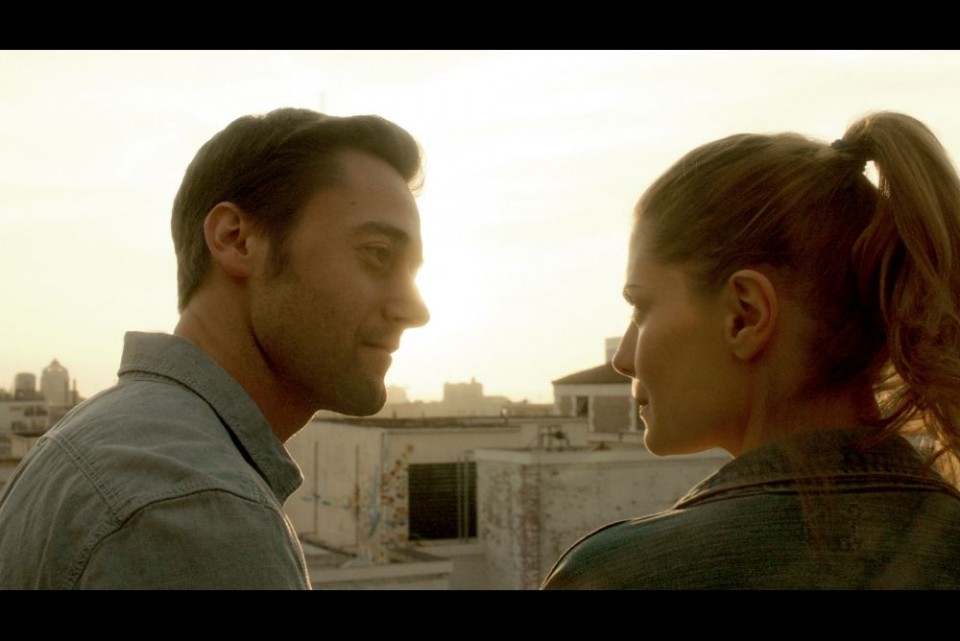 Dort wird einerseits solider Grusel geboten, andererseits wirkt manche Szene so, als wäre sie von einem Team umgesetzt worden, dass sich im Genre nicht zu Hause fühlt. Zwar ist Regisseur Mark Edwin Robinson (THE LEVENGER TAPES) mit Horror vertraut, trotzdem scheinen einige Momente bei anderen Werken entliehen bzw. nur des reinen Schockens willen, ansonsten aber unmotiviert, untergebracht.
Ein weiterer Kritikpunkt sind nicht ausgereifte Zusammenhänge. Auch wenn die Story als Ganzes durchaus sinnig ist, hängen die einzelnen Elemente manchmal an äußert dünnen Fäden. Warum Adam verschwindet wird beispielsweise erklärt, aber überzeugend ist die Aufklärung ganz und gar nicht.
Die Hauptrollen werden von den zwei (Ex-)Serienstars Mischa Barton (OC CALIFORNIA) und Ryan Eggold (90210) gespielt. Während sich Barton schon früher im Horrorbereich versuchte (z.B. in EINGEMAUERT, wo es ebenfalls um ein finsteres Haus ging) und scheiterte, liefert sie hier eine ansprechende Leistung ab.
INTO THE DARK wurde im mittleren Preissegment produziert (5 Mio $), wirkt optisch aber oft wie der kleine Indie-Film von nebenan. Das verwundert zwar, soll aber kein Urteil darstellen, denn auch diese Darstellung hat ihre Vorteile.
Fazit: Wer der Meinung ist, dass Liebe und Romantik in Horrorfilmen nichts verloren haben, sollte tunlichst die Finger von INTO THE DARK lassen. Wer gerne mal über den Tellerrand schaut, bekommt hier die Gelegenheit.
Facebook Comments