Der harmlos klingende Titel lässt zunächst nicht erahnen, was sich hinter DARLIN' verbirgt und man muss schon genauer hinsehen, um zu erkennen, dass dies der dritte Teil einer Filmreihe ist, der sich hinter BEUTEGIER und THE WOMAN einreiht.
Story:
Als vor einem Krankenhaus eine völlig schmutzige, verwahrloste und verwilderte Teenagerin aufgegriffen wird, weiß noch niemand, um wen es sich handelt. Nur ein Armband mit dem Namen "Darlin" wird bei ihr gefunden.
Ein Bischoff nimmt sich der jungen Frau an und bringt sie auf eine katholische Schule. Allerdings nicht nur aus Nächstenliebe, sondern um der Welt zu zeigen, wie die Kirche eine "Wilde" in einen normalen Menschen verwandeln kann.
Aber beide Seiten haben ihre Geheimnisse.


Es geschieht selten, dass eine Fortsetzung mehr ist, als ein Abklatsch der Originals, aber was schon für THE WOMAN galt, gilt auch für DARLIN'. Hier wird wirklich eine Geschichte weitererzählt, statt sich im Kreis zu drehen. Richtig, Darlin' ist die kleine Tochter der Cleeks, die die Frau am Ende von THE WOMAN mit in die Wälder nimmt und für uns Zuschauer macht es Sinn Jahre später mal nachzusehen, was aus ihr wurde.
Ebenfalls positiv, Pollyanna McIntosh, die schon in den Vorgängern die kannibalische Frau spielte, nimmt diese Rolle erneut ein. Damit nicht genug, diesmal schrieb sie auch gleich das Buch und führte Regie.
Pollyanna ist ein gerne gesehener Gast in unseren (Heim-)Kinos und entwickelte sich in den letzten Jahren zur ernstzunehmenden Scream Queen (LET US PREY, EXAM, THE WALKING DEAD) aber reden wir nicht um den heißen Brei, hier hat sie sich übernommen.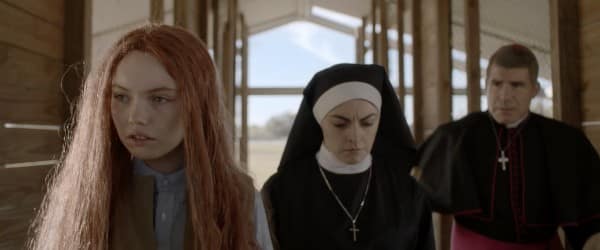 Ja, DARLIN' ist eine originelle Weiterführung des von Jack Ketchum (EVIL) erfundenen Universums, es hapert aber an der Umsetzung.
Zu bemängeln ist etwa, wie schnell sich Darlin', die sich anfänglich nur durch Fauchen und Knurren verständlich macht, in die Zivilisation einfindet und englisch (bzw. in der Synchro natürlich deutsch) lernt.
Zu bemängeln ist auch die Darstellung der Kirche. Nicht nur sehen Bischoff und seine Lieblingsnonne etwas zu fesch aus, die Ordensschwester trägt auch schon mal tiefere Ausschnitte und ihm hat man das Klischee des Missbrauchspriesters gleich noch mit ins Drehbuch getextet.
Vor allem aber will der Film zu viel auf einmal. Er greift in einigen (durchaus zweckmäßigen) Rückblenden auf, was der Frau und Darlin' widerfuhr, zeigt ihre Entwicklung, übt Religionskritik und macht zudem einen Parallelstrang auf, in dem die Frau bei einigen obdachlosen Prostituierten unterkommt.
In der Story wird das meiste davon zwar wieder zusammengeführt, es bleiben aber Längen und ein Mangel an kohärenter Atmosphäre.


DARLIN' ist wie seine Vorgänger ein Indiefilm, dem einige Dollar fehlen, um perfekt auszusehen. Daran gemessen besitzt der Streifen dennoch einen guten Look und zum Glück wurden nicht die miesen Perücken aus BEUTEGIER noch mal benutzt. Auch in allen anderen Belangen ist DARLIN' BEUTEGIER überlegen (außer vielleicht beim reinen Gewaltanteil), beide Filme haben aber gemein, dass sie hinter dem starken THE WOMAN, der neben runder Charakterzeichnungen auch das richtige Tempo und einen erstklassigen Soundtrack mitbrachte, zurückbleiben.
Fazit: Das Potential war da, aber Pollyanna McIntosh ist die Dreifachbelastung anzumerken und so präsentiert sich DARLIN' nicht als würdiger Abschluss (?) der Filmtrilogie.
Facebook Comments