Nach beinahe 20 Jahren wollen wir uns endlich DAS RELIKT vornehmen, ein Film der von den wenigsten zu den ganz großen Genre-Perlen gezählt wird und trotzdem gern gesehener Gast auf dem heimischen Bildschirm ist.
Story:
Als im Hafen von Chicago ein führerloses Schiff einläuft, rechnet noch niemand mit dem Schrecken, der sich bald im Museum of Natural History ausbreitet. Dort verschwinden zunächst einzelne Mitarbeiter und Besucher und während eines großen Empfangs wird die vornehme Gesellschaft im Gebäude eingeschlossen und von einer gewaltigen und blutrünstigen Bestie verfolgt.
Die Spur führt die Wissenschaftlerin Margo Green und Polizist D'Agosta zu einer schrecklichen Tradition eines brasilianischen Indianerstamms.


Betrachtet man den Film mit einigem Abstand und rückt ihn ins den rechten Kontext, fällt auf, dass es sich um eine typische 90er-Produktion handelt. Mit stattlichen 40 Mio. $ Budget inszeniert, bekannten Darstellern (Penelope Ann-Miller, Tom Sizemore) ausgestattet und auf großer Bühne in Chicago vorgetragen, wendet man sich klar an ein Mainstream-Publikum.
Dafür bürgt auch Regisseur Peter Hyams, der seinerzeit zwei Van Damme-Filme (TIME COP und SUDDEN DEATH) und END OF DAYS mit Schwarzenegger drehte.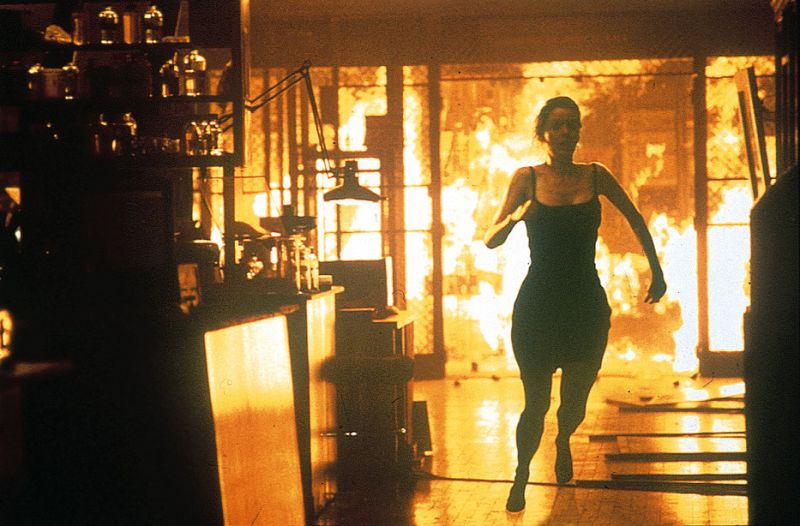 Damit ist einerseits klar, dass gewissen Formeln zu folgen ist und was passiert wohl eine Sekunde, nachdem das Großmaul fordert, dass Köpfe rollen müssen? Richtig, sein Schädel wird zur Bowlingkugel. Das macht DAS RELIKT einerseits berechenbar, die Geschichte selbst bleibt aber originell und beruht auf dem Buch RELIC von Douglas Preston und Lincoln Child, die in ihren Romanen regelmäßig ein Crossover aus Wissenschaft und Horror veranstalten (weswegen es verwunderlich ist, dass DAS RELIKT die einzige Filmauswertung bleibt).
Verwunderlich ist auch, dass zusätzlich zu den beiden Buchautoren gleich vier Drehbuchschreiber angeheuert wurden, was selten ein gutes Zeichen ist und regelmäßig in einem Durcheinander endet.
DAS RELIKT ist aber insgesamt stimmig und die kleineren – nicht unüblichen – Logiklöcher verschwinden unter einer Schicht aus Story, Spannung und Schlachteinlagen.


In besonderem Licht erscheinen auch die Effekte der damaligen Zeit. Zwar gab es ´97 natürlich bereits CGI, das wird aber glücklicherweise sparsam eingesetzt und da Museumsflure sehr schattig sind und das Khotoga-Monster in vollem Ausmaße erst spät gezeigt wird, bleibt der Fantasie des Betrachters anfangs einiges überlassen.
Das Wesen ist gewissermaßen die sprichwörtliche eierlegende Wollmilchsau und enthält neben einer Wildschwein-Reptilien-Ameisen-Optik noch eine geheime Zutat.
Es bleibt dabei: DAS RELIKT ist kein Meisterwerk, weiß aber zu unterhalten und das auch heute noch.
Facebook Comments