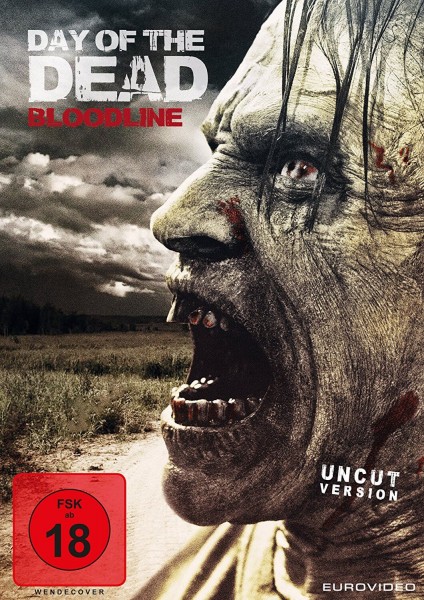 Seit George A. Romero 1985 ZOMBI 2 alias DAY OF THE DEAD drehte, ist viel passiert.
Inzwischen sind Zombies manchmal schnell, sie sind international, sie sind gesellschaftsfähig. Dafür ist ihnen das bisschen Restintelligenz, das Romero ihnen zugestand (z.B. Nutzen einfacher Werkzeuge) fast immer abhandengekommen, sozialkritische Ansätze sind die Ausnahme und sie heißen Beißer.
DAY OF THE DEAD: BLOODLINE ist offenbar als Remake von DAY OF THE DEAD zu verstehen und ja, ein paar der etablierten Elemente (die Überlebenden hausen in einem Militärbunker, ein relativ smarter Zombie) sind wiederzufinden, andere sucht man vergebens. Eigentlich spricht schon der Filmtitel für sich. Wofür das Wort "Bloodline", wenn man doch nur das Bekannte neu erzählen will?
Man mag den Film also als Mischung aus Neuverfilmung und Fortsetzung betrachten, muss man aber nicht unbedingt und wir haben ihn einfach als selbständigen Streifen gesehen.


Story:
Max ist seiner Ärztin Zoe verfallen. Doch aus zunächst harmloser Anmache wird eine versuchte Vergewaltigung, die nur dadurch verhindert wird, dass die Toten auferstehen und Max gebissen wird.
Lange nach diesem Zwischenfall haben Zombies die Erde überrannt und Zoe kehrt mit einem Trupp Soldaten in die Einrichtung zurück. Zur großen Verwunderung wandert der totgeglaubte Max noch immer durch die kargen Flure und fristet ein Dasein zwischen Mensch und Zombie. Er ist klug, kann sich verstecken und will Zoe nicht beißen, also nehmen legen ihn die Soldaten in Ketten und hoffen mit Hilfe seines Blutes ein Gegenmittel zu entwickeln.
Die gute Nachricht zuerst: hier spritzt reichlich Blut und alle paar Jahre mal einen smarten Zombie im Film einzubauen sorgt für Abwechslung im verwesenden Genre. 8 Millionen $ Budget sind zudem ordentlich.
Allerdings ist das Ergebnis gelinde gesagt unspektakulär und wirkt schon in seiner Optik mehr wie eine TV-Serie als zum Beispiel THE WALKING DEAD. Was der Film mit der (einstigen) Erfolgssserie gemein hat, ist allerdings die Bezeichnung "Beißer" und Fastfood-Storys, die man als Drama verpackt.
Gedreht wurde in Bulgarien, das auch alleiniges Produktionsland ist und sich nicht gerade als Produzent von Horrorfilmen aufdrängt. Der Cast setzt sich hingegen größtenteils aus britischen und amerikanischen Darstellern zusammen und der Regisseur ist ein Spanier. Genauer gesagt Hèctor Hernández Vicens. Dessen DIE LEICHE DER ANNA FRITZ war zwar kein Volltreffer, aber immerhin einfallsreich. Bei DAY OF THE DEAD: BLOODLINE hat man hingegen das Gefühl jede Szene schon einmal erlebt zu haben und das nicht nur, weil man sich an dem 1985er-Film entlanghangelt.
Vor allem lässt das aktuelle Werk aber jegliche Atmosphäre vermissen. Die Zombies sind zwar schnell, aber trotzdem selten bedrohlich. Man spürt nicht die beklemmende Enge einer Militäranlage und auch nicht die Paranoia untereinander.
Die Action- und Gore-Szenen gehen zwar in Ordnung, bilden aber auch kein Highlight und dass sich primär junge, hübsche Figuren, denen man ihren Part nicht abnimmt, durch Billigkulissen spielen, überzeugt nicht.
Alleine Zombie Max, der an Rammstein-Sänger Till Lindemann erinnert, bildet ein optisches Alleinstellungsmerkmal  und zudem einen ambivalenten Charakter.
Ansonsten ist DAY OF THE DEAD: BLOODLINE durch und durch B-Movie. Was George A. Romero dazu sagen würde?
Facebook Comments