Generationen nachdem erst Lord Blackwoods Sohn und dann er selbst in seinem eigenen Haus verschwunden sind, kehrt wieder Leben ein in das alte Anwesen im viktorianischen Stil. Der Architekt Alex (Guy Pearce) und seine Freundin Kim (Katie Holmes) haben die Villa gekauft um sie zu sanieren.
Alex' Tochter, die kleine Sally (Bailee Madison), wird genau zu dieser Zeit von ihrer Mutter abgeschoben. Wegen der großen Skepsis ihrer Schwiegermutter gegenüber durchstreift Sally die Blackwood Mansion die meiste Zeit auf eigene Faust. Als sie dabei einen versiegelten Kellerraum entdeckt, in dem sich eine ebenfalls versiegelte Aschegrube befindet, beginnt der Alptraum.
Stimmen wispern Sallys Namen und immer wieder nimmt sie flüchtige Schattenbewegungen war. Irgendetwas lebt in der Grube und bewegt sich nun durch die alten Wände auf der Suche nach Beute. Natürlich glaubt dem kleinen Mädchen niemand, nur der alte Hausmeister Harris scheint etwas zu wissen. Als dieser dann im Keller angegriffen wird, beginnt Kim Sally zu glauben und stellt ihrerseits Nachforschungen an, die den wahren Horror in den Wänden von Blackwood Mansion ans Licht bringen.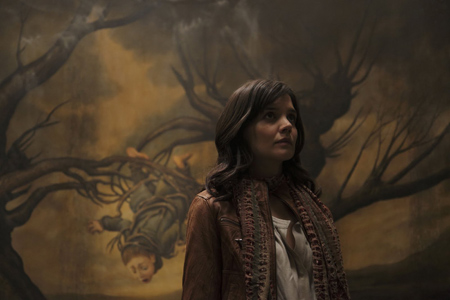 Der amerikanische Remake-Wahn schlägt wieder zu. Das Original ist jedoch in Deutschland relativ unbekannt, handelt es sich doch um einen Fernsehfilm von 1973 (der jedoch jüngst in auch hier einen DVD-Release hatte)
Märchenhafte Wesen, gespenstische Villen, wabernde Schatten, pittoreske Landschaften. Wer einmal etwas gesehen hat, wo Del Toro draufsteht kann zu Recht hohe Erwartungen an die Optik haben. Und eines ist sicher, man wird auch bei DON'T BE AFRAID OF THE DARK nicht enttäuscht. Auch wenn er die Regie dem Neuling Troy Nixey überlassen hat, ist der Einfluss des Mexikaners deutlich erkennbar. Dass Nixey seinerseits als Comic Book Artist sein Geld verdiente, hat der Optik auch nicht gerade geschadet.
Bailee Madisons (LONELY HEARTS KILLERS, BRÜCKE NACH TERABITHIA) Kinderaugen sind der Grund, dass auch beim Zuschauer die Ängste vor dem Unbekannten in der Dunkelheit wieder zum Vorschein kommen. Das kleine Mädchen lässt uns erinnern, wie es war, als die Welt der Fantasie noch verständlicher war, als die Welt der Erwachsenen. Katie Holmes (THE GIFT, BATMAN BEGINS) und Guy Pearce (MEMENTO, L.A. CONFIDENTIAL) agieren dagegen unauffällig, was man in diesem Fall fast als Kompliment bewerten könnte.
Über CGI-Effekte kann man sich bekanntlich immer streiten, gerade wenn es um Creatures geht, aber egal, on man diese hier nun gut oder schlecht findet, tut es der Stimmung keinen Abbruch
Ein toller Gruselfilm der grimmschen Art.
Facebook Comments