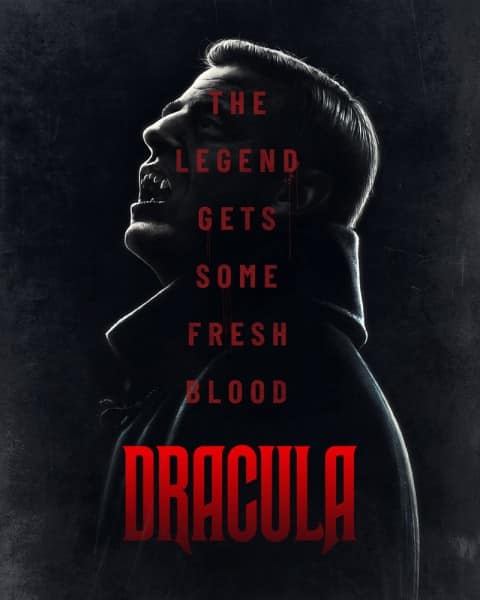 Es ist kaum noch zählbar, wie oft Bram Stokers Roman DRACULA verfilmt wurde.
Die letzte nennenswerte Umsetzung (zumindest den beteiligten Namen nach) war DARIO ARGENTOS DRACULA, der war aber auch ziemlich verkackt. Der letzte sehenswerte Romanableger ist BRAM STOKERS DRACULA, der nähert sich aber auch dem 30. Geburtstag.
Kurz, es ist legitim, dass man den Grafen mal wieder aus der Gruft zieht und da in den letzten Jahren Serien immer mehr in Mode kamen und auch qualitativ oft aufrüsteten, sollte ein Dreiteiler zu je anderthalb Stunden ja nichts falsch machen….oder?
(Achtung, es folgen kleinere Spoiler)


Folge 1:
Die Geschichte beginnt nah am Roman und mit der Reise Jonathan Harkers nach Transsylvanien.
Genauer gesagt mit einem Rückblick auf diese Reise, nachdem Harker dem Schreckensschloss entkam. Er ist nun in der Obhut eines Nonnenklosters und wird von Schwester Agatha befragt. Nach und nach schildert er, wie er Dracula kennenlernte und in dem labyrinthartigen Gemäuer allerlei Grauen ausgesetzt war.
Harker ist kahl und er ist augenscheinlich krank.  Bis hierhin passt das zu Stokers Roman, die Freiheiten, die sich die Episode nimmt, sind im Rahmen. So fragt Agatha beispielsweise Harker, ob er Geschlechtsverkehr mit dem Grafen hatte und während Sex bei Dracula schon immer und schwule Vampire schon in TANZ DER VAMPIRE eine Rolle spielten, erinnert Harkers Äußeres plötzlich an eine Geschlechtskrankheit im fortgeschrittenen Stadium.
Würde die Serie diesen dunkel-sexuellen Weg weiter verfolgen, wäre dagegen nichts zu sagen, immerhin machte auch Coppola aus dem bösen Dracula einen liebeskranken Vampir und in der Hammerverfilmung mit Christopher Lee wurden Personen neue Rollen zugeteilt.
Daher machen neue Details, wie dass ein Vampir durch das Blut seines Opfers auch dessen Sprache erlernt, nicht nur Sinn, sondern auch Spaß.


Anders ausgedrückt: es ist nichts dagegen zu sagen, dass man sich Freiheiten nimmt, aber hier fehlt der rote Faden.
Mal gibt sich die Folge klassisch düster, dann möchte man offenbar lustig sein, aber spätestens wenn der Graf Jonathan Harker "Johnny" nennt, weiß der Betrachter nicht mehr, ob aristokratischer Grusel oder salopper Slang angesagt sind.
Schon da wird klar, dass DRACULA eine Richtung fehlt und während Schwester Agatha, die ein besonderes Geheimnis hütet, eine Bereicherung ist und auch manch andere Neuerung zündet, wirken schon die ersten anderthalb Stunden zerfahren und sind auch optisch und schauspielerisch nicht immer ein Genuss.
Stellvertretend sei eine Szene genannt, in der der Graf nackt in das Kloster eindringen will, aber daran scheitert, dass ihn niemand hereinbittet. Da steht er also nackt wie Gott -oder der Teufel- ihn schuf vor dem offenen Tor, während im Hof die Nonnen mit gezückten Holzpfählen stehen und sich ein minutenlanger, einschläfernder Dialog ergibt, auf den selbst Negan in THE WALKING DEAD stolz gewesen wäre.
Bewertung: 5.5 von 10
Folge 2:
Eine der unheimlichsten Sequenzen im Roman ist die Überfahrt der "Demeter", dem Schiff, mit dem der Graf von Warna nach London übersetzt.
Dem widmet sich die gesamte zweite Folge und in der Serie besteht das Schiff neben der Besatzung auch aus diversen Passagieren. Das schafft neue Charaktere und Nebenkriegsschauplätze.
Oberflächlich ist die Handlung dennoch bekannt, doch wo Dracula bisher meist ein Phantom war, das unerkannt die Besatzung dezimierte, müssen wir uns hier durch weiterer plagend lange Dialoge quälen.
Die Serie wird zunehmend von den Charakteren und nicht vom Plot angetrieben. Dadurch fallen schauspielerische Schwächen umso mehr ins Gewicht und hier sollten wir über Dracula-Darsteller Claes Bang sprechen, den der deutsche TV-Seher aus NOTRUF HAFENKANTE oder SOKO KÖLN kennen kann. Dafür muss man sich nicht schämen, Bangs Äußeres ist kernig, er scheitert aber nicht nur am Vergleich zu Vampirmimen wie Lugosi, Lee oder Oldman, sondern auch einer inkohärenten Darstellung. Zuweilen wirkt er unsicher, dann wieder wie einer der früheren Darsteller. Manche Referenz ist sicher bewusst gesetzt, vor allem die zu Christopher Lee, dadurch erscheint Bangs Auftreten aber in Summe nicht stimmig.
Natürlich trägt das Drehbuch seinen Teil bei. Zu oft stehen sich Vampir und Widersacher gegenüber und plaudern miteinander, statt sich zu bekämpfen.
Bewertung: 4 von 10


Folge 3:
Bis hierhin kann man sicher noch darüber streiten, ob diese TV-Ausarbeitung des bekannten Stoffs mit TV-Mimen und im TV-Look dank Neuerungen sehenswert ist oder nicht, aber spätestens Folge 3 platziert die Serie im Bullshit-Sektor. Denn hier steigt der Blutfürst mehr als 100 Jahre nachdem er in Folge 2 im Wasser landete aus dem Meer und findet sich plötzlich im England unserer Zeit wieder.
Damit wird die Serie dann endgültig zur eierlegenden Wollmilchsau erklärt, die es jedem Recht machen soll.
Es gab in knapp 125 Jahren Dracula harte, romantische, gruslige, ernste, spaßige, billige und aufwändige Verfilmungen. Es gab schwarze Draculas, Draculas im wilden Westen, Dracula in der Neuzeit, Porno-Dracula, Dracula in 3D und CGI.
Die DRACULA-Serie möchte möglichst viele dieser Bausteine unter einen Hut bringen und vereint außerdem den Grafen und die ewige Suche nach dem WLAN-Passwort.
Die Überraschung mit dem Zeitsprung gelingt, aber die Überraschung gelang auch in Shyamalans THE VILLAGE, nur ist in beiden Fällen die Stimmung zunichte. Eine gute Geschichte nimmt den Zuschauer mit in eine fremde Welt und man lässt sich auf die dort geltenden Regeln ein. Hier wird dieser Traum jäh beendet und statt altmodischem Grusel müssen wir hippen Kids in kühlen Technokulissen zusehen.
Immerhin bleibt sich die Serie in der Folge treu und wartet mit weiteren Dialogen in XXL-Format auf, die zu nichts führen und lässt Graf Dracula in der Schwebe zwischen "irgendwie bedrohlich" und "alberner Hanswurst"
Bewertung: 2 von 10
Unterm Strich ist DRACULA eine Enttäuschung, was nicht an einer bestimmten Erwartungshaltung liegt, sondern schlicht an einer schwachen Erzählweise.
Dass die drei Teile aus technischer Sicht "nur" Fernsehniveau haben, wäre zu ebenfalls kein Problem gewesen, so wie es auch egal gewesen wäre, ob man eine romangetreue Adaption (dafür wären die 4,5 Stunden gerade angebracht) oder aber eine Verlegung ins 21. Jahrhundert anvisiert.
Dieser lieblose Mischmasch, bei dem selbst den Darstellern anzumerken ist, dass sie nicht recht wissen, wie ihre Rolle eigentlich angelegt ist, ist aber sehr wohl problematisch.
Ja, die Serie hat ihre Momente, wie Schwester Agatha und manches andere Detail, aber selbst diese eigentlich brauchbaren Innovationen wirken so als hätten sich 50 Drehbuchautoren im Brainstorming geübt und dann JEDE gute und leider auch schlechte Idee aufs Papier gebracht.
Fazit: Lasst den Fernseher mal aus, lest ein Buch (z.B. DRACULA) oder schaut eine der alten Verfilmungen, aber lasst die Finger von dieser Serie.
Facebook Comments