Im Horrorfilm ist Babysitter sein ein gefährlicher Job.
Von DAS GRAUEN KOMMT UM 10, über HOUSE OF THE DEVIL und BABYSITTER WANTED bis HALLOWEEN sind die jungen Damen, die sich um die Kids kümmern sollen in der Opferrolle….nicht so Emelie.
Emelie stellt sich allerdings als Anna vor und springt für eine Freundin ein, um auf die drei Kinder einer Familie aufzupassen, während die Eltern ihr Candelightdinner geniessen. Dabei ahnen sie nicht, dass wohl weniger Schaden entstanden wäre, wenn sie die Kleinen ohne Aufsicht gelassen hätten.
Denn Emelie ist zwar äußerlich ein Zuckerstück, lässt die Kinder aber die Wände beschmieren, verfüttert den Hamster an die Familienschlange und legt die nicht jugendfreien Familienvideos der Eltern ein.
Das ist auf den ersten Blick für den Zuschauer ziemlich amüsant – es sind ja nicht unsere Kinder – aber Emelie hat noch dunklere Pläne.
Ihre Motive legt der Film durch ihr Blume offen, erläutert sie aber nicht im Detail, was auch nicht zwingend nötig ist. Die charmante Babysitterin hat einen an der Klatsche, das muss reichen.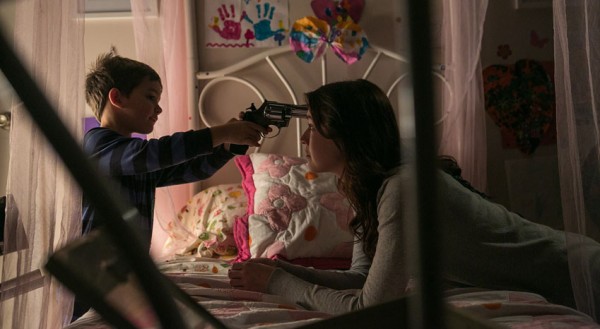 Interessanter ist mitzuverfolgen, wie die drei Minderjährigen zunächst die neue Freiheit genießen, die ihnen das Kindermädchen gewährt, aber dann bemerken, dass die Damen nicht gerade Mary Poppins ist.
Trotz einer einer knappen Spielzeit von etwa 80 Minuten, tut sich der Film in der zweiten Hälfte schwer die Zeit zu füllen und zeigt zwischendurch immer wieder die Eltern beim Diner, was wenig zur Geschichte beiträgt, sondern viel mehr den Eindruck verstärkt, dass keine großen Höhepunkte, sondern ein gewisses Hinplätschern zu erwarten sind.
Das ist durchaus schade, weil es Spaß macht Sarah Bulger in der Emelie – Rolle zuzusehen und Potential im "Home Invasion auf Einladung" – Streifen zu finden ist.
Da ist es auch müßig darüber nachzudenken, ob dafür Regisseur Michael Thelin verantwortlich gemacht werden kann, der einerseits reichlich Erfahrung besitzt, die aber vor allem im (Musik-)Video-Bereich sammelte.
Fazit: Trotz verschenkter Möglichkeiten ist EMELIE ein hübscher Thriller, der vor allem den Menschen Sorge bereiten dürfte, die ihre Kinder hin und wieder in die Obhut anderer geben.
Facebook Comments