Golems sind nicht nur Wesen aus der jüdischen Mythologie, sie wurden im Horrorfilm auch schon in den ganz jungen Jahren aufgeschnappt. Bereits 1920, also zu Stummfilmzeiten, drehten Carl Boese und Paul Wegener DER GOLEM, WIE ER IN DIE WELT KAM.
Anders als Vampire oder später Zombies war der Figur aber kein regelmäßiger Einsatz in Filmen vergönnt, obwohl DIE SIMPSONS den Stoff für eine ihrer Halloween-Folgen aufleben ließen.
Der aktuelle GOLEM: WIEDERGEBURT hat also schon mal den Vorteil auf einem vergleichsweise ungenutzten Fundament zu stehen und macht auch darüber hinaus vieles richtig.


Im 17. Jahrhundert lebt eine jüdische Gemeinschaft friedlich und abgeschieden in der litauischen Natur.
Als eine Plage das gesamte Land bedroht, kommen fremde katholische Männer in das Dorf, das bisher verschont blieb, und wollen, dass die Bewohner ihren Kranken helfen. Doch die Eindringlinge sind nicht dankbar oder freundlich, sondern nehmen sich mit Gewalt, was ihnen nicht zusteht.
Während es in den Dorfbewohnern (innerlich) kocht, weiß sich eine Frau auf andere Weise zu helfen und beschwört einen Golem….
Golem hin, Golem her, die Geschichte hat zwar einen ungewöhnlichen Aufhänger, ist aber nichts was man nicht schon mal in abgewandelter Form gesehen hätte. Statt des aus Lehm geformten Menschen, hätte auch schwarze Magie funktioniert und der weitere Verlauf ist mit der bekannten Moral durchsetzt, dass man stets vorsichtig sein sollte, was man sich wünscht.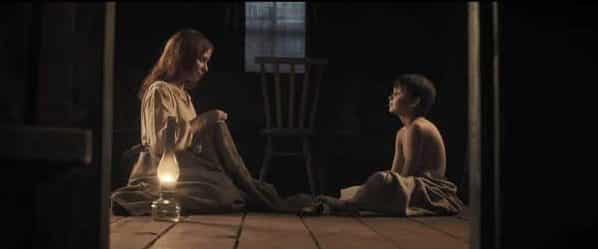 Dass GOLEM: WIEDERGEBURT in ruhiger Weise erzählt wird, ist sicher auch Geschmackssache.
Die einen werden sich -auch aufgrund des historischen und ruralen Settings- an THE WITCH erinnert fühlen und schreiend davonlaufen, andere genau das attraktiv finden.
Bleibt man noch einen Moment bei diesem direkten Vergleich, verfügt GOLEM: WIEDERGEBURT dann doch über mehr Action, aber auch weniger Atmosphäre.
Der Film hätte leicht ins arthousige abdriften können (eben noch mehr THE WITCH), aber auch mit hollywood-mäßiger Oberflächlichkeit enttäuschen können (davon zeugen ein paar schlecht sitzende Perücken und der ein oder andere Anachronismus), meist schafft er aber diese Gratwanderung.


Der Streifen beschäftigt sich nicht mit nur mit Golems, der Kabbala und anderen Auszügen des jüdischen Glaubens, sondern ist auch eine israelische Produktion. Die beiden Regisseure Doron und Yoav Paz sind ebenfalls keine Unbekannten und hatten mit JERUZALEM bereits einen Erfolg, der thematisch in eine ähnliche Kerbe schlägt.
Unnötig zu erwähnen, dass alberne Smart Glasses, Found Footage und kreischige Partyteens diesmal außenvor bleiben, dafür gibt es stimmige Landschaftsaufnahmen und einen angemessenen Gewaltgrad.
Der Golem ist hier übrigens kein Hüne, sondern ein kleiner Junge. Dieser Umstand fügt sich allerdings gut in den Subplot des Films ein und der Kleine ist nicht minder bedrohlich.
Fazit:
GOLEM: WIEDERGEBURT ist zwar keine cineastische Offenbarung, bewegt sich aber sicher in der Schnittmenge von THE WITCH und JERUZALEM und ist eine angenehme Überraschung.
Facebook Comments