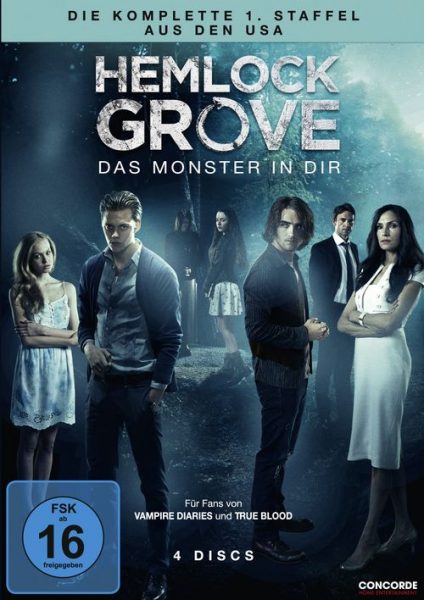 In einer Stadt, in der Werwölfe und Vampire eine Co-Existenz führen, kann Freunden von Horrorfilmen der kalte Schweiß ausbrechen. Zu frisch sind die Erinnerungen an TWILIGHT, zu groß die Angst, dass sich die Geschichte in HEMLOCK GROVE wiederholen könnte und immerhin beruht auch die Serie auf einem Roman.
Um alle Zweifel im Keim zu ersticken, trat Eli Roth nicht nur als Produzent auf, sondern führte in der ersten Folge auch Regie. Nun kann man Roth vieles nachsagen, aber sicher nicht, dass er die Dinge zaghaft anpackt.
In der Kleinstadt Hemlock Grove geschieht eine Reihe von Morden. So unglaublich es klingen mag, die Spuren deuten auf einen Werwolf hin. Die Fälle werden von offizieller Seite von einer Ermittlerin untersucht, die sich mit diesen Kreaturen auskennt, doch parallel dazu nehmen sich auch zwei Highschool-Boys der Sache an. Das ungleiche Duo besteht aus dem im Wohnwagen lebenden Zigeuner Peter und dem aus bestem Hause stammenden Roman. Beide haben selbst tiefsitzende Geheimnisse und sind damit in Hemlock Grove in bester Gesellschaft…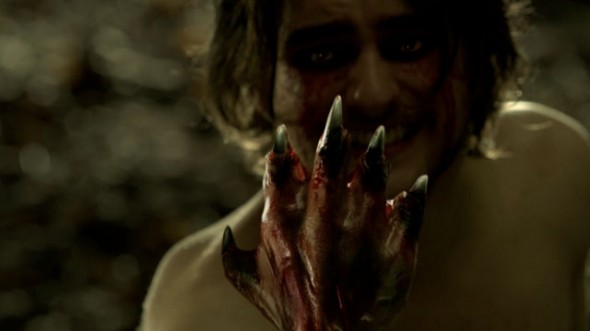 HEMLOCK GROVE ist wie die vor einigen Monaten erschienene Serienadaption von FROM DUSK TILL DAWN ein Netflix-Eigengewächs. Die gute Nachricht: qualitativ liegt man über FROM DUSK TILL DAWN.
Die schlechte Nachricht: von den starken HBO-Serien wie GAME OF THRONES und TRUE DETECTIVE oder Horror-Serien wie THE WALKING DEAD und AMERICAN HORROR STORY ist man noch weit entfernt.
Mit Famke Janssen (100 FEET, THE HOUSE ON HAUNTED HILL) und Lily Taylor (THE CONJURING, LEATHERFACE) hat man ein paar bekannte Hollywoodgesichter in den Reihen, dahinter tun sich aber einige schauspielerische Untiefen auf.
Während die älteren Figuren meist klischeebehaftete Nebenrollen darstellen, sind die jüngeren Akteure hübsch anzusehen, aber nicht die größten Mimen.
Die Kulissen strahlen oft einen Studiolook aus und dass das Bild etwas zu viel Farbfilter abbekommen hat, hätte sich auch vermeiden lassen.
Auch die Effekte sind nicht erste Wahl, was man der Serie aber lassen muss, ist eine unverklemmte Herangehensweise. Das gilt nicht nur für die oft blutigen FX, sondern auch für Nacktheit und Sprache. Wo FROM DUSK TILL DAWN äußerst bemüht war politisch korrekt zu erscheinen darf hier "ficken" und "Fotze" gesagt werden. Man muss sich auch mal über Kleinigkeiten freuen dürfen.
Die deutsche Synchronisation ist ebenfalls gelungen, aber das Wichtigste ist wie immer die Geschichte. In diesem Punkt teilt HEMLOCK GROVE das Schicksal vieler Serien und hätte sicher ohne merkliche Verluste um 1-2 Folgen gestrafft werden können, durch die unterschiedlichen Figuren, von denen die meisten Dreck am Stecken haben, und der Mischung aus Horror, Teeniedrama und Mystery ist aber eine Grundabwechslung gegeben.
Mit der Hoffnung eine reine Horrorserie zu sehen, sollte man dementsprechend aber auch nicht rangehen, denn bis das alles Fahrt aufnimmt, vergeht (insbesondere für Eli Roth – Verhältnisse) viel Zeit und auch zwischendurch geht's gerne mal ruhiger zu und man hält sich mit Sexszenen über Wasser.
Fazit: HEMLOCK GROVE bietet etwas Gewalt, etwas Erotik, etwas Dirty Talk und wirkt damit doch nur wie eine Anbiederung an das inzwischen 5 Jahre ältere TWILIGHT-Publikum.
Facebook Comments