Seit Monaten hör ich immer wieder, dass ich mir unbedingt HOW TO CATCH A MONSTER (im Original: DIGGING UP THE MARROW) ansehen müsse. Interessanterweise kommt die Empfehlung dabei vor allem von Menschen, die sich in irgendeiner Weise selbst als Filmschaffende verstehen.
Nun kommt der Film auch in Deutschland endlich auf den Markt und es wird verständlich warum er manche Menschen mehr anspricht als andere.
Als Filmemacher Adam Green von einem Mann namens William Dekker kontaktiert wird, der behauptet, dass es Monster wirklich gibt und der sogar wissen will, wo die Eingänge zu ihren unterirdischen Behausungen zu finden sind, beschließt Green zusammen mit seinem Stamm-Kameramann Will Barratt eine Dokumentation aus der Story zu machen.
Doch wer ist Dekker wirklich? Kann ihm trauen? Und was ist mit den Monstern?


Dekker ist Ray Wise (DEAD END, JEEPERS CREEPERS 2). Wise ist nicht nur ein gerne gesehener Gast in unseren Wohnzimmern, Wise ist auch so ziemlich der einzige Darsteller in HOW TO CATCH A MONSTER, der sich nicht selbst spielt.
Der Rest des Casts besteht teilweise aus bekannten Darstellern der Horrorwelt, wie etwa Kane Hodder oder Tony Todd, aber auch vielen Menschen, die man normalerweise eher hinter der Kamera findet. Adam Green ist damit eine der Hauptfiguren in seinem eigenen Film und natürlich kennt man den Regisseur für die HATCHET-Reihe oder FROZEN.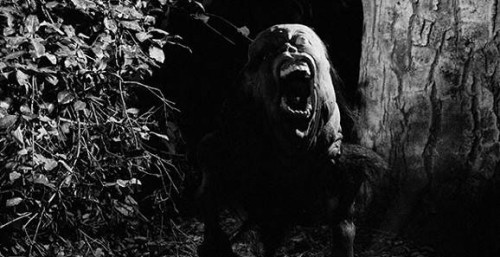 Josh Ethier (Regisseur von ALMOST HUMAN), Mick Garris (CRITTERS 2, THE STAND), Tom Holland (Autor von FRIGHT NIGHT) oder Sarah Elbert (Producerin zahlreicher Filme von Adam Green) geben nicht vor andere zu sein als sie selbst.
Daher ergibt es Sinn, dass ein Teil des Films auf Film-Conventions spielt, wo man diese Leute quasi ohnehin greifbar hat.
HOW TO CATCH A MONSTER ist aber kein hochpreisiger Schinken, sondern ein über die Jahre entstandener Indie-Streifen, in dem Green offenbar Freunde und Kollegen davon überzeugen konnte, ein paar Szenen mit ihm zu drehen.
Das Ergebnis kann man allgemein unter Found Footage einordnen, das semi-vergessene Wort Mockumentary trifft es aber eher, denn der Film hat tatsächlich meist das Feeling einer Doku.
Wer also mit den mehr oder minder (un)bekannten Gesichtern nichts anfangen kann und einfach nur einen spannungsgeladenen, blutüberströmten Horrorfilm sehen will, wird mit HOW TO CATCH A MONSTER womöglich nicht glücklich.
Allerdings sind hier trotz aller Gespräche, trotz aller Ausflüge (die Reise nach Boston ist sinnfrei), trotz aller langwieriger nächtlicher Überwachungsmaßnahmen in einem Nationalpark, einige wunderbare Schocks zu finden, die genau deswegen funktionieren, weil sie nicht nach dem üblichen Schema funktionieren, sondern tatsächlich unerwartet auftreten.


Zu sehen gibt es Monster, die größtenteils handgemacht sind und zwar einerseits furchterregend, andererseits aber auch zu skurril sind, um sie dauerhaft ernst zu nehmen.
Glücklicherweise hat HOW TO CATCH A MONSTER daran gar kein Interesse. Der Film wirkt so, als wäre er ein Fun-Project unter Kumpels, allerdings Kumpels, die um die Conventionen des Horror-Genres wissen und mit ihnen spielen. So ist der Film zwar nie eine Komödie, ist aber doch augenzwinkernd zu verstehen.
Übrigens könnte man das Werk unter "Inspired by true events" ablegen. Auch wenn es niemanden gab, der Green von Monstern unter der Erde erzählte, kam ihm die Idee für die Geschichte als ihm ein Fan schrieb, dass er beweisen könne, dass Victor Crowley, der fiktive Killer aus HATCHET, in Wirklichkeit real sei. In dem Zusammenhang sollte man sich auch das ausführliche Making of ansehen, das mit der DVD kommt.
Fazit: Vermutlich ein love-it-or-hate-it-Film…ich tendiere zu ersterem, schon deswegen, weil es nicht genug Filme geben kann, die was Neues wagen.

Facebook Comments