Wenn wir an Backwood-Filme denken, fallen uns meist texanisches Brachland, die Wälder Virginias oder die Sümpfe Louisianas ein, also entlegene Regionen der USA. Dabei beweisen die Briten mit Filmen wie SEVERANCE oder THE COTTAGE stetig, dass auch das europäische Hinterland alles andere als ungefährlich ist.
So geht es auch den vier auffälligen Jugendlichen, die begleitet von zwei Sozialarbeitern aufs Land fahren und nicht nur ihre eigenen Problemchen im Gepäck haben, sondern auch rasch von den debilen Einheimischen bedrängt werden. Aus zunächst nur unangenehmen Zwischenfällen wird bald nackte Gewalt…
…zumindest dann, wenn man die ungeschnittene Fassung von INBRED in die Finger bekommt.
Man mag zu Schnitten stehen wie man will (die Meinung von Horror – Fans ist ohnehin meist klar), aber wenn nicht nur die unmittelbaren Gewalteinwirkungen, sondern großflächig ganze Szenen entfernt werden, so dass man selbst bei einem wenig komplexen Film wie INBRED die Übersicht über die Handlung verliert, beschneidet man natürlich auch erheblich den Spaßfaktor.
Was doppelt schade ist, denn das was übrig bleibt, macht einen guten Eindruck. Schon wenn unsere Helden in einer frühen Szene, die Landbewohner dabei beobachten, wie diese eine ziemlich lebendige Vogelscheuche malträtieren, erzeugt das ein Gefühl des Unwohlseins. Dies baut sich rasch weiter auf, denn die Einheimischen sind nicht nur optisch Lehrbuch-Hinterwäldler sondern finden an allerlei perversen Spielchen Gefallen.
Ironischerweise wird die dauernd latent gewalttätige und damit ernsthafte Stimmung ausgerechnet durch die maßlos überzogenen Fun-Splatter-Effekte wieder aufgehoben, die jedoch größtenteils entfernt wurden (wer sich für Details interessiert, sollte mal bei schnittberichte.com vorbeischauen). Obwohl sich INBRED selbst Horrorkomödie nennt, ist somit von lustigen Anteilen kaum noch etwas auszumachen.
Für einen ernsthaften Film, der vielleicht sogar bewusst auf Gore und Gedärm verzichtet, um dafür von seiner Atmosphäre zu leben, ist die Story hingegen zu dünn und die Landbewohner zu stereotyp.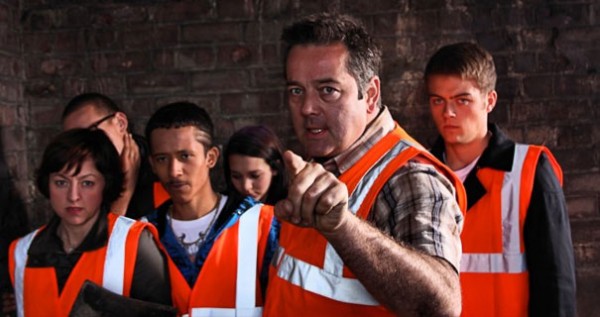 So ist das Comeback von Regisseur Alex Chandon, der zuletzt 2001 für CRADLE OF FEAR auf dem Regiestuhl saß, zumindest in dieser Form eine zweifelhafte Angelegenheit.
Die hier vergebenen 5 Punkte können somit auch nur ein Kompromiss sein. Ungeschnitten wäre INBRED mehr wert, geschnitten weniger.
Facebook Comments